Maryland state lawmakers rejected GOP Governor Larry Hogan's veto of police reform legislation on Saturday, making the state the first in the country to repeal its Law Enforcement Officers' Bill of Rights.
On Friday, Hogan vetoed House Bill 670, also known as the Police Reform and Accountability Act of 2021. The legislation terminates the state's police bill of rights, which as The Washington Post reports has served as a major barrier to accountability and transparency.
Maryland's law is more powerful than other states' police bill of rights in that it allows officers to wait five days before being interrogated in an investigation, according the Post.
Another issue with the current law is how officers are able to report their use of force, according to a Twitter thread posted Saturday morning by author and journalist David Simon. Simon described a "legal hole...that makes it impossible to criminally indict or even administratively punish a police officer for the use of even potentially lethal force should they be able to argue in any credible way that they THOUGHT or PERCEIVED that they or others were in harm's way..."
Under the existing bill of rights, law enforcement officers do not have to prove a threat to them was "real," Simon wrote, only that they could have "perceived or misperceived" a threat and acted upon that perception with force.
"In practice, this means that any police officer who can write a halfway coherent supplemental indictment report -- or who has a supervisor to help him do so -- needs to simply construct a scenario by which...they had some means of belief that they or others were in danger at the moment they decided to use lethal force against a civilian. They need not prove that they were at risk, only that it was reasonable for them to think so," Simon wrote, adding that as a result, an officer's use of force is often considered justified.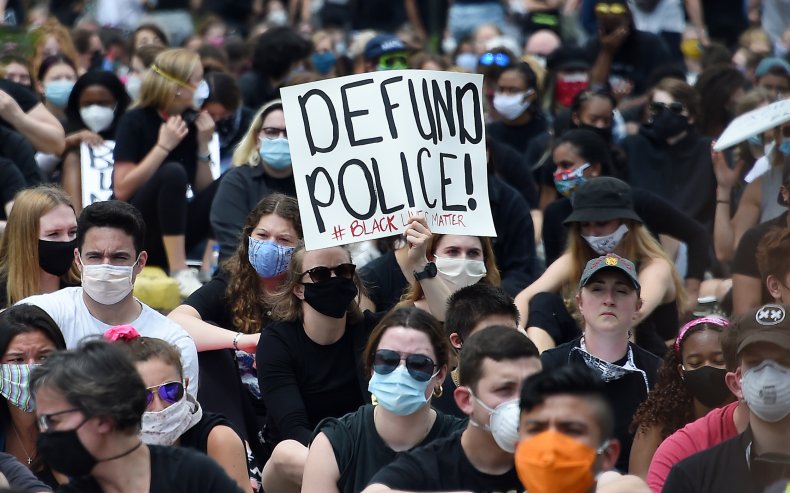 The bill of rights has obstructed attempts to reform Maryland police departments and protect victims of police violence. That looks set to change.
The Republican governor nixed House Bill 670 Friday night, WBAL-TV reported, after lawmakers had been working on drafting a series of police reforms for nearly 10 months following the death of George Floyd in police custody last year, as well as of other unarmed Black men. The bills were passed by the state's General Assembly earlier this week.
After striking the laws down, Hogan wrote in a veto letter to Senate President Bill Ferguson (D-Baltimore City) and House Speaker Adrienne A. Jones (D-Baltimore County) that the reform bills "would undermine the goal that I believe we share of building transparent, accountable, and effective law enforcement institutions and instead further erode police morale, community relationships and public confidence," according to the Post.
He added that if passed, the bills would "result in great damage to police recruitment and retention, positing significant risks to public safety throughout our state."
But then the state Senate turned the tide, voting Saturday afternoon 31 to 16 after the House of Delegates voting 95 to 42 on Friday night to override Hogan's veto, according to WBAL-TV.
"As we stated before Session began, restoring trust in policing is one of the top priorities this Session," Ferguson said in statement in response to Hogan's vetoes Friday night. "The Senate will take the necessary action to ensure that we can have safer communities and fairer policing throughout our state. Once enacted, we look forward to working with all stakeholders and partners in government to ensure these laws build a stronger and safer Maryland."
The police bill of rights will be replaced by a civilian-driven procedure to discipline officers who have been accused of misconduct. The five-day pre-interrogation period has been eliminated. The Post reported that state lawmakers also plan to override Hogan's veto of other measures, which include a state standard for use of force and increasing access to police conduct records.
Ferguson told reporters Friday the bills are "one of the most significant and transformative packages of reform of law enforcement in the country, and certainly, what matters more, is in the history of Maryland."
Newsweek has reached out to Hogan for comment.