Maryland Cyclist Arrested for Allegedly Assaulting Teens Over George Floyd Flyers Captured in Viral Video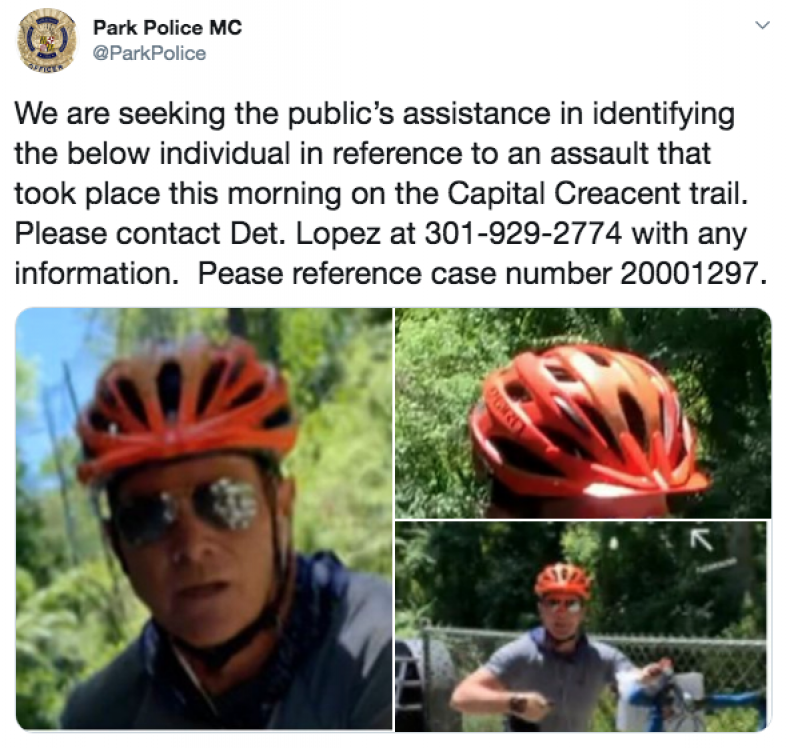 A Kensington, Maryland, resident has been arrested and charged with three counts of second-degree assault after a cellphone video went viral appearing to show the man, Anthony Bernard Brennan III, assaulting a young girl hanging up protest flyers.
Maryland-National Capital Park Police identified three potential victims, depicted in the video, who had been walking along the Capital Crescent Trail just outside Washington, D.C., on Monday posting flyers in support of protests following the death of George Floyd.
Attorneys for Brennan, 60, did not return a request for comment. If prosecuted and convicted, he faces a potential maximum penalty of 30 years in prison.
Court records indicate that Brennan was released from police custody after posting bond Saturday morning.
The cellphone video shows a man police believe to be Brennan marching towards a young woman as another woman shouts repeatedly: "Do not touch her! She has nothing!"
As the man approaches the young woman, he seizes her forearm, his own arm shaking due to the firmness of the grip, and snatches several flyers from her hand. The other woman rushes to her defense, imploring the man to "get off of her."
The man, a cyclist still wearing his helmet, employs an expletive as he goes to retrieve a bike leaning against a fence beside the trail. Unexpectedly, the man begins to charge with his bike at the individual recording the incident, knocking him to the ground.
Park Police said that they received hundreds of tips in response to the recorded assaults. Detectives in the investigative division "utilized various sources" in order to land on Brennan as a suspect. They made contact with Brennan and his lawyers early Friday and gained consent to search his home.
Police said they discovered "items of evidentiary value" during the search, at which point an arrest warrant was obtained.
"The Maryland-National Capital Park Police appreciates the courage and civic engagement of the victims who came forward in this matter," the department said in a statement. "We thank the community for the abundance of tips and information shared."
After the video went viral, outrage-fueled efforts to identify the suspect were rampant on social media. These attempts led to several errors, including the high-profile identification of the wrong individual. Maryland Attorney General Brian Frosh pleaded with users to avoid posting their suspicions publicly.
"Please, folks, give your info to the Park Police, States Attorney John McCarthy or my office," he wrote. "But don't post. Hundreds of thousands of bikers, myself included, use this path."