Maryland Discovers a Half-Billion Dollars in Unemployment Insurance Fraud
In a Wednesday news conference, Maryland's Republican Governor Larry Hogan said that state officials uncovered a plot involving "massive identity theft" and over 47,500 fraudulent unemployment insurance claims seeking over $501 million in paid benefits.
Maryland Labor Secretary Tiffany Robinson said the state division that processes unemployment claims found something amiss when it noticed a large number of claims filed outside of the state. Robinson said the state quickly noticed the oddity and blocked payment on any suspicious claims.
State workers then alerted federal investigators about the irregularity, and the investigators are now reportedly looking into unemployment claims in other states to see if similar schemes have been tried elsewhere, according to the Baltimore Sun.
In a statement given to Newsweek, the Maryland Department of Labor wrote that it is coordinating with the U.S. Attorney's Office and the U.S. Department of Labor's Office of Inspector General (DOL-OIG) to investigate and prosecute individuals.
"My office and the entire law enforcement community are committed to bringing to justice fraudsters who are preying on citizens during this unprecedented public health crisis by using their stolen personal information to fraudulently attempt to obtain unemployment benefits," U.S. Attorney Robert K. Hur said in the statement.
Hogan and Robinson both said there's no evidence the scheme resulted from a breach in the state's online system used to apply for unemployment benefits. The system is known as Beacon One-Stop, which allows users to apply for a variety of unemployment benefit programs.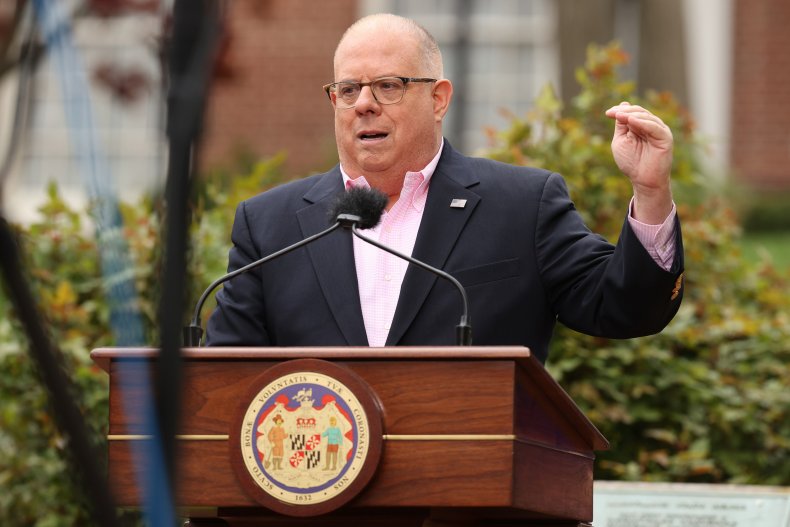 The nationwide shutdown of businesses during the ongoing COVID-19 epidemic caused Maryland's Labor Department to be hit with over 625,000 unemployment benefit claims since March.
The state labor department said that the unprecedented increase in new unemployment claims have resulted in states nationwide seeing an increase in fraudulent claims filed by "imposters using stolen personally identifiable information."
As of May 2020, Maryland's unemployment rate is 9.7 percent, leaving an estimated 451,948 adult residents without work. Every week, tens of thousands of these individuals file new benefit claims.
While Hogan said that 96.4 percent of unemployment claims have been processed—with the unresolved 3.6 percent being "in line with pre-pandemic levels"—the Baltimore Sun reports that 24,000 unemployed state residents still haven't received any benefits at all.
The residents' attempts to resolve the matter have been hindered by busy phone lines or disconnections when the unemployment office's automated system finally picks up their calls.
Despite Hogan's reassurance about the labor department's processing capabilities, Robinson says state offices have been "overwhelmed" while trying to address claims.