Maryland's GOP Governor Calls COVID-19 'Out of Control'
Maryland's Republican Governor Larry Hogan has said the COVID-19 pandemic is "out of control," with infection rates surging across the U.S. as states work to reopen.
Hogan credited the Trump administration for having been communicative with governors, but said he felt there had been issues with the response.
"There's no question that mistakes were made, that we should have had a national testing strategy, that we should have been on top of this, that we should have had a much more clear national strategy and been communicating much earlier on in the process," he said during an interview on NBC's Meet the Press.
"Governors had to step up and be on the front lines but we had 50 different states with 50 different strategies and some did better than others."
Hogan, who is chairman of the National Governors Association, said going forward, a more united front would be needed across different levels of government to address the issue.
"There's no question that things could have been done better at the start of this crisis," he said.
"We've got to deal with the situation at hand and we've all got to do the best job we can because this thing is out of control, it's by no means behind us.
"We're all in it together and we've gotta work together at the federal, state and the local level."
Newsweek has contacted the White House and Hogan for comment.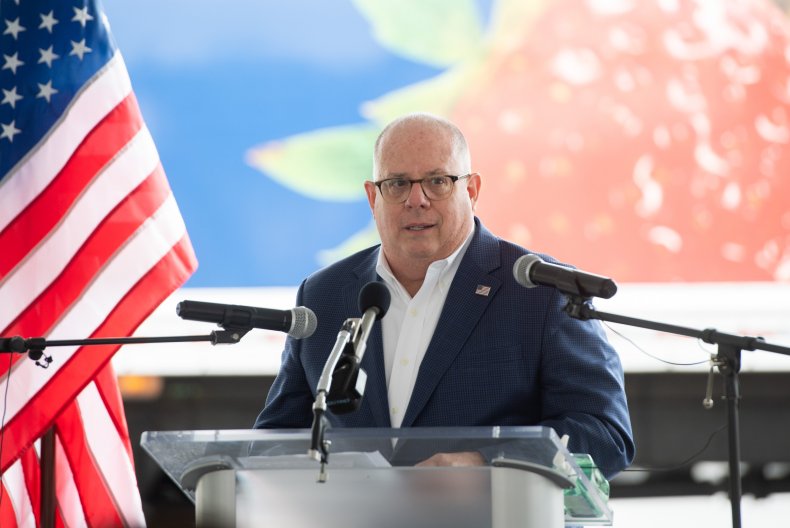 As well as Hogan's criticism of some of the administration's decisions, he also said he would not be "rushed into" sending children back to school, amid a push by President Donald Trump for them to return.
"Everybody, I think, would like to get our kids back to school as quickly as we can but we also want to do it and make sure our kids are gonna be as safe as possible. We're not going to be rushed into this," he said.
In Maryland, more than 73,000 cases have been confirmed since the start of the outbreak, with 3,194 death, according to the latest figures.
Nationwide, cases have surged, with several states breaking records for their daily case increase in recent days.
Florida set the record for highest daily jump of any state with 15,299 new cases in a 24-hour period.
There have been more than 3.3 million cases of coronavirus across the U.S. since the pandemic began, according to Johns Hopkins University figures.
The graphic below, from Statista, shows the surge in COVID-19 deaths in recent days.