Maryland Gov. Hogan Declines to Impose Statewide Mask Mandate: 'Will Not Eradicate Threat'
Maryland Governor Larry Hogan said Thursday he will not impose a new mask mandate or order businesses to close even as the Delta variant of the coronavirus surges through his state.
"Mask mandates and shutdowns will not be able to eradicate the threat of the virus, of this Delta variant," Hogan said during a news conference. Instead, he said, vaccines are the most effective weapon in the battle against the virus and COVID-19.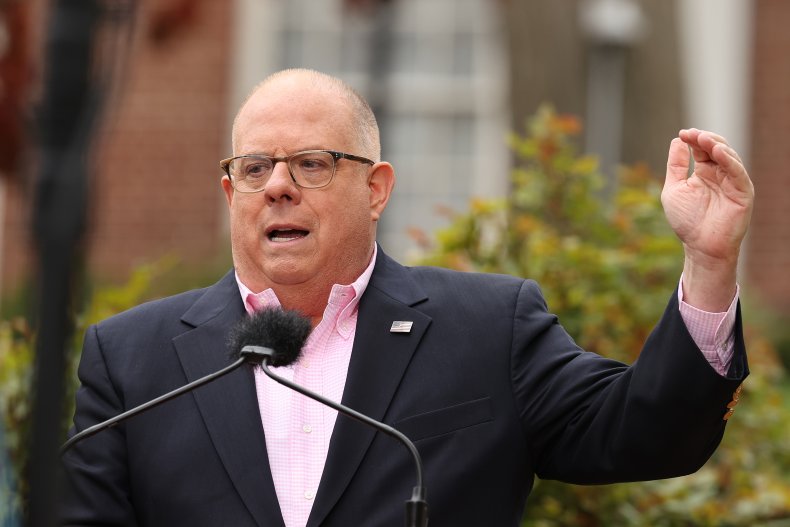 The U.S. Centers for Disease Control and Prevention recently updated its guidelines to urge fully vaccinated people in areas of the country with "high" or "substantial" coronavirus transmission levels to resume wearing face masks.
As of Wednesday, 14 out of Maryland's 23 counties—as well as the city of Baltimore—fall into one of the categories of elevated transmission levels.
The state's seven-day average of coronavirus cases is up by more than 200 percent in recent weeks, according to data from the Maryland Department of Health. Nearly all the new cases are suspected to have been caused by the Delta variant.
During the press conference, Hogan made a case for unvaccinated residents to get the shots. He said, "If you want to stay out of the hospital and you want to avoid dying, then you should get vaccinated.
The Republican governor also noted that his state is "very concerned" about the surging Delta variant. However, he indicated that measures such as mask mandates aren't the solution.
"The purpose of those mitigation measures last year, when there was no vaccine...was to save lives and to keep hospitals from overflowing," he said.
Hogan also told reporters that state employees in congregate settings will be required to show proof of vaccination beginning September 1. Any state worker who does not provide proof of vaccination will be required to wear a mask and undergo routine testing.
Hogan said the rules will apply to employees of the Maryland Department of Health, the Department of Juvenile Services, the Department of Public Safety and Correctional Services and the Department of Veterans Affairs.
About 78 percent of Maryland's residents have received at least one dose of a COVID-19 vaccine, according to the state Department of Health. While Hogan noted that the state has experienced "breakthrough cases" of coronavirus infections among those who are vaccinated, he maintained that most of the new cases and hospitalizations come from people who remain unvaccinated.
Addressing Maryland residents who have resisted getting the vaccine, Hogan said, "You are the ones threatening the freedoms of all of us—the freedom not to wear masks, to keep our businesses open and to get our kids in school."