Maryland Governor Expresses Heartbreak Over Three Fallen Baltimore Firefighters
Maryland Governor Larry Hogan has ordered flags lowered to half-staff in remembrance of three firefighters who lost their lives battling a two-alarm fire Monday morning.
Three firefighters with the Baltimore City Fire Department died and one remains in critical condition on life support after being trapped inside a burning, vacant home.
"Effective immediately, I have ordered flags lowered to half-staff in remembrance of these fallen heroes," said Hogan. "I call on all Marylanders to honor the memories of these brave souls, and pray for their families and fellow firefighters."
The fire was reported as "one of the deadliest in the city's history," according to The Baltimore Sun. Crews were called to the scene just before 6 a.m. in response to a fire involving a three-story vacant row home, officials said.
Firefighters were trapped inside when the building partially collapsed, Baltimore City Fire Chief Niles Ford said. He noted one firefighter was immediately pulled out. Within an hour, two others were removed and transported to the R Adams Cowley Shock Trauma Center.
The firefighters who lost their lives in the line of duty were identified as Lieutenant Paul Butrim and firefighter/paramedics Kelsey Sadler and Kenneth Lacayo. The fourth EMT/firefighter, John McMaster, remains in the hospital on life support.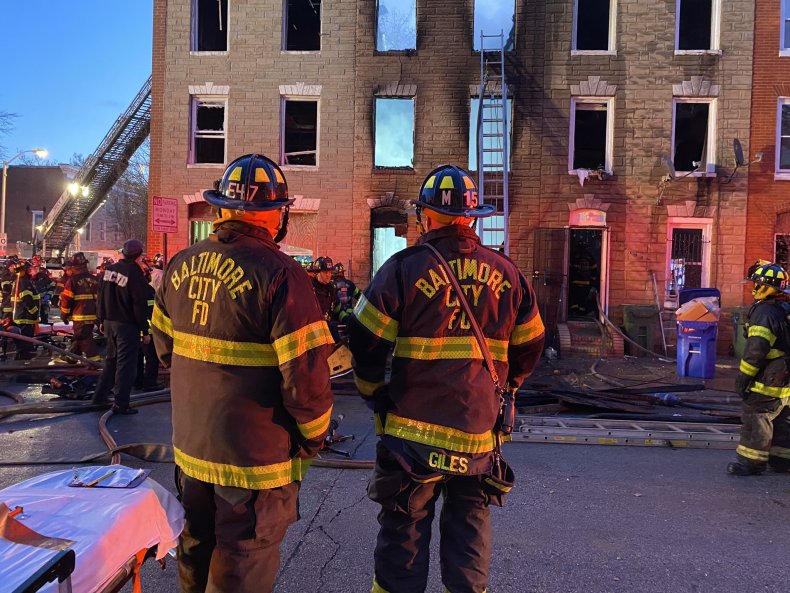 "There are no words to describe the pain and the severity of the losses we have suffered today," said Baltimore Mayor Brandon M. Scott. "My heart is with the Firefighters, their families, and the entire Baltimore City Fire Department who put the lives and safety of others before their own wellbeing each and every day."
Officials have not reported what may have caused the fire, which is still under investigation at this time.
This is the first line-of-duty death the Baltimore City Fire Department has had since 2014, according to WJZ-TV. Firefighter James Bethea responded to a rowhouse fire and went to check on a vacant home next door. He fell through the first floor into the basement. His death was due to smoke inhalation, investigators said.
In 1955, six firefighters died in a nine-alarm fire at a downtown store Tru-Fit Clothing Co. The building's ceiling collapsed on many firefighters, killing six and injuring 28. It was coined at the time as the "worst catastrophe in the fire department's history," the Sun reports.
Baltimore isn't the only city battling vacant building fires. In the most recent data released in 2018 by the Federal Emergency Management Agency (FEMA), an estimated 23,800 vacant residential fires occurred annually between 2013 and 2015, resulting in an estimated total of 75 deaths and 200 injuries.
"Each and every day, our firefighters and first responders answer the call and are ready to run into danger—this is our worst nightmare," said Hogen.