Maryland Governor Larry Hogan Calls for Tougher Hate Crime Laws Amid Asian American Attacks
Watch the full interview on ASP.
Maryland Governor Larry Hogan called for tougher hate crime laws at either the federal or state level amid numerous attacks against Asian Americans.
During an interview with the civic media organization A Starting Point (ASP), Hogan spoke about hate crimes against Asian Americans and was asked if he believes that the federal government or state leaders should increase the penalty for hate crimes.
"I think one is raising awareness, two is getting more support for the Asian community, three; increasing patrols and prosecutions of existing laws and then perhaps there's a need to strengthen laws at either the federal level or some state levels where they don't have the same protections that we do here in our state," Hogan said in response.
During his interview with ASP, Hogan also spoke about how Maryland has strengthened its own hate crime laws in March.
In March 2020, the Maryland General Assembly passed a bill that made it easier to convict someone of a hate crime; the bill was named after 2nd Lt. Richard Collins, who was stabbed to death in 2017 near the University of Maryland's campus.
"We made it easier in our state of Maryland to be able to classify hate crimes and to report hate crimes," Hogan said. "We've increased the number of patrols in our Asian communities and we've brought together prosecutors, both federal and state prosecutors to talk about what can we do to make sure that people that are guilty of these crimes are prosecuted to the fullest extent of the law."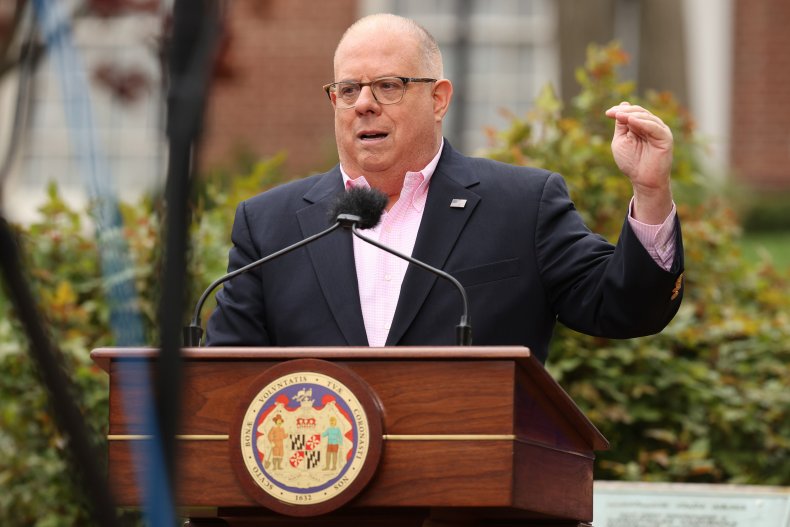 The comments by Hogan come amid an increase in hate crimes against Asian Americans. According to a study published by Center for the Study of Hate and Extremism at California State University, San Bernardino, hate crimes across the nation decreased overall by 7 percent in 2020, while hate crimes against Asian Americans increased by almost 150 percent.
During his interview with ASP, Hogan also suggested that he has a better understanding of Asian American hate crimes as his wife is the first Asian American first lady in Maryland history.
"My wife and three daughters and four grandkids. I understand it better than the average politician does because I've heard about it. The discrimination they've contended with their whole lives," he said.
Hogan made similar comments in March during a virtual conversation with Maryland Congressman Jamie Raskin to discuss the increase in hate crimes against Asian Americans, citing a report from Stop AAPI Hate, which found 140 hate crime incidents reported across Maryland, Virginia and Washington, D.C., in March 2020.
"Things have been happening for a long time. I can tell you I hear stories from my wife and my daughters about things they have experienced their whole lives, but there's no question that the hatred, the vitriol, the violent attacks have escalated dramatically over the past year as we are all dealing with COVID-19," Hogan said. "This is an added burden for the Asian community because they are being blamed for this, and people are taking out frustrations on them."
During his conversation with Raskin, Hogan also noted that in response to the increase in hate crimes against Asian Americans, he directed the Maryland State Police and other law enforcement agencies across the state "to immediately increase enhanced visibility patrols and to try to provide increased protection for members of our Asian community."
"A lot of times people are afraid to report the incident, or they don't think that it's going to make a difference. And I just want to encourage everybody to make sure that we are going to take it seriously and it will make a difference," Hogan added.
Newsweek reached out to Hogan for further comment but did not receive a response in time for publication.