Maryland Governor Larry Hogan Considered Running Against Trump in 2020, Called It a 'Suicide Mission'
Republican Maryland Governor Larry Hogan writes in his new book that he'd given serious consideration to running as a primary challenger to President Donald Trump, but inevitably decided it was a "suicide mission."
Hogan, who has publicly criticized Trump's response to the novel coronavirus pandemic, released his book titled Still Standing on Tuesday. He explained in the book that he had discussions about the possibility and even thought about what nickname the president would likely give him if he chose to run.
The GOP governor, who some see as potential 2024 presidential candidate for his party, told people that it would be a "suicide mission" to run against Trump in this election. "But a short, energetic campaign might be right up my alley. 'I'm pretty good at retail politics,' I said," he writes.
Speculating about potential nicknames, Hogan writes: "I assumed he would go with 'Fat Larry,' an obvious choice as I had admittedly put on some weight since my cancer battle. Or maybe 'Cancer Boy.' That would be a good one. But it didn't happen."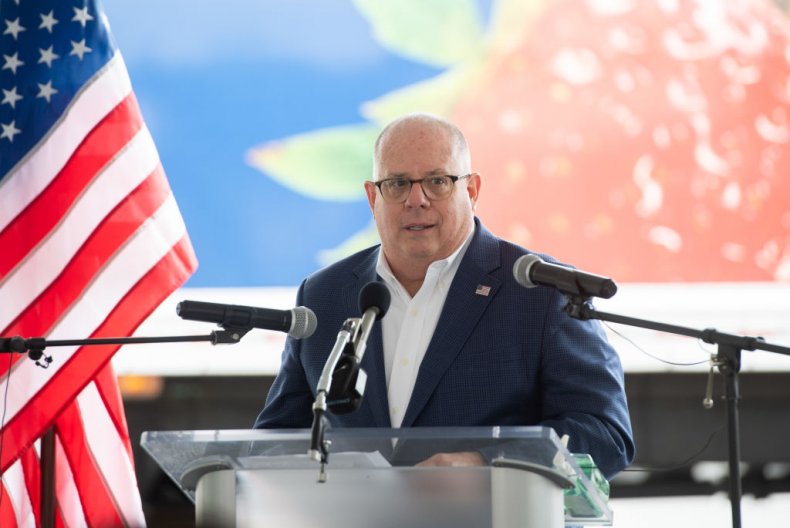 Newsweek reached out to the Trump campaign for comment, but did not receive a response by the time of publication.
Hogan explains in the book that he aims to be "respectful" of the president while also speaking out when he disagrees with Trump.
"I'd really prefer not to talk about him at all. I stay focused on my job as governor. But when something rises to the level that I really disagree with, something that's just so offensive or that directly hurts the people of Maryland, I stand up and say something," he writes.
Hogan notes that many Republicans "stay silent, swear allegiance, and blindly toe the line."
Throughout the novel coronavirus pandemic, Hogan has regularly raised concerns about the president's response to the public health crisis. In an editorial published by The Washington Post on July 16, Hogan wrote that Trump failed to create a national strategy to respond to the pandemic.
"I'd watched as the president downplayed the outbreak's severity and as the White House failed to issue public warnings, draw up a 50-state strategy, or dispatch medical gear or lifesaving ventilators from the national stockpile to American hospitals," he wrote. "Eventually, it was clear that waiting around for the president to run the nation's response was hopeless; if we delayed any longer, we'd be condemning more of our citizens to suffering and death."
In a recent interview with The Atlantic, Hogan pointed out that not many Republicans are willing to criticize the president.
"There are so few Republicans willing to say anything that's not 100 percent in lockstep with the president," he said. "So when I do say something that disagrees, people say: 'Wow! A Republican speaks out!'"