Maryland Governor Often Critical of Trump Says He Wrote in Ronald Reagan for President on Mail-in Ballot
Maryland Governor Larry Hogan reportedly wrote in Ronald Reagan as the presidential pick on his 2020 mail-in ballot, saying that he voted for the late president to make a statement in a state where Democratic nominee Joe Biden is favored to win by 30 percentage points.
"I know it's simply symbolic. It's not going to change the outcome in my state. But I thought it was important to just cast a vote that showed the kind of person I'd like to see in office," Hogan told The Washington Post on Thursday, calling the late 40th president "my hero in politics."
Hogan's office declined to further comment when contacted by Newsweek on Friday.
The latest Goucher College poll shows that if the election was held today, 61 percent of voters would choose Biden, compared to 30 percent of voters for Trump in Maryland.
Hogan has been highly critical of Trump, especially in regard to the president's handling of the coronavirus pandemic. On July 16, Hogan wrote in the Post that "instead of listening to his own public health experts, the president was talking and tweeting like a man more concerned about boosting the stock market or his re-election."
In April, Trump criticized the governor for purchasing 500,000 coronavirus testing kits from South Korea.
"The governor of Maryland didn't really understand. He didn't really understand too much of what was going on," said Trump in reference to an April meeting between governors and Vice President Mike Pence, encouraging governors to take the lead in testing within their states.
"The administration made it clear over and over again they want the states to take the lead, and we have to go out and do it ourselves, and that's exactly what we did," Hogan responded during a news conference.
He was also among four Republican governors who did not sign a letter pledging support for the nomination of Judge Amy Coney Barrett to the Supreme Court. The letter—posted by the Republican Governor's Association and signed by 22 GOP governors along with the leaders of Puerto Rico and the Northern Mariana Islands—was sent to Senate leaders earlier this month.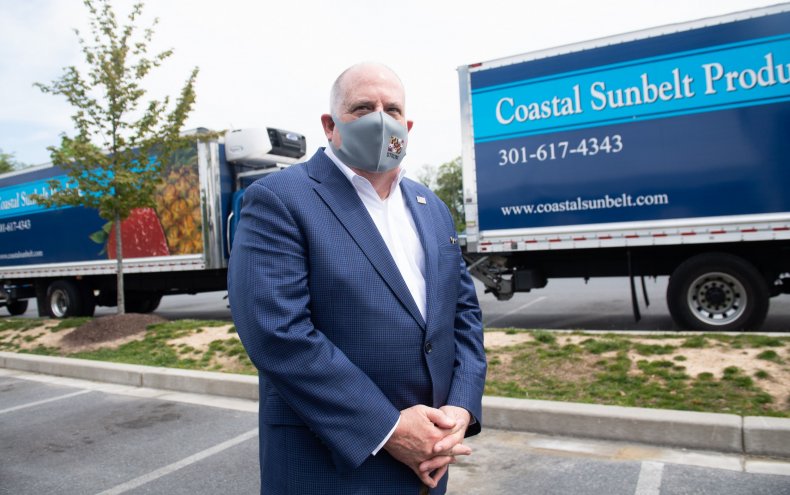 Hogan has had a consistently high approval rating during his time as governor. He is only the second Republican to win a second term for governor in deep-blue Maryland and may be considering a bid in the 2024 presidential election, according to the Post.
In the 2016 election, he wrote in the name of his father, Larry Hogan, Sr., after decidedly being unable to vote for either Trump or Democratic presidential nominee Hillary Clinton. Hogan, Sr., who died in 2017, was a member of the House Judiciary Committee investigating the Watergate scandal in 1974. The elder Hogan was the first Republican in Congress to support Richard M. Nixon's impeachment and the only Republican to vote for all three articles of impeachment.
Updated 3:03 PM ET, to say that Hogan's office further declined to comment.