Ice Cream Store Employees Assaulted After Asking Couple to Wear Masks
Police in Maryland are searching for a man and woman who allegedly attacked a pair of ice cream store employees in response to being asked to take precautions to help prevent the spread of coronavirus.
The pair reportedly set upon Nythia Davis and McKeniva Mortimer over the weekend at a Cold Stone Creamery branch in Edgewater when informed by the employees that they needed to wear face masks while inside the store.
The attack took place shortly after the man and the woman walked into the store at about 7:30 p.m on Saturday, November 7.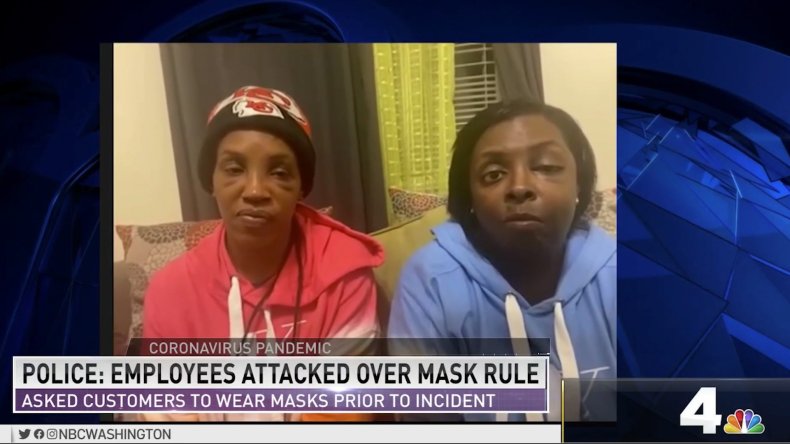 Davis and Mortimer told news channel News4 they asked the woman to properly wear a face mask that was draped around her neck as she came in, pointing out the "no mask, no service" sign posted on the business' entrance.
The pair informed the couple they would not be served ice cream unless they followed the instruction.
Under an executive order issued by Maryland's Republic Governor Larry Hogan, everyone over the age of five is required to wear a face covering "in the public spaces of all facilities and businesses across the state."
"Her guy that she was with got upset for us asking her to pull her mask up and when we asked them to leave the store because she refused to wear the mask," Mortimer said.
The man and woman allegedly attacked the pair of employees, punching them several times and leaving both with injuries.
Davis, who now requires eye surgery as a result of the assault, said the situation had "escalate really quickly."
"I'm sad that I'm in this pandemic and people still don't realize that they should wear their mask so that we can overcome this pandemic," she said.
Mortimer added that she was left "scared" by the incident, and said she had hit the man back in an attempt to defend herself.
"I remember falling. I remember seeing his foot. I don't remember it connecting," she was quoted as saying by the FOX5 news channel.
Sergeant Kam Cook, of the Anne Arundel County Police Department Sergeant, confirmed in a statement the pair had been "injured and assaulted" and said officers had been called to the scene of the attack on Saturday evening, news channel WJZ13 reported.
Police were unable to arrest the suspects, however, who reportedly fled the area in a silver Nissan Altima.
The investigation into the incident remains ongoing and officers have requested anyone with information concerning the incident to come forwards.
Davis said she had "faith" her suspected attacker would be caught.
"Because what he did to me was wrong. And if he's not caught, I feel like he'll do it to someone else," she was quoted as saying by the FOX5 news channel.
Newsweek contacted Anne Arundel County Sheriff's Office for comment.