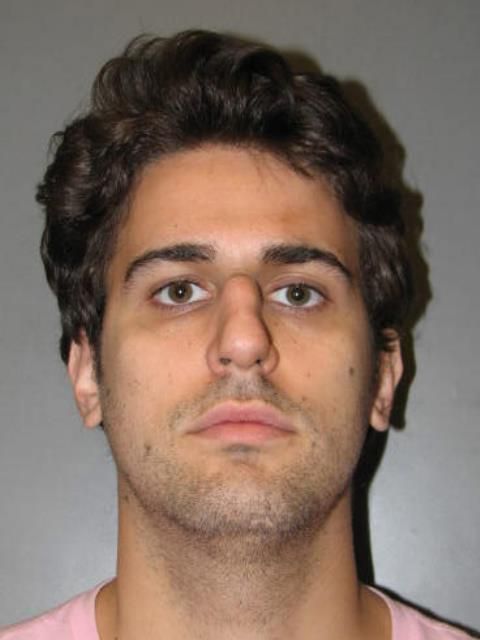 A 30-year-old man was accused of vandalizing a Chick-fil-A and Jewish synagogue in Olney, Maryland, Montgomery County Police said.
The alleged vandal, identified as Eric Sponaugle, reportedly criticized the chain restaurant and religious institution for their perceived religious views on homosexuality and Palestine. Chick-fil-A employees discovered several messages written in black permanent marker on the restaurant's drive-thru menu, glass windows and brick facade on September 6, WJLA reported.
The messages targeted the company's alleged stance on homosexuality. Sponaugle allegedly wrote, "Can't pray the gay away," "Homophobia kills!!" and "Homophobic scum." The messages also accused the company of hating gay people, adding, "Conversion therapy is torture for LGBT youth. Chick-fil-A's profits go towards torturing children."
The vandal, initially described as a white male in his 20s with brown hair and a beard, was caught on surveillance video canvassing the area before writing the messages.
A day later, the B'nai Shalom synagogue reported a banner hanging outside the religious institution had been vandalized. The synagogue told police that someone had used black permanent marker to leave a message about Palestine.
The message read: "Justice for Palestinian people NOW!! Israel is a fascist apartheid state! …What will your legacy be? … Genocide?"
Police shared digital images of the suspect on an internal department server, according to WJLA. A patrol officer came across a man, identified as Sponaugle, at an Olney bus stop that resembled the suspect.
The officer found a plastic lettering used on signboards after checking Sponaugle's backpack, authorities said.
Sponaugle was charged with defacing religious property, damage to property based on race/religion and two counts of malicious destruction of property, Montgomery County Police told Newsweek. If convicted, he faces up to six years in prison and $11,000 in fines.
When asked about the allegations by WJLA, Sponaugle said he could not directly comment on them. However, he expressed his support for the messages left behind at Chick-fil-A.
"Chick-fil-A's well-documented history of using its profits to the detriment of LGBTQ youth is unconscionable and should not be ignored," Sponaugle told the station. "And while I would applaud the quote-unquote vandal for attempting to bring attention to these horrific abuses, I believe that this is a rather facile form of protest and that their energy would be better spent on more concrete activism."
Sponaugle was scheduled back for a court appearance at the Montgomery County District Courthouse in Silver Spring, Maryland, on November 9.