Maryland Marketing Firm Fires Employee Who Broke Into Capitol Wearing Company Badge
A Maryland marketing firm has fired an employee who was seen wearing a company badge after breaking into the U.S. Capitol during the pro-Trump riot on Wednesday.
Navistar Direct Marketing issued a statement Thursday saying it had terminated the employee after seeing his photograph online.
"Navistar Direct Marketing was made aware that a man wearing a Navistar company badge was seen inside the U.S. Capitol on January 6, 2021, during the security breach. After review of the photographic evidence the employee in question has been terminated for cause," the statement said.
"While we support all employees' right to peaceful, lawful exercise of free speech, any employee demonstrating dangerous conduct that endangers the health and safety of others will no longer have an employment opportunity with Navistar Direct Marketing," the statement continued.
Newsweek reached out to Navistar Direct Marketing regarding the identity of the employee, but it declined to comment because of an ongoing police investigation.
The company's decision comes after a chaotic and violent scene unfolded Wednesday, as supporters of President Donald Trump assaulted the Capitol by breaking through barriers, clashing with police and occupying congressional halls and offices.
The attack occurred after Trump and some Republican lawmakers called for Congress to investigate the results of the presidential election, claiming without evidence that it was riddled with voter fraud.
At least four people have died as a result of the riot, according to Washington, D.C.'s Metropolitan Police Department. One woman was shot and later died in the hospital, while another woman and two men suffered medical emergencies that resulted in their deaths. More than 52 people have been arrested in connection with the Capitol assault.
Rioters had traveled to the capital from Arizona, Oregon, Florida and Maryland, among other states. According to The Baltimore Sun, at least seven people from Maryland were arrested in connection with the riots.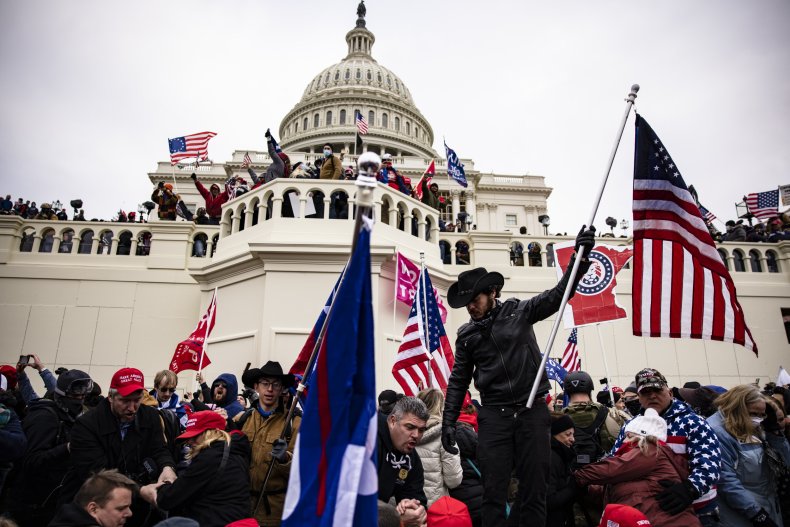 In the aftermath of the invasion, there was shattered glass, broken windows, destroyed property and ransacked offices at the Capitol.
The FBI said it is seeking information to identify those who were "actively instigating violence."
"The FBI is accepting tips and digital media depicting rioting and violence in the U.S. Capitol Building and surrounding area in Washington, DC, on January 6, 2021," a form on the agency's site reads.
Lawmakers on Capitol Hill have condemned the violence, and Vice President Mike Pence called for those who caused the mayhem to be "prosecuted to the full extent of the law."
Acting Attorney General Jeffrey Rosen announced Thursday that criminal prosecutors were working "throughout the night" with the U.S. Capitol Police, the FBI, the Bureau of Alcohol, Tobacco, Firearms and Explosives and D.C.'s Metropolitan Police Department "to gather evidence, identify perpetrators, and charge federal crimes where warranted."