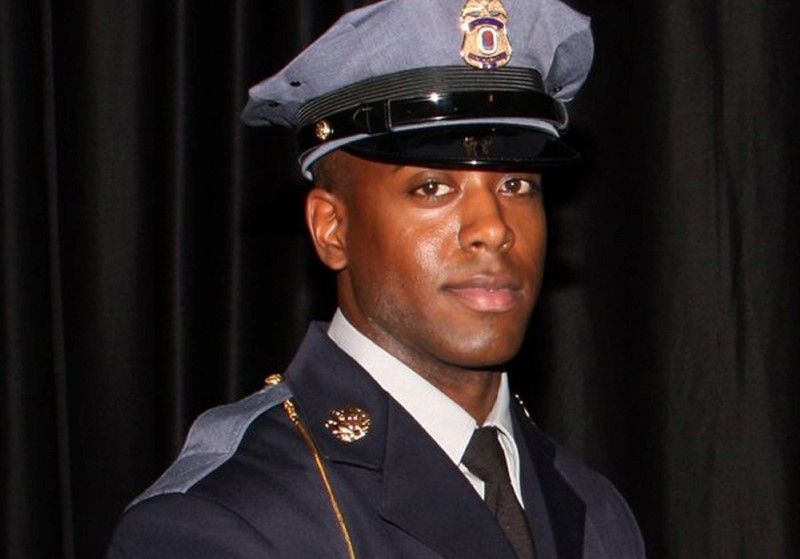 Updated | A man who shot dead a Maryland police officer on Sunday was attempting to die during a shootout with the police, officials said on Monday.
Officer Jacai Colson, a four-year veteran of the Prince George's County Police Department, was killed in a shootout with a man outside a district police station in Palmer Park, located 10 miles east of central Washington, D.C., on Sunday afternoon. Colson was an undercover narcotics officer for the department, and would have turned 29 this week.
While Prince George's County police called the attack "unprovoked" on Sunday, on Monday the department said that "the evidence shows the gunman intended to die during a gun battle with police."
Colson was fatally wounded when the suspect opened fire outside the station at around 4:30 p.m. on Sunday. The suspect was shot by police officers during the attack, but is expected to survive and is listed as being in stable condition. Charges against the injured suspect are pending.
Police said that two other men, described as the suspect's brothers, are also in custody. While police did not name the gunman, the first two suspects taken into custody have been identified as Malik and Michael Ford, brothers from the Washington suburb of Temple Hills, Maryland.
Investigators have not yet determined a motive in the attack.
On Sunday, Prince George's County Police Chief Henry P. Stawinski III addressed the media saying the shooting "wasn't about anything." The suspect shot the first police officer he saw outside the station, he said.
"One of your defenders lost his life in defense of this community today. This was an unprovoked attack," said Stawinski.
"We are grieving after one of our officers lost his life in the line of duty this afternoon," Prince George's County Police Department said in a statement posted on its Facebook page on Sunday night.
Maryland Governor Larry Hogan said on Sunday he was "shocked and saddened" by the shooting and has ordered flags to be flown at half-staff "in honor and remembrance of Officer Colson."
The Associated Press reported that both the FBI and the Bureau of Alcohol, Tobacco, Firearms and Explosives are helping Maryland police in the investigation, according to spokesmen for the two agencies.
Colson's death comes one month after two Maryland police deputies were shot dead in a Panera Bread restaurant in Abingdon, located 25 miles northeast of Baltimore.