Maryland Prepares for Special Congressional Election With Vote-by-Mail
Maryland's first all-mail election is underway, with most voters from the state's 7th Congressional District casting ballots remotely to elect an interim representative following Congressman Elijah Cummings' death last October.
Registered voters across the district—which encompasses roughly half of Baltimore City, in addition to areas of Baltimore and Howard counties—received paper ballots by mail or fax earlier this month from the state's Board of Elections, which also made electronic ballots available to download directly from its website. The board is accepting ballots issued by mail on or before April 28, as well as those deposited at designated drop-off locations prior to 8:00 p.m. EDT on Tuesday.
Several outlets, including the Associated Press, have reported that ballots cast in-person during Maryland's 7th Congressional District election will be quarantined for 24 hours before they are reviewed by election officials in effort to avoid potential exposure to infection.
Although Maryland Governor Larry Hogan has strongly encouraged everyone able to vote by mail to do so, individuals belonging to the 7th Congressional District will have an opportunity to cast their ballots in person at one of three polling sites. The voting centers, scheduled to open at 7:00 a.m. EDT and close at 8 p.m. EDT on Tuesday, are expected to uphold reasonable social distancing measures outlined in Hogan's April 10 proclamation ordering that the upcoming special election utilize "alternative voting systems." The same guidelines will apply to Maryland's June 2 primary elections for president as well as various state and local officials.
Maryland's vote-by-mail procedure was implemented in response to the new coronavirus pandemic, which has led to at least 827 deaths and close to 4,000 hospitalizations, according to the state's Department of Health. Overall, more than 18,500 people have tested positive for the disease statewide, among the highest case counts reported in the United States.
Hogan announced that voting for Tuesday's special election would take place primarily via post on March 17.
"I have two main priorities—keeping Marylanders safe and protecting their constitutional right to vote," he said in a statement, which tasked the Board of Elections with developing a plan to conduct elections for the 7th Congressional District representative "in a way that protects public health and preserves the integrity of the democratic process."
"While there are many valid reasons for unease and uncertainty right now, ensuring that the voices of Maryland citizens are heard shouldn't be one of them," Hogan's statement finished.
In its initial recommendation to the governor citing a need for all-mail voting operations amid the pandemic, Maryland's Board of Elections acknowledged the risks of potential exposure to infection for both voters and polling employees.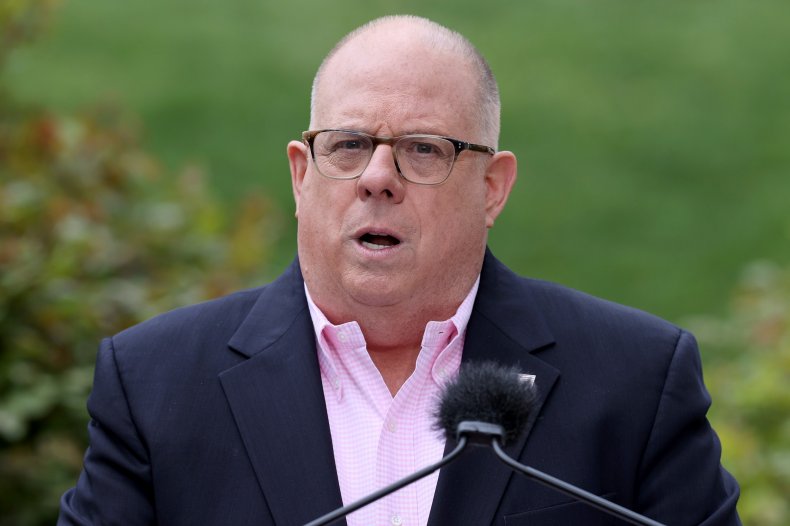 "Due to the global nature of this pandemic, certain testing materials and personal
protective equipment (e.g. masks, gloves, other items that lessen the probability of exposure to the virus) are in critical supply," the board's chairman, Michael Cogan, wrote in a letter addressed to Hogan, going on to note that distribution of personal protective equipment to all election judges and staff may not be guaranteed for that reason.
"Due to the highly contagious nature of this virus, extreme precautions should be taken to protect the lives of Marylanders, especially those in high risk categories," his letter continued, "and any election judge without protective equipment would be at high risk of becoming infected by COVID-19."
The Board of Elections did not reply to Newsweek's request for additional comment on this article by the time of publication.