A Baltimore-based event company is building upon the social distancing phenomenon and may have found a way for bar patrons to have fun and stay safe in the age of the new coronavirus.
Bumper tables, the idea of Revolution Events, were unveiled at Fish Tales, a seafood restaurant in Ocean City, Maryland on Saturday.
"We had a lot of time on our hands to try and reimagine what events were going to look like as we kind of tiptoe out of this, and how we could inch near something new that would make people feel safe while being festive and having the party aspect to it," Erin Cermak, CEO and founder of Revolution Events, told Newsweek.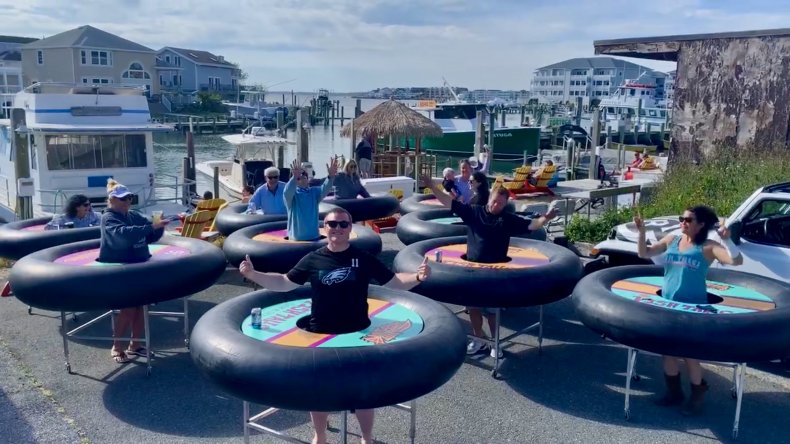 The contraption is an inflated inner tube affixed to a wheeled aluminum frame with four legs. This allows the customer to engage with friends or staff members at the bar from a safe distance.
Cermak said that when the COVID-19 pandemic hit, production on many of the events they typically work with came to a screeching halt.
The staff at Revolution Events started brainstorming, and before long, the Bumper Table was born.
Cermak said she reached out to her cousin, Donna Harman, who owns Fish Tales.
"I told her, 'You totally need these things. These are right up your alley,'" Cermak said. "She has always been on the cutting edge of bar fun."
Cermak created a mock-up and sent a photo to Harman, who liked the idea and ordered several for the restaurant.
The Bumper Tables were delivered Saturday, and Cermak and a few volunteers walked along the boardwalk in the contraptions.
Cermak said while there wasn't a lot of social distancing going on at the boardwalk, she was pretty comfortable and felt a sense of safety inside the Bumper Table.
"It kind of gives you a built-in social distance barrier, without being awkward," she said.
While it serves a social distancing purpose, it's also a great way to meet other people, Cermak said.
"...you go and knock into them, then you start talking to them," she said.
Harman said in a TMZ report that she has purchased 10 of the Bumper Tables and will probably use them for customers who sit outdoors. Harman also said she has plans to buy more to use in the restaurant's dining areas when they open back up.
Although her cousin is her first customer, the publicity over the weekend has sparked interest from at least 12 other businesses, Cermak said.