Maryland's Republican Governor Dismisses 'Crazy Things' Said by GOP Representative at Anti-Lockdown Protest In His State
Maryland Governor Larry Hogan, a Republican, dismissed the criticism directed at his stay-at-home order from GOP Representative Andy Harris during an anti-lockdown protest on Saturday, referring to the congressman's remarks as "crazy things."
Dozens of Maryland residents joined a demonstration against the restrictions put in place by Hogan in an effort to curb the spread of the novel coronavirus. Harris spoke at the event, comparing the social distancing measures to "Communist China" and "North Korea."
Hogan was asked to respond to those remarks in a Sunday interview with CNN's State of the Union.
"First of all, look, I think everybody has a right to protest and express their feelings. A couple of dozen people did so yesterday and they have every right to do that," the Republican governor said. "Sadly, we had far more people die yesterday in Maryland than we had protesters."
Hogan then addressed Harris' remarks directly.
"Congressman Harris, I'm not sure where he woke up yesterday morning, but maybe he confused North Korea and South Korea," the governor quipped. "South Korea's doing a great job on testing and we just saved the lives of thousands of Marylanders by getting those half million tests from [South] Korea. But I really don't have any further comment," he said with a shrug.
"He's obviously got the right to say whatever crazy things he wants to say but, you know, I don't really need to respond to them," Hogan added.
Speaking to the crowd attending the Saturday demonstration, Harris complained that he and others in Maryland are unable to attend church like normal due to the coronavirus restrictions.
"Unbelievably, in America, I have been told that you can't practice your religion and the state has decided that my religion is essential or nonessential," Harris complained.
"I didn't wake up in Communist China and I didn't wake up in North Korea ... and tomorrow morning, I should be able to go to the church of my choice and worship the way I choose," the congressman added.
Harris pushed back against Hogan's Sunday criticism in a statement emailed to Newsweek.
"Defending freedom of religion is not crazy to many people. There were hundreds of people in Salisbury yesterday (factually many more protested than those who died in Maryland yesterday, each of which, of course, is a tragedy) who want a common sense approach to re-opening our churches and businesses that so many other governors have taken," he said. "The governor says he's not denying the right to protest, but his spokesperson's remarks and his administration's actions following the protest indicate otherwise."
Anti-lockdown demonstrations have taken place across the country as right-wing groups rally against stay-at-home measures implemented by their respective local leaders. President Donald Trump has repeatedly voiced encouragement for the movement despite many of the protesters calling for an immediate lifting of lockdown measures, which goes against the guidelines laid out by the White House Coronavirus Task Force.
Hogan previously criticized Trump for siding with the demonstrators against governors, noting that it was sending a confusing message.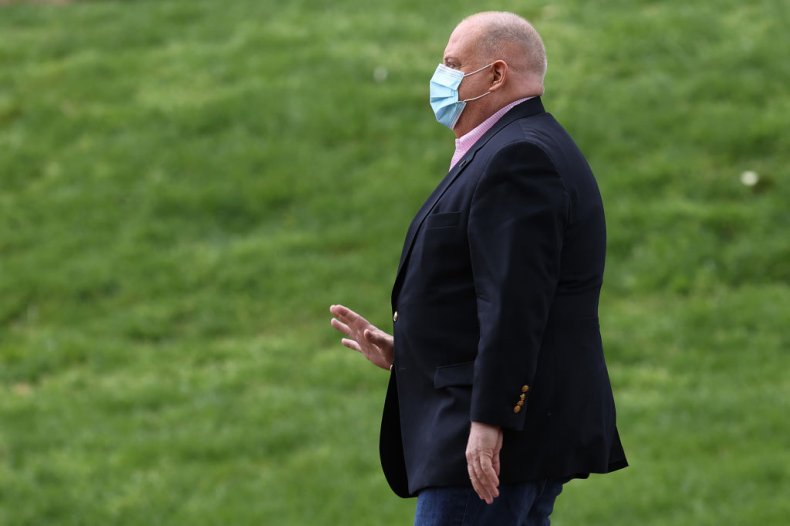 "I don't think it's helpful to encourage demonstrations and encourage people to go against the president's own policy," the GOP governor said during an interview with CNN on April 19. "For example, I mentioned earlier, the president's policy says you can't start to reopen under his plan until you have declining numbers for 14 days, which those [other] states [with protests] and my state do not have," he explained.
"So then to encourage people to go protest, the plan that you just made recommendations on ... it just doesn't make any sense," Hogan added. "We're sending completely conflicting messages out to the governors and to the people, as if we should ignore federal policy and federal recommendations."
Despite the national attention garnered by the anti-lockdown demonstration, polling has shown that the majority of Americans support the way their states' leaders have responded to the coronavirus pandemic.
An NPR/PBS/Marist poll published on Friday showed that significant majorities of respondents believed it was currently a "bad idea" for people to return to work; to open dine-in restaurant service; to have students return to school; and to allow large groups to attend sporting events until there are greater testing capabilities for the novel coronavirus. Of those respondents, 65 percent said they thought it was a "bad idea" for people to return to work, while 80 percent said the same about opening dine-in service at restaurants.
This article has been updated with a statement from Congressman Harris.