Maryland's Republican Governor Says GOP Senators Shouldn't 'Ram Through' SCOTUS Nominee Before Election
Maryland's Governor Larry Hogan, a Republican, argued that GOP senators should not "ram through" President Donald Trump's yet to be announced Supreme Court nominee before the election, calling that "a mistake."
Hogan has criticized Trump before, particularly when it comes to the administration's response to the coronavirus pandemic. The governor raised his concerns about the pending Supreme Court battle in the Senate when he was asked about the nomination issue in an interview aired by the 2020 Texas Tribune Festival on Wednesday morning.
"I think it would be a mistake for the Senate to ram through a nominee before the election on a partisan line vote—just as I think it would also be a mistake for the Democrats to question the integrity of the court or any of the nominees or try to pack the court," Hogan said.
He also asserted that he does not believe lawmakers should "play partisan games" with the nation's top court.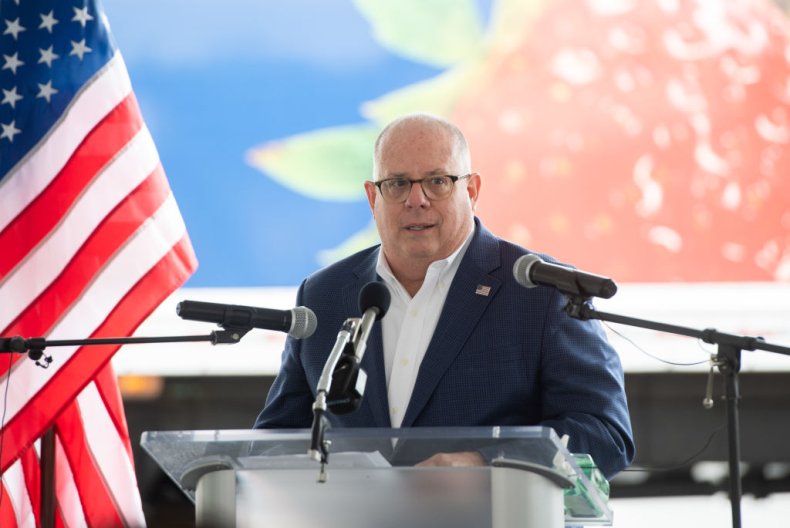 "I think there's just more than enough hypocrisy to go around on both sides," the governor said. "The American people deserve a dignified process."
Hogan also expressed admiration for Supreme Court Justice Ruth Bader Ginsburg, who died at 87 last week after a long battle with cancer. He said that lawmakers should not allow her death to "create more division in our country."
Newsweek reached out to Hogan's office for further comment but he did not respond in time for publication.
Hours after Ginsburg's death, Senate Majority Leader Mitch McConnell, a Kentucky Republican, announced that the upper chamber of Congress would move forward to vote on and confirm a nominee put forward by the president to replace the liberal justice. McConnell, and Trump, have made placing conservative judges on the federal appeals courts a key component of their legacy. Under Trump's administration, two conservative justices have already been put on the Supreme Court. If a third is confirmed, that would give conservatives a 6-3 majority.
Democrats have been highly critical of McConnell's decision to move forward with Trump's nominee to the high court. In 2016, McConnell and other Republican senators argued that they could not move forward with President Barack Obama's top court nominee, Merrick Garland, because it was an election year. At least two Republican senators, Lisa Murkowski of Alaska and Susan Collins of Maine, have cited their stance in 2016, saying they would also oppose a nominee from Trump this year because of the imminent election.
But McConnell and Trump appear to have the votes to proceed and confirm the nominee, which is expected to be a woman and will be announced this week. Senator Mitt Romney, a Utah Republican, confirmed on Tuesday that he would support the confirmation process before the election. Some had speculated that Romney may oppose the nomination, as he has frequently clashed with Trump and was the only Republican senator who voted to remove the president from office in February's impeachment vote.
In order for Democrats to successfully block the nominee's confirmation in the Senate, they would need to all vote in unison while also gaining the support of four Republicans. Currently, the upper chamber of Congress is composed of 53 Republicans, 45 Democrats and two independents who caucus with their Democratic colleagues. Right now, only Collins and Murkowski appear willing to go against their party.