Who is Marzia Bisognin? YouTube Star PewDiePie Weds 26-year-old after Eight Years Together: 'I'm so Lucky'
Swedish YouTube star PewDiePie has married his long-time partner Marzia Bisognin after eight years together. The 29-year-old comedian and gamer, real name Felix Kjellberg, revealed the news in a post to his 18.3 million followers on Twitter.
"We are married!!! I'm the happiest I can be I'm so lucky to share my life with this amazing woman," he wrote, as well as sharing images of the wedding ceremony held on August 19 at Kew Gardens in London, U.K. The images show the couple staring into one another's eyes, walking hand in hand surrounded by guests and posing for the camera inside the botanical garden.
Who is Marzia Bisognin?
26-year-old Marzia Bisognin is a former YouTube star, fashion designer and entrepreneur. Born on October 21, 1992 in Arzignano, Italy, she first met PewDiePie in 2011, after emailing him to tell the YouTuber she found his videos funny, reports the New York Post.
Bisognin moved to Sweden to live with PewDiePie in October 2011, before they later moved to Brighton, U.K. together, an area where a number of other YouTube stars reside such as Zoella, Alfie Deyes and Soviet Womble.
She went on to start her own YouTube channel "Cutie Pie" on January, 16, 2012. Focusing on fashion, beauty and her adventures traveling the world with PewDiePie, the videos attracted millions of views as she obtained 7.6 million subscribers.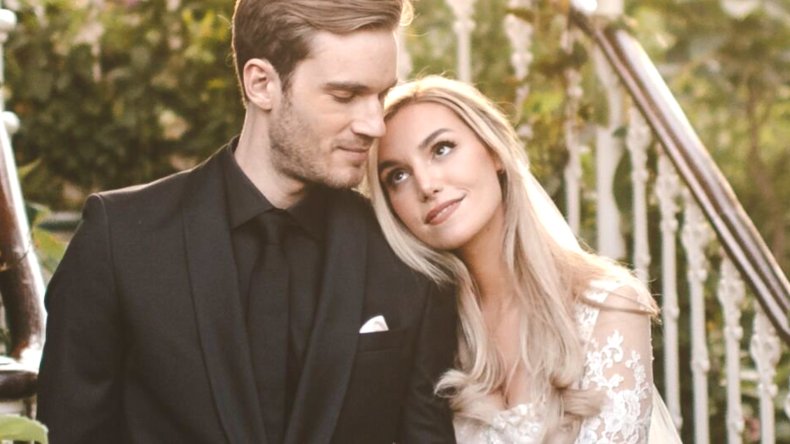 On October 22, 2017 she announced she was quitting the platform in a final video where she said focusing on her internet career had started to have an adverse effect on her mental health.
"After a few months I realized it was because I had allowed myself to be completely cut off from the world. I wasn't seeking any friendships and I was just finding comfort from my own little bubble on YouTube...if you allow it to take over your life, I think it's not healthy," she said in the video.
She also deleted a number of her videos from the channel, explaining in a post underneath her final video, "In order to move on, I need a clear head. Having videos up, after making this decision, would have seemed like taking a step back."
As well as her YouTube career, Bisognin has previously launched her own fashion lines. Since 2015 she has worked with various fashion brands to launch numerous clothing lines, including Lemon, featuring six pieces in a partnership with custom perfume designer, Scent Trunk.
In July 2018, Bisognin announced Maì, a jewelry and home decor brand where she would "control 100% of what goes into it." As well as Maì, she also currently runs unisex clothing line Tsuki Market with PewDiePie.
On April 27, 2018, Bisognin announced her engagement to PewDiePie to her 6.2 million followers on Instagram with a post stating "Felix proposed!!"
Bisognin further announced the news of her marriage to PewDiePie in a post on Instagram.
"Yesterday, the 19th of August - after exactly 8 years since we met - we celebrated our wedding with our closest friends and family. It was the most beautiful day, which I will treasure forever. I am so thankful for all the people that made time to attend the event and helped us celebrate our marriage. I feel like I'm the luckiest person and I'm so full of love. Incredibly ecstatic to be able to call Felix my husband for the rest of our lives," she wrote.