What is Masada? Ancient Israel Site Faced Roman Siege Before Trump Tried to Land Chopper On Historic Grounds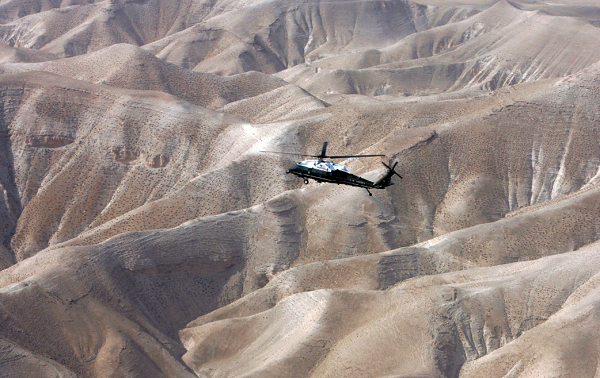 Located in the vast Judean Desert, Masada is considered one of Israel's most impressive archaeological wonders. Perched on a mountaintop overlooking the Dead Sea, the history of the ancient fortress is as epic as the miles of desert sand surrounding it.
So it is little surprise that when President Donald Trump asked to land his helicopter on the ancient, sacred grounds of Masada, Israeli officials said no.
The compound was considered the "hanging" palace of Herod the Great, King of Judea, who ruled Israel between 37 BCE and 4 CE, and is a UNESCO World Heritage site.
It once boasted elaborate bedrooms and bath houses covered in mosaic tiles, a synagogue and one of the earliest and most sophisticated water systems of its time, able to collect enough rainwater for 1,000 people to live for up to three years.
But Masada did not enter Israeli history for its design, but for the events of 73 and 74 AD, when 967 Jewish rebels holed up inside its walls fought a heroic last stand against the Roman invaders, who had sacked and burned Jerusalem in 70 AD.
Let by a charismatic leader, Elazar ben Yair, the Sicarii rebels and their families were able to keep the Romans off of the mountain for years before they managed to breach the walls of Masada. Rather than be taken prisoner, all but a handful of the Jewish fighter committed suicide.
The palace, surrounded by three terraces, buildings and a maze of brick walls, sits about 1,300 feet above sea level, and Israeli officials were concerned that landing a helicopter on the site would lead to hazardous dust levels.
The last time the Israel Nature and Parks Authority allowed a helicopter to land in Masada back in 1997, wind from the Israeli Air Force chopper struck up so much sand and dust that some parts of the ancient ruins became damaged, the Jerusalem Post reported.
Nearby signs were also uprooted from the ground as a result of the helicopter's powerful propellers, which also caused destruction to the site.
Since then, landing on Masada has been prohibited and aircraft are forced to land at the base of the site, where visitors then have to take a cable car up the mountain to the palace. Both Bill Clinton and George W. Bush took this route to the summit when they visited the site.
Trump was expected to deliver a speech at Masada, but has opted to speak at the Israel Museum in Jerusalem instead.