Health Worker Thrown From Train After Confronting Maskless Group
A worker for the U.K.'s National Health Service (NHS) has been seriously injured after confronting three passengers for not wearing masks on a London Underground train, which is required by law.
His eye socket was broken in three places after he was thrown from the train after being repeatedly punched, also suffering a chipped jaw.
The incident began when the NHS employee approached the group of two men and one woman to question why they were not wearing masks on public transport. This led to an argument before the violence began.
"One of the men from the group has then punched the victim several times in the side of the head before throwing him off the train onto the platform at High Street Kensington station," a British Transport Police (BTP) statement said. "The group stayed on the service as it left the station."
The incident, which took place at around 10 p.m. London time on October 3, is only coming to light now because the British Transport Police is appealing for information about the incident and releasing a photo of someone they want to speak to.
The picture is of a white man with short blond hair wearing a suit. He was said to have been carrying an umbrella. The BTP has asked for help in finding this man.
"If you recognize him, or have any information, please contact BTP by texting 61016 or calling 0800 40 50 40 quoting reference 2000068891," a statement said. "Alternatively, you can call Crimestoppers anonymously on 0800 555 111."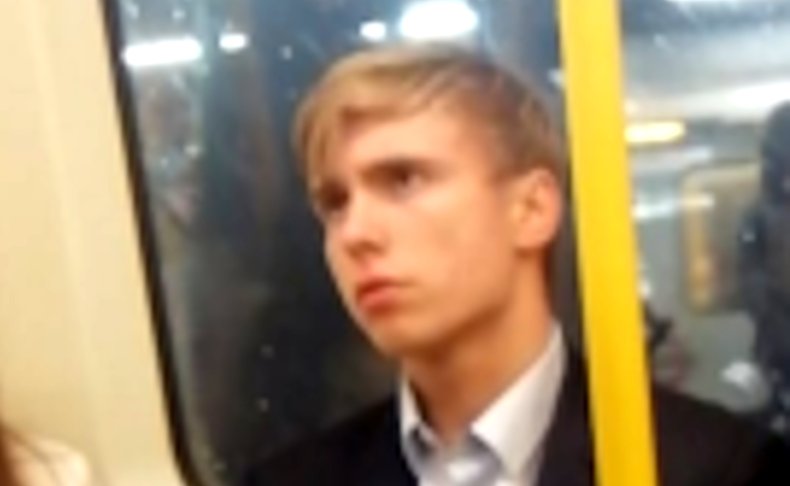 This is not the first time that disagreements have spilled over into violence. In Bournemouth in south England, a bus driver was kicked to the floor and hit over the head after refusing to let a man without a face covering board the vehicle.
Police have also said a train passenger was attacked near Slough in the outer suburbs of London. He was head-butted to the floor and punched repeatedly in the face after asking a passenger to wear a face covering.
Despite more than 100,000 people being stopped for failing to comply with face-covering rules, relatively few fines have been given for disregarding the guidance, with the BTP saying that they were being used only as a last resort. Exact figures are not publicly available but is has been reported that only around 50 fines have been issued across the U.K.
There have been a number of examples of politicians flouting the mask rules, with Conservative MP Danny Kruger "forgetting" to put his mask on during an hour-long train journey into London. This came days after he posted on Facebook that his constituents "must wear a face covering" unless they were exempt.