'Mask-Free' Wisconsin Coffee Shop to Close Permanently After Landlord Won't Renew Lease
A coffee shop in Wisconsin said Thursday it will soon be forced to close its doors after losing its lease for the controversy that began surrounding its decision to not comply with a countywide mask mandate.
Helbachs Coffee Roasters and Kitchen is a family-owned coffee shop with a storefront in Middletown, a city less than 10 miles west of Madison. Helbachs gained the attention of several local media outlets in mid-July when a photo of a sign on the shop's front door advertising a "mask-free zone" went viral. The coffee shop said it has battled with local health officials for not requiring customers to wear masks inside the shop in the weeks since.
Helbachs said its landlord did not renew the store's lease as a direct result of the public controversy. The shop expects to close its doors on August 31.
"This is due to the enforcement actions, negative public statements, and continued vindictive and hostile behavior towards Helbachs Coffee taken by Public Health Madison & Dane County," Helbachs said of the lease decision in a statement posted on its website and social media pages on Thursday.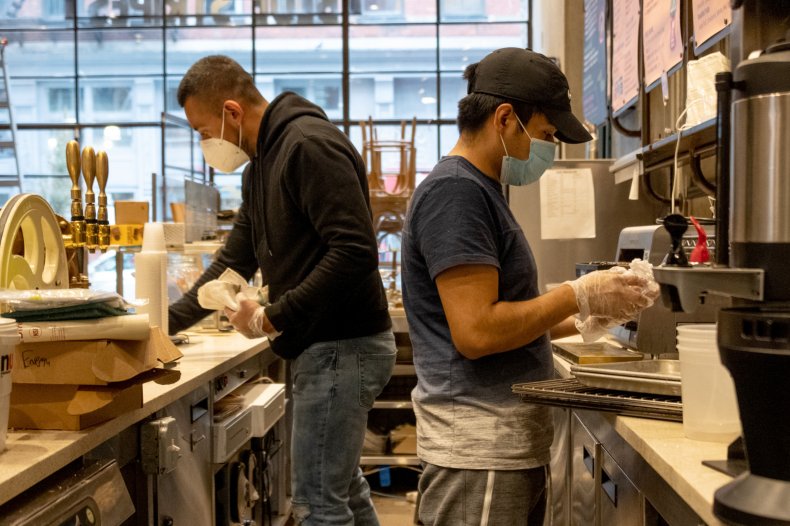 Middleton is located in Dane County, which officials with Public Health Madison and Dane County oversee. County health officials introduced a mask mandate on July 7 that required all individuals ages 5 and older to wear a mask while in a public space, including inside businesses like Helbachs. Wisconsin Governor Tony Evers enacted a statewide mask mandate a few weeks later.
A GoFundMe page started by a member of the Helbach family outlined the coffee shop's struggle with public health officials and local authorities over the mask mandate. According to the page's timeline of events, health officials began by responding to the viral image with a visit to the shop to explain the importance of wearing face coverings during the coronavirus pandemic to employees. The shop said it then began receiving warning letters and citations for failing to enforce the county's mandate.
The controversy further escalated at the beginning of August, when Helbachs said it received a notice from the county that its license would soon be revoked. Helbachs said it sued Dane County, the city of Madison and other officials involved over the "unlawful" mandate one week later.
"We are not against the public's safety but rather against Madison & Dane County Public Health infringing on our constitutional rights," Helbachs said on its GoFundMe page.
Of the original "mask-free zone" sign that started the debate, Helbachs said it was a "misrepresentation" of the store's stance on masks.
"This sign was a misrepresentation of our policy because we have no facial covering (mask) policy," Helbachs said on its GoFundMe page. "We believe in freedom of expression and welcome patrons with or without a facial covering (mask)."
Newsweek reached out to Helbachs for further comment but did not receive a response in time for publication.