Mask Mandate Lifted in Las Vegas as Bettors Descend Prior to Super Bowl
The several hundred thousand people expected to arrive in Las Vegas to watch and bet on Super Bowl LVI will not have to wear masks indoors, thanks to recent action by Nevada's governor.
Approximately 306,000 people ended up traveling to the city to view and place wagers on 2019's game, according to the Seattle Times. Similar throngs of people are likely to be expected in the city this year as the U.S. sees its first post-COVID vaccine Super Bowl. Despite this, Nevada Governor Steve Sisolak announced Thursday that he was removing the state's indoor mask mandate.
Sisolak cited what he called "a rapid decline in case numbers, coupled with declining hospitalizations, a drop in COVID 19 detected in wastewater, a broader availability of testing, and an increase in available treatments."
"I'm hopeful and confident," Sisolak added. "Based on the data we have, we are in a good positions to drop this and to give people back some freedom. Everyone wants to get back to their normal life."
As a result, the Nevada Gaming Control Board stated that there is no longer a state requirement for patrons to wear masks while roaming one of Las Vegas' numerous casinos.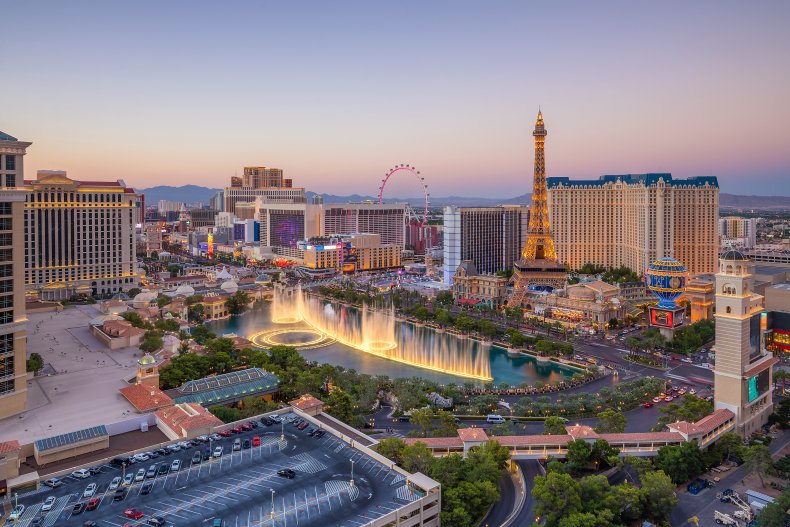 However, as the Super Bowl approaches, the number of people arriving in Las Vegas will likely be in the six-figure range again for 2022's game and comes as nationwide bets on the Rams-Bengals showdown are expected to break records. Around 18.2 million people will "place traditional sports wagers online, at a retail sportsbook or with a bookie," according to the Associated Press.
It's a 78 percent increase from bets placed in 2021. With Las Vegas being the casino capital of the United States, millions of dollars in bets will likely exchange hands in the city this weekend.
Despite the mask mandates for the upcoming crowds being eliminated by the state, casinos and private companies can still enforce their own mandates, if they so choose. A number of entertainment companies in the city have since weighed in on the decision.
One major corporation sticking by the governor is MGM Resorts. The company, which owns iconic Las Vegas venues such as the Bellagio and the MGM Grand, said in a statement that "guests and employees are no longer required to wear masks indoors or outdoors" except where statewide mandates are still in place.
Nevada is now no longer on that list.
Wynn Resorts, another mega casino in the city, has also said that it will fall in line with the governor and not require masks in its building.
However, one other popular corporation, Caesars Entertainment, states on its website that "masks [are] to be worn in compliance with local guidelines." The brand, which owns hotels such as its namesake Caesars Palace and Paris Las Vegas, does not appear to have released a statement on whether or not it will enforce a company-wide mandate in Las Vegas.
Las Vegas Sands Corporation, owner of the Venetian and the Palazzo resorts, does not appear to have released a response to the lifting of the mask mandate, either.
Newsweek has reached out to the city of Las Vegas, Caesars Entertainment and Las Vegas Sands Corporation for comment.