Mask Mandate Live Updates: Target, Kroger Among Businesses Revising Rules Amid COVID Spike
With an increased number of COVID-19 cases attributed to the highly contagious Delta variant, the Centers for Disease Control and Prevention (CDC) has updated guidelines on mask usage, even for those fully vaccinated.
Last week, CDC Director Rochelle Walensky said everyone ages 2 and older should be wearing masks indoors in coronavirus "hotspot" areas, even those who are fully vaccinated, as new research has shown vaccinated individuals can still spread the virus to others.
Several cities, including Washington D.C., have reissued mask mandates and some businesses are following suit. Retailers such as Kroger and Walmart are requiring employees in high-risk counties to wear masks.
Target, Home Depot and Lowe's became three of the latest retailers to require masks for all employees.
Broadway in NYC requires proof of vaccination and masks for audience members through October, 2021.
The state of Louisiana, San Francisco county and other Bay Area counties have reissued mask mandates.
Denver city and county now requires city and county workers and those in high-risk professions to be fully vaccinated by Sept. 30.
Universities across the country including Yale, Ohio State and the University of Minnesota will require everyone on campus to wear masks indoors, regardless of vaccination status.
This is a live story, see below for further updates.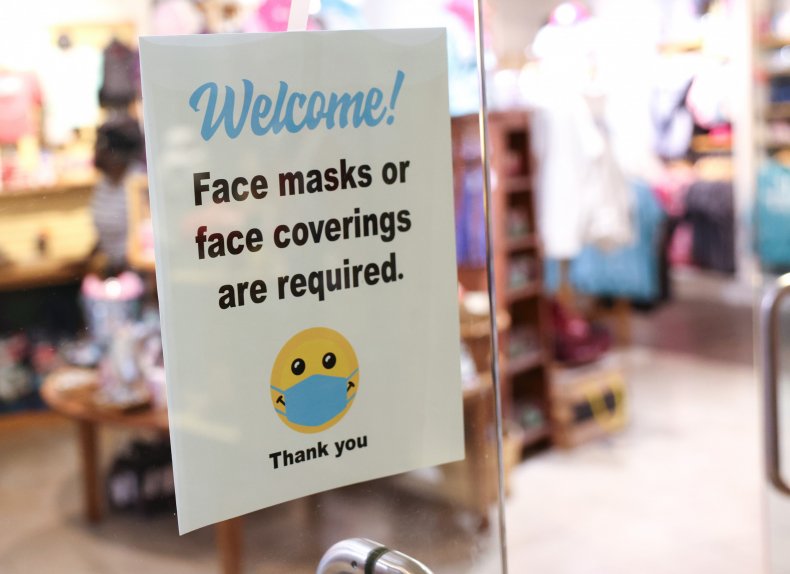 Alabama Public Health Releases K-12 Guidance
Alabama Department of Public Health (ADPH) released a new guidance for K-12 schools to follow for the upcoming 2021-2022 school year.
The guidelines outline methods to prevent the spread of COVID-19, including vaccinations, social distancing and continuing to wear face masks. The ADPH strongly encouraged anyone eligible to receive a coronavirus vaccine to do so.
"For those who are eligible, vaccination remains our most potent strategy for preventing disease among students, faculty, and staff, and vaccination also eliminates the need for quarantine among many of the close contacts in our schools," state health officer Dr. Scott Harris wrote in the guidance.
Alabama schools are also required to report when someone at the school tests positive for the virus, the same as is required for other highly infectious diseases such as chicken pox.
Facebook Requires Masks in Addition to Vaccines
Facebook issued a statement Monday that effective Aug. 4, 2021, employees will be required to wear masks when on any of the company's U.S. campuses.
The announcement followed after Facebook stated last week all employees would be required to receive the COVID-19 vaccine to be able to return to work. Now, masks will be required in addition to the vaccinations.
"The health and safety of our employees and neighbors in the community remains our top priority," the statement said. "Given the rising numbers of COVID cases, the newest data on COVID variants, and an increasing number of local requirements, we are reinstating our mask requirement in all of Facebook's U.S. offices, regardless of an employee's vaccination status."
There is currently no prospective end date for Facebook's mask mandate.
Louisiana Gov. Issues Statewide Mask Mandate
Louisiana Gov. John Bel Edwards is issuing a statewide mask mandate in an effort to curb the spread of the COVID-19 virus as the state experiences its fourth surge.
Journalist Chandler Watkins of KSLA reported the mandate would include everyone ages 5 and older, and masks would also be required at college campuses.
Edwards is urging Louisiana citizens to wear masks indoors immediately, although the mandate does not officially begin until Aug. 4. It is set to continue through Sept. 1 but may be extended longer if it is still needed.
"This is obviously not something I wanted to do," Edwards said during a press conference. "But Louisiana is not in the place where we want it to be or need it to be."
Edwards also stated that 43 percent of Louisiana residents have received at least one dose of a COVID-19 vaccine, but only 37 percent of the state's population are fully vaccinated.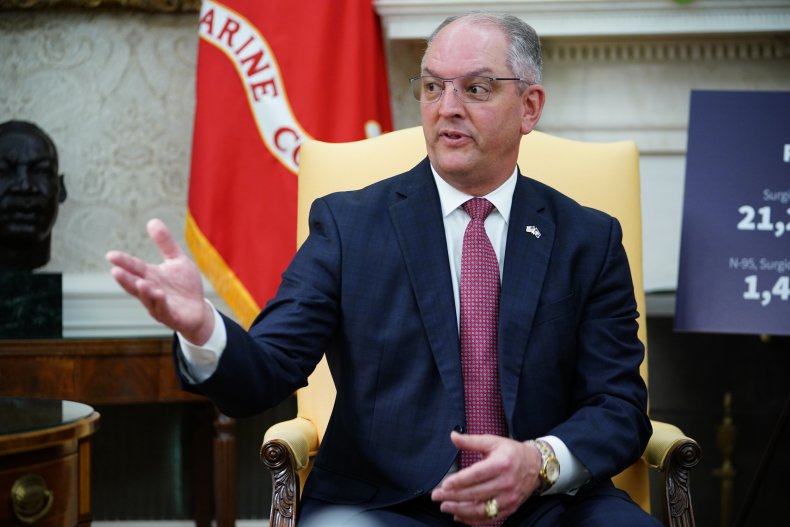 Universities Announce Mask Mandates
Several universities have issues mask mandates, requiring students and faculty to wear masks indoors as the beginning of the fall semester approaches.
The University of Minnesota announced it would require anyone ages 2 and older on campus to wear a mask at all times with certain exceptions, including eating or drinking, when engaging in water-based activities, while alone in a dorm room or alone inside a motor vehicle.
"Faculty, staff, students, and visitors...are required to wear an acceptable face mask that is properly fitted to cover the wearer's nose and mouth, wrap under the chin, and not have any noticeable gaps at all times when in any enclosed or indoor space on University campuses and properties," the University's face covering protocol reads.
Yale University required proof of a COVID-19 vaccine to be submitted by Aug. 1 for the fall semester, but is now additionally requiring masks to be worn by everyone regardless of vaccination status.
"It was a little disappointing but we understand, because of the numbers in New Haven...And there are notices all over the building and the libraries, and all the buildings that I've been in saying, we have to wear a mask," Yale librarian Moira Fitzgerald told WTNH.
The Ohio State University issued an announcement requiring all individuals to wear masks indoors. People who are fully vaccinated do not need to wear masks outdoors, and unvaccinated individuals are required to wear masks outdoors if they cannot properly socially distance.
Bay Area Counties Reinstate Mask Mandates
San Francisco and other Bay Area counties issued health orders Monday that would require all residents regardless of vaccination status to wear masks indoors in an effort to curb the spread of the highly infectious Delta variant.
Los Angeles, Yolo and Sacramento counties already have mask mandates in effect. Now joining them are eight of the nine Bay Area counties, including Alameda, Contra Costa, Marin, San Francisco, San Mateo, Santa Clara, Sonoma and the city of Berkley.
The CDC issued a new mask guidance urging people to wear masks indoors regardless of vaccination status in coronavirus "hotspot" areas with a high transmission rate. The entire Bay Area is considered a COVID hotspot.
California lifted most of its restrictions seven weeks ago as the number of cases dropped, but residents are now seeing restrictions appear again with the spread of the highly contagious Delta variant.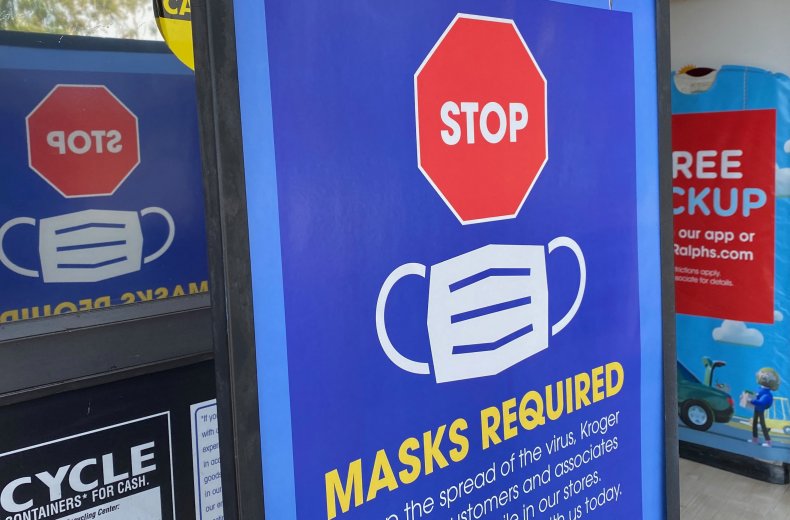 Lowe's Latest Major Retailer to Require Masks
Lowe's became the latest major retailer to require masks, journalist Frank Guzman said in a tweet.
"Effective immediately, all employees are to wear masks while inside stores or visiting a customer's home or business. Customers encouraged to wear masks and the store will make a mask available to them if requested," Guzman wrote.
Lowe's is ranked the ninth largest retailer by the National Retail Federation (NRF) and is following other top 10 retailers in new mask mandates, including Home Depot, Target and Walmart.
NJ Governor Requires Vaccinations by Sept. 7
New Jersey Gov. Phil Murphy announced at a press conference Monday that frontline workers in New Jersey are required to be vaccinated or tested up to twice a week for COVID by Sept. 7.
"I want to make perfectly clear...that if we do not see significant increases in vaccination rates among the employees in these settings, we are ready and willing to require all staff to be vaccinated as a condition of their employment," Murphy said.
A graphic posted by journalist Matt Arco on Twitter listed the locations at which employees must receive the vaccination or be regularly tested. These include hospitals, veterans memorial homes, and county jails.
The CDC reports that 77 percent of people ages 12 and older in New Jersey have received at least one dose of a COVID vaccine.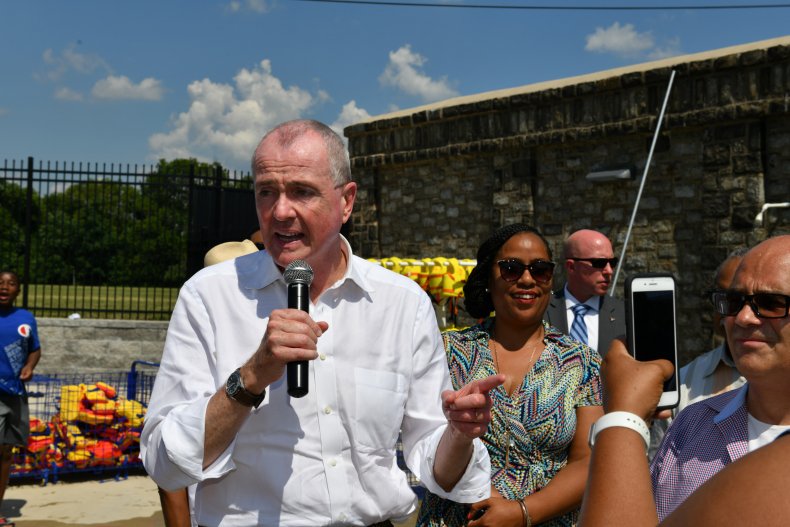 Shipyard Mask Mandate Effective Today
Today is the first day of Newport News Shipbuilding in Virginia's mandatory mask mandate, which was announced on Thursday.
The mandate requires all employees to wear a mask while indoors or in covered facilities, effective Aug. 2. Both vaccinated and unvaccinated employees are required to wear masks.
"This aligns the company with guidance from the Centers for Disease Control and Prevention (CDC) and a recent Defense Department directive," Newport News Shipbuilding said in a statement regarding the mandate.
The shipyard, which is a Department of Defense contractor, said there is no clear end date for the mask mandate, and will depend on how long the COVID-19 pandemic continues.
Starting in late July, masks were required aboard several commissioned ships at the shipyard, including USS John C. Stennis, USS George Washington, USS Boise, USS Helena and USS Columbus.
Denver to Require Full Vaccination of Workers
The city and county of Denver approved a new public health order that will require all city employees and those in the private sector working in high-risk settings to be fully vaccinated against COVID-19 by Sept. 30, 2021.
A graphic released by the City and County of Denver Twitter account illustrated which groups will be covered in the mandate.
High risk occupations include first responders and those working at hospitals or clinics, where there is a high chance of coming in contact with someone who has COVID-19.
High risk settings include shelters, schools, and correctional facilities, where a large number of people gathered in a small area can lead to the virus spreading more quickly.
The mandatory vaccinations are an attempt to help curb the spread of coronavirus as the highly contagious Delta variant continues to spread across the U.S.
"In the past six months, 96% of the people hospitalized with #COVID19 in Colorado were not fully vaccinated. 90% of those new cases were caused by the Delta variant," the city and county of Denver said in a Tweet.
Equinox and Broadway in NYC to Require Vaccinations
The Broadway League in New York City announced on July 30 that all audience members, performers, backstage crew and theatre staff will be required to show proof of vaccination for all performances through October 2021.
Masks are also required for all audience members to be allowed entry.
Broadway League in Chicago issued a similar announcement on Aug. 2, requiring masks for all audience members for the upcoming season, though it has not yet announced whether vaccinations will be required.
"For performances in November 2021 and beyond, theatre owners anticipate a review of policies in September, and may include a relaxation of certain provisions if the science dictates," the statement from the New York City Broadway League reads.
Equinox fitness club and its SoulCycle spinning studios will require proof of vaccination for customers and employees in New York City starting in September, according to a press release.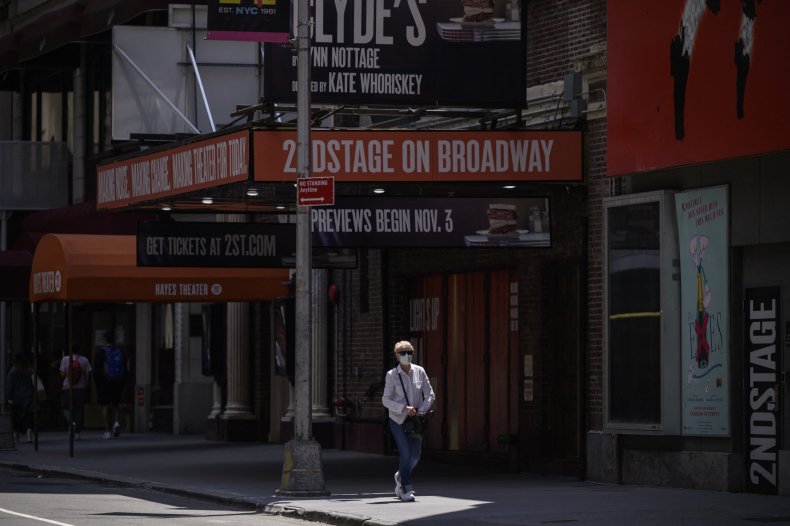 Home Depot to Require Masks At All Locations
In a press release on Tuesday, Aug. 2, 2021, Home Depot announced that it would follow suit in requiring employees and customers to wear masks as the highly contagious Delta variant of the coronavirus continues to spread.
Home Depot will not be limiting mask requirements only to areas the CDC has deemed as at "high risk" for transmission.
"We'll require all associates, contractors and vendors to wear a mask while indoors at all U.S. Home Depot stores, distribution centers, office locations and customers' homes or businesses, regardless of vaccination status," the press release reads.
The company also stated it will not require customers to wear masks, but highly encourages them and will continue offering masks to customers without one.
Though Home Depot does not require all employees to be vaccinated, the company "continues to strongly encourage all associates to get the COVID-19 vaccine and offers free resources to cover childcare, transportation and find an appointment."
Target Updates Mask Requirements
Target updated the FAQ section on its website with an announcement that starting Tuesday, Aug. 3, workers will be required to wear face coverings in accordance with the newest CDC guidelines.
In the statement, Target said it continues to "recommend face coverings for unvaccinated team members and guests" at all store locations, but will require all employees to wear masks "in areas with substantial or high risk of transmission".
"We'll follow all local mandates, as we have throughout the pandemic, and continue to monitor guidance from the CDC closely," the statement reads.
The site also lists ways Target has taken measures to lessen the spread of the virus, such as cleaning routines and providing masks and gloves for employees.