Mask Mums Are The New Fashion As Students Get Ready For Homecoming Dances
In Texas, where creations featuring chrysanthemum blooms have been a staple of homecoming celebrations for years, one woman has added an extra layer of coronavirus protection by putting mums on face masks.
In July, Texas Governor Greg Abbott issued a statewide executive order mandating the wearing of face masks inside all public buildings and through outdoor spaces where social distancing guidelines would not be feasible to maintain.
Some schools have canceled homecoming festivities altogether because of the pandemic. But this is Texas, where football has already started for many schools, and the lavish homecoming weekends await for many others. This includes a new face mask to match the dresses and large mums worn by high school girls across the state. Mums on masks are part of the new fashion.
The fashionable face masks, created by Shay Summers Mueller, hope to keep a time-honored tradition alive during the pandemic. Mueller began selling the mum masks through her Facebook page.
"The mask just popped up in my head one night," Mueller said in a Thursday statement to Newsweek. "I immediately went and gathered supplies up to start making them. I now have orders all over. Florida, Kentucky, Louisiana, Arkansas, Oklahoma, and all over Texas. This is just a fun little novelty item to remember 2020 Homecoming."
High school football officially kicked off in Texas last weekend for public schools that play in Class 1A-4A. Because of the COVID-19 pandemic, Class 5A and 6A will begin in late September, with separate state playoff schedules than the lower classifications.
For most of the schools—on all levels—this means attempting to hold homecoming festivities during a time of social distancing, and that might mean face coverings for the kings and queens of those nights.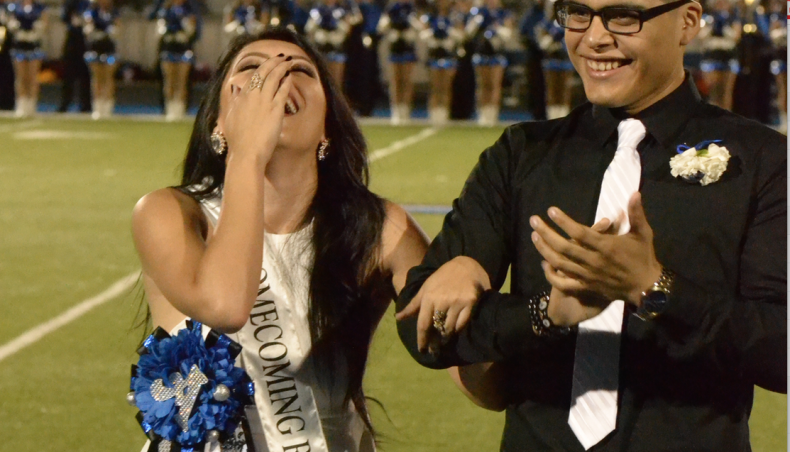 Some Texas historians trace the popularity of using chrysanthemums as part of formal apparel to the first recorded homecoming celebration in the state, which took place at Baylor University. As time passed, mums were used as part of homecoming traditions because they were relatively inexpensive and easy to obtain. With the addition of artificial flowers, homecoming mums can become incredibly elaborate and cost hundreds of dollars. Some become so ornate, they are designed to be worn around the neck.
Baylor's 2020 homecoming weekend, which is expected to take place in October, is scheduled to include a "mix of online celebrations and scaled-down campus events, including the football game against Oklahoma State."
In August, Baylor announced that a group of students living in campus housing had tested positive for COVID-19 and were asked to "not leave their respective floors" for a period of four days.
Oklahoma State's homecoming celebration, scheduled for the last weekend in October, has also been canceled. The football game between Oklahoma State and Texas Tech is still scheduled to take place.
Texas Christian University in Fort Worth announced the postponement of its homecoming celebration, originally slated to occur in October, in a June statement.
"Our decisions and plans for a safe return to campus are guided by our commitment to health and safety, adherence to public health guidance and dedication to our mission," Vice Chancellor for Student Affairs Kathy Cavins-Tull said. "We plan to safely host some key activities that keep our community connected, but will remain largely focused on mission critical activities."
Recent data indicated a total of 652,228 positive cases of COVID-19 reported in Texas with 13,244 deaths attributable to the virus. However, 536,146 cases have been classified as fully recovered.
Update (6:44 p.m. EST, 9/3/2020): This story has been updated with a statement from Shay Summers Mueller.
Mask Mums Are The New Fashion As Students Get Ready For Homecoming Dances | U.S.