Mask Producers Seeing Major Hit in Orders Look to Forge On as Mandates Ease
Mask producers in the U.S. say they're seeing orders drop as COVID-19 cases decline and officials ease masking requirements across the country. However, they also say they are concerned about future COVID-19 variants, which would quickly deplete their stockpiles if cases suddenly spiked and ramped up demand for masks once again.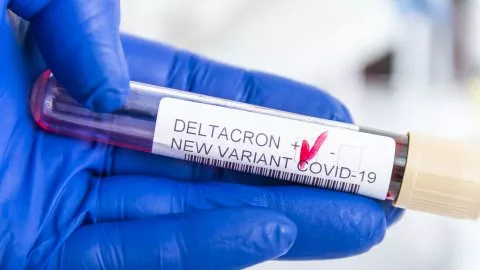 Lloyd Armbrust, the CEO of Armbrust American, a Texas-based company that manufactures N95 and surgical masks, said in an interview Friday with Newsweek that his daily orders are now roughly 10 percent of what they were during the Omicron surge that occurred at the end of last year and beginning of 2022.
He says despite the drop in sales, his business is sustainable, and that he has roughly half a million "very loyal" customers including doctors' offices, schools and individuals who regularly order masks.
Not all American mask producers are in the same position, however. Armbrust, who is also the president of the American Mask Manufacturer's Association (AMMA), which represents around 30 small mask manufacturers in the U.S., said most of the businesses in the organization are in jeopardy as demand for masks has gone down.
Armbrust also noted that mask producers' inventory was largely wiped out during the Omicron surge, and said that before the Omicron wave, his company and three others in AMMA had a stockpile of about 1 billion masks.
"We saw our warehouses go from more than a billion units to under 100 million," he said, adding, that when Omicron hit, he had to stop making masks so that his staff could help fulfill orders.
Now, if another surge hit, Armbrust said "we just don't have that inventory," adding, "I probably have 30 million in stock right now, but that's really nothing."
Also in an interview with Newsweek on Friday, Brian Wolin, the CEO of Protective Health Gear, a mask manufacturer based in New Jersey, said his company's orders are also down "over 50 percent" compared to the Omicron surge.
Wolin, who also launched his company at the beginning of the pandemic, said "we feel we're on the the ultimate roller coaster of ups and downs."
"It's horrible to run a business like that...let's [just] say Omicron 2 comes out next week, and we have to ramp up and hire 100 more people and train them and work 24/7. It's brutal on our company," he added.
Wolin said that following every wave of COVID that has engulfed the country, his company has always reinvested in itself, expanding its manufacturing capabilities and product lines. Like Armbrust, he said if another wave were to hit, his inventory would quickly be "wiped out."
However, he said Protective Health Gear would be able to scale up again and meet demand, if it arrives. "We've expanded, we have literally tons and tons of raw materials, which we've purchased and stocked up on. So we're ready for another wave."
{{#isDisplay}} {{/isDisplay}}