Mask Wearing Is Part of 'Demonic Ritual' to Take Away Rights, Says Former Missouri Gubernatorial Candidate
Former Missouri gubernatorial candidate Saundra McDowell recently suggested that mask wearing is part of a "demonic ritual" to take away "God-given rights."
In a Facebook post on September 10, McDowell shared a picture of herself not wearing a mask while at a local Walmart and criticized the use of masks to slow the spread of the novel coronavirus.
"I'm not afraid to take a stand!! Are you??" McDowell asked her Facebook followers. "I walked in Walmart tonight without a mask...and I refuse to wear a mask anywhere I go from NOW ON unless I choose to! That's my right...as it is yours!!"
Her post went on to discuss why she believes that "masks are just a symbol of deception and oppression."
"Its compliance training for what's to come. It's about control and instilling fear in America. Fear is not of the Lord, but of the enemy. Despair is the absence of faith!" McDowell wrote in her Facebook post. "This is all part of a demonic ritual to get rid of our individual God-given rights."
McDowell also criticized the Black Lives Matter (BLM) movement, which has been calling for an end to police brutality against Black people following the death of George Floyd in Minneapolis and the police shooting of Jacob Blake in Kenosha, Wisconsin.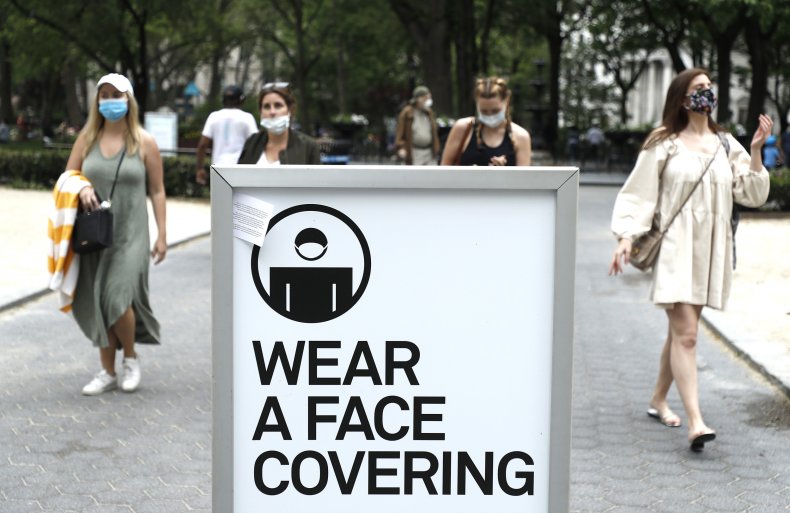 "BLM just said it...it's a spiritual battle.... They are chanting to dead spirits practicing witchcraft," she wrote.
McDowell's comments on mask wearing came shortly after the White House coronavirus task force urged Missouri to impose a mask mandate.
"The Administration continues to encourage all Americans to slow the spread of COVID-19 by practicing social distancing including avoiding crowded places, wearing a mask, and washing their hands," Dr. Deborah Brix, a member of the task force, said in a statement issued by Missouri Governor Mike Parson's office.
While Parson has not issued a statewide mask mandate, he has recommended that all residents wear one when in public spaces. Meanwhile, many cities across the state have implemented their own mask requirements.
On McDowell's Instagram account, she published a similar post, criticizing the mask recommendation in Missouri along with a picture that said, "There is no statutory law that mandates masks."
"What the Governor has done is unconstitutionally empower the tyrants in local government and has stepped aside while they take our civil liberties away!" McDowell wrote in the photo's caption. "The legal way to do this is a constitutional amendment. Only the people have the power to dissolve or amend our Constitution. This has not been done. So they are all in violation right now!!"
McDowell recently ran for governor against Parson but lost in the Republican primary on August 4. In 2018, McDowell ran for state auditor but lost to Democrat Nicole Galloway.
In an email sent to Newsweek, McDowell further explained her thoughts on mask wearing, stating that "this is a spiritual battle—one between good and evil."
"Any time there is evil people perpetrating something that is purposely set out to oppress people, it's demonic activity. The mandates stemming from this evil are what is oppressing people...shutdowns of counties and churches, mask mandates, school closures, and social distancing," McDowell wrote.
"It's all a way to make people complicit in giving away our constitutional rights for a skewed vision that has been perpetrated by the enemy. These are a series of actions being performed for the prescribed order, making it a ritual stemming from this demonic activity."
This story was updated on September 15 to include a statement from McDowell.