'Hero' Armed Customer Killed Alleged Gunman After He Ambushed Alabama McDonald's
A suspect gunman is dead and two other people were injured after a shooting inside a McDonald's in Birmingham, Alabama, on Saturday night.
The shooting occurred at around 10:45 p.m. at the fast food restaurant located on Lomb Avenue in Birmingham, AL.com reported. Three people, two adults and a juvenile, were injured in the shooting, Birmingham Police spokesman Sgt. Bryan Shelton told the publication.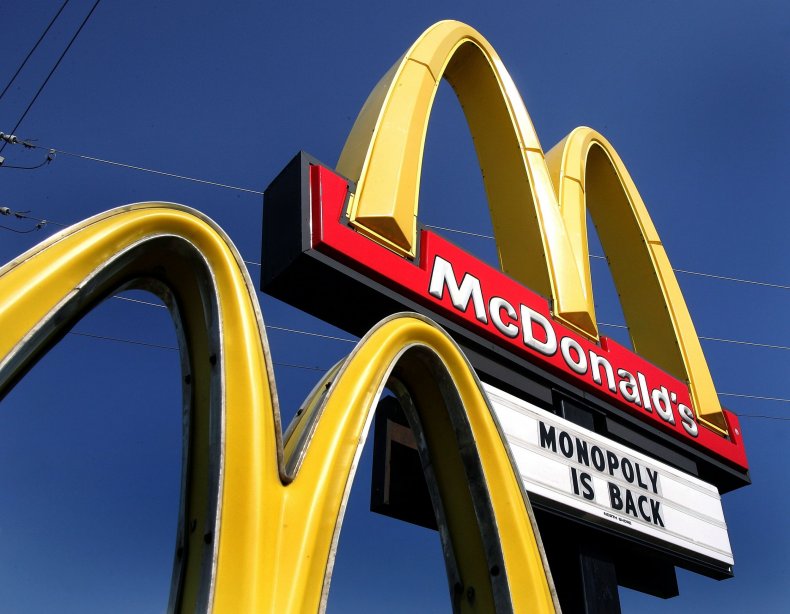 Shelton said the restaurant was closing and letting out a father and his two teenage sons when a masked man pushed inside and opened fire. The father was able to shoot the man back, hitting him. Police said the suspect later died from his injuries.
The father and one of his sons were also injured in the shooting. They were transported to nearby hospitals with non-life-threatening injuries.
In a statement sent to Newsweek, Birmingham Police said investigators do not know whether the suspected gunman was robbing the McDonald's or was there targeting someone. The father is not expected to be charged, police said.
One of the restaurant's employees told WSFA that he was forced to hide in the freezer as shots were exchanged. Markus Washington, who said he heard more than 15 shots fired, said he owed his life to the armed customer who shot at the masked intruder.
"I'm feeling grateful," Washington told WSFA. "Wrapping my head around it all, I was just wishing someone would come wake me up from this nightmare."
Washington said he was making some burgers when he heard three shots ring and then two follow up shots. He and another employee then hid in a freezer.
"All we hear is like different gunfire, so in my mind, I'm imagining everybody is dead. He's looking for us," he said. Washington called the armed customer a "hero."
The shooting at the Birmingham McDonald's was just one of several shootings in the city on Saturday. Two people were injured before dawn and a 27-year-old man was killed at an apartment complex in southwest Birmingham, AL.com reported.
There have been 93 homicides in the Alabama city in 2018. Five of those homicides were ruled justifiable and will therefore not be included in Birmingham Police Department's year-end tally.
Birmingham Police said it was still investigating the incident on Saturday. Authorities urged anyone with information regarding the case call Birmingham Police Department Homicide Unit at 205-254-1764 or Crime Stoppers at 205-254-7777.