'The Masked Singer' Eliminations: These Were the Celebs Hiding Behind the Snow Owl Costumes
The Snow Owls, who were revealed to be Clint Black and Lisa Hartman, were sent home on The Masked Singer on Wednesday evening, during the Group A finals.
The hints given noted that the Owls had an empty nest, and after kissing onstage (with masks on!), they were likely romantically involved and not brother-and-sister, as some suspected.
Additionally, a Roy Rogers drink, the Parthenon, a rocking horse and a spaceship were all indicators. "Sharing the stage is new to us, but being together up here feels more and more like home," was another hint given during Wednesday's episode.
The judges had totally different guesses as to who the pair of singers really were. Ken Jeong guessed that Danny DeVito and Rhea Perlman were behind the feathered costumes, after previously guessing Julianne and Derek Hough.
Meanwhile, guest panelist Niecy Nash, who joked that her secret weapon is "mom ears," said that country singer Brad Paisley and his wife Kimberly Williams were the duo.
Robin Thicke thought that Amy Grant and Vince Gille were the owls, because of the references to country music and Nashville. Jenny McCarthy said that her final guess was Grant and Gill as well.
Nicole Scherzinger thought it was Donnie and Marie Osmond after their first performance, but ultimately nailed it with her guess of Black and Hartman.
"When I first saw the costumes I actually cried because they're so beautiful but they're so sweet," Hartman said of the Snow Owls costume. "I couldn't wait to get into them."
The Sun, Popcorn and Snow Owls started the episode by singing P!nk's "Raise Your Glass" together. The Sun then performed "Piece of Your Heart" by Janis Joplin. Popcorn sang "Domino" by Jessie J. The Snow Owls followed up with Celine Dion and Andrea Bocelli's ballad "The Prayer."
During the smackdown round, the Snow Owls sang another Dion hit, "Because You Loved Me." Popcorn followed up with "(Everything I Do) I Do It For You" by Bryan Adams.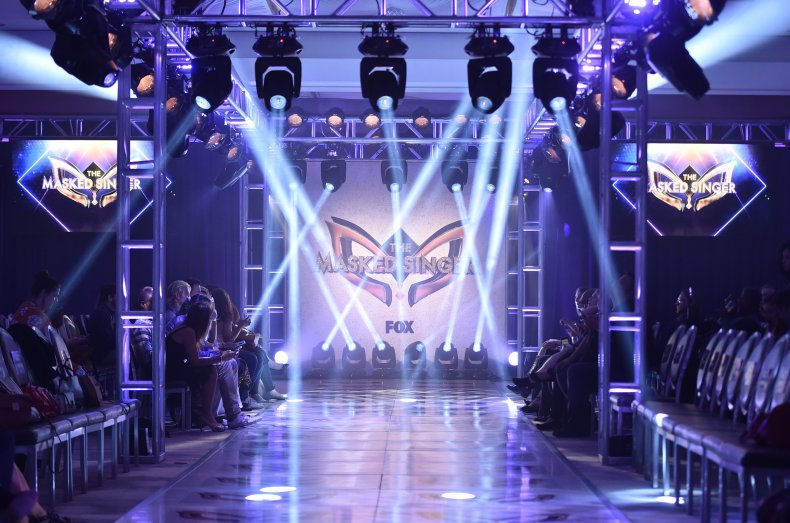 So far during the fourth season, the Group C members eliminated have been Wendy Williams disguised as Lips, along with Bob Saget as the Squiggly Monster.
Group B contestants Mark Sanchez, as Baby Alien, and Mickey Rourke, as Gremlin, have also been removed from the roster. Additionally, Group A's Dragon (Busta Rhymes) and Giraffe (Brian Austin Green) are out.
The following have yet to be unmasked: Group C's Jellyfish, Mushroom and Broccoli; Group B's Seahorse, Serpent, Crocodile and Whatchamacallit; and The Sun and Popcorn from Group A.
The Masked Singer airs Wednesdays at 8 p.m. on FOX 5.