'The Masked Singer' Episode 7 Spoilers & Recap: All Performances and Clues, Plus Who Was Unmasked
"The Masked Singer" returns Wednesday at 9 p.m. EST. Check out our spoilers and live-blogged recap of episode 7 "All Together Now" including clues and guesses for who's behind the Alien, Bee, Peacock, Monster, Rabbit and Lion masks.
The Masked Singer returns for its seventh episode Wednesday, February 13. With just two weeks untill the Masked Singer's February 27 Finale, the contestants have dwindled down from 12 to six. In tonight's episode, "All Together Now," the remaining six contestants — Alien, Bee, Peacock, Monster, Rabbit and Lion — will take the stage once again to surprise and confuse the audience with riddles and song. During tonight's episode, the singers will perform solo and as a group. The judges' panel will also welcome guest judge, J.B. Smoove. At the end of the show, we'll see one more singer unmasked, taking the remaining crew to just five.
Which Singers Have Been Unmasked So Far?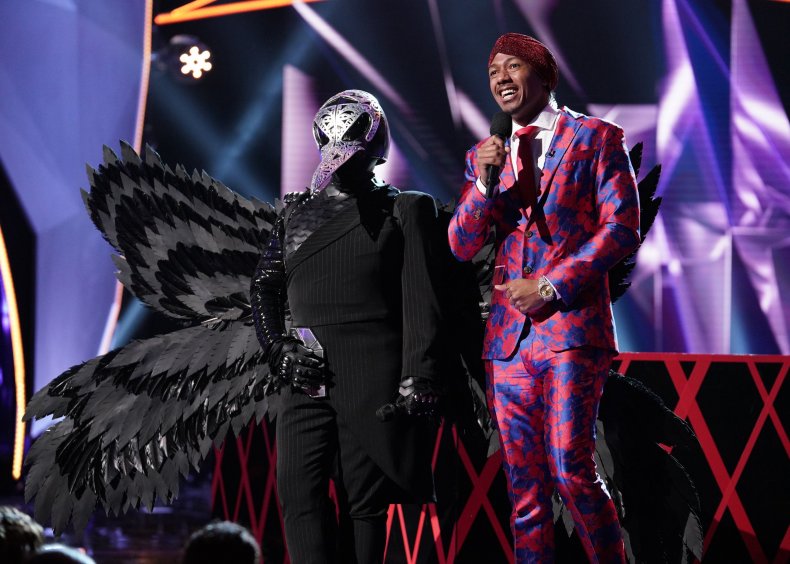 So far six contestants have been unmasked. In Episode one, the Hippo was unmasked as the Steelers' Antonio Brown. During Episode two, the Pineapple received the lowest number of votes and was revealed to be Tommy Chong from the comedy duo Cheech and Chong. In episode three, the Deer got the lowest number of votes and, when unmasked, was identified as former NFL Quarterback and sports analyst Terry Bradshaw. In Episode four, viewers said goodbye to the Poodle who turned out to be comedian Margaret Cho, while Episode 5 saw the Unicorn unmasked as Tori Spelling. The most recent contestant to be unmasked was the Raven . Shedding her dark decor revealed her identity as award winning Talk Show host, Ricky Lake.
Once the show begins, we'll be providing a live-blogged recap of everything that happens, including the clues given and songs performed by each of the masked contestants. In addition, we'll provide our best-guessed spoilers for who might be behind each of the masks. Episode six is one you won't want to miss, so be sure to check in with us on Wednesday at 9 p.m. EDT for a full recap of the event. You can also check out our earlier recaps and guesses for who might be behind the masks, here.
The Masked Singer Episode 7 Spoilers and Recap: Who Are Behind the Masks? Which Singer was Unmasked?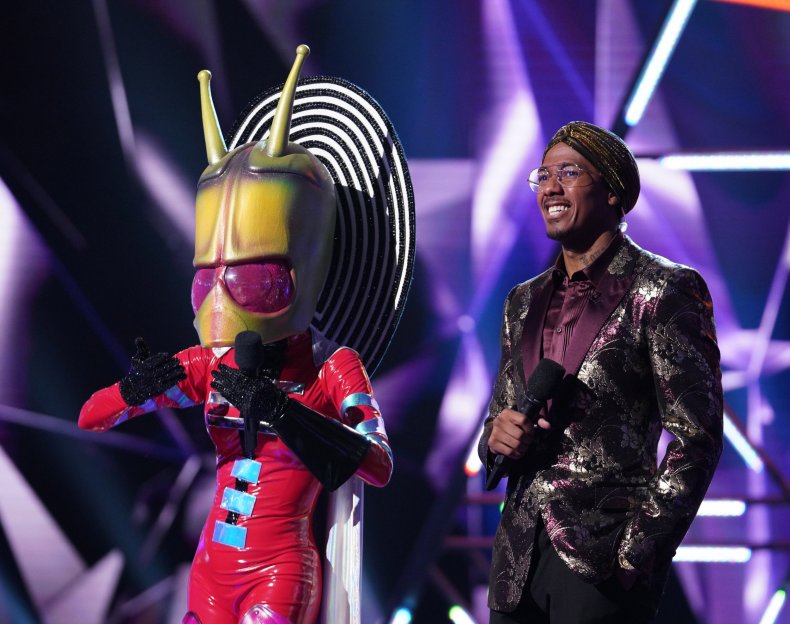 The Alien was the singer to receive the least number of votes in episode 7. When unmasked, she was revealed as, LaToya Jackson.
"The reason I did this is becuase people have a tendency to prejudge you -- the way you sing and things and they compare you to other people in your family. I just wanted to see how far I could go."
You can check out all the contestant clues, performances and other recap info about the show, below.
Who is the Monster? (Spoilers and Clues)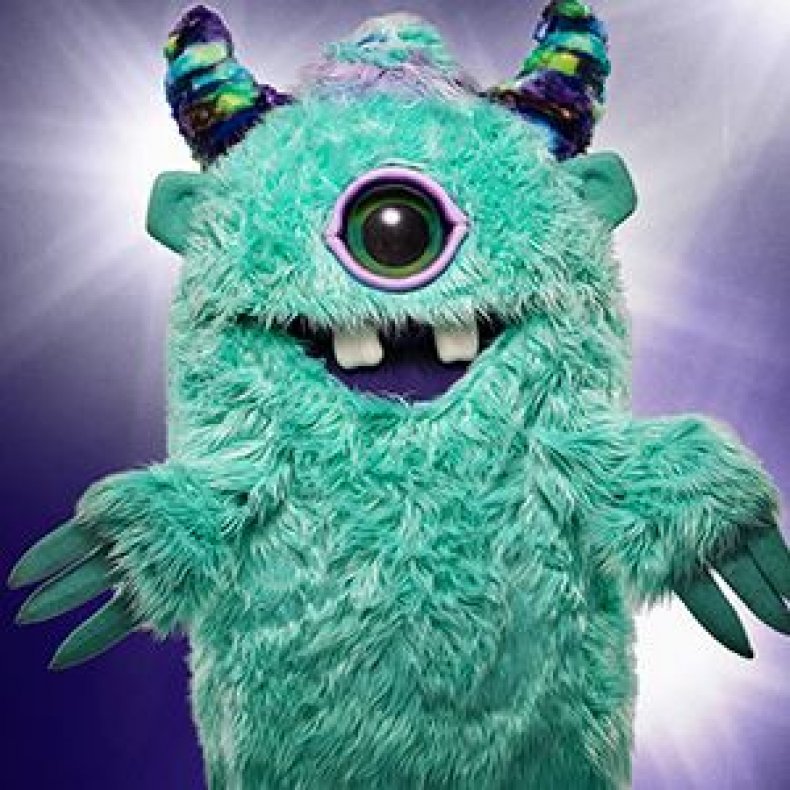 Episode 7 Clues
Being here has given me a chance to share my true voice with the world.
I've discovered a vulnerable side that I never knew I had.
When I was just a little monster growing up down south, I had to stay inside becuase it was too dangerous out.
But then I discovered I had a gift and pretty soon I was living life. I was even winning awards
But out of nowhere people started saying that I wasn't the real deal.
It took me a long time to realize that I couldn't let them make me a bad boy for life.
So I came out from under the bed and decided to step back into the ring.
So tonight I'm coming out swinging. And I hope the little monster in me will be proud.
Size 12 shoe. Was not on Living Color.
What the Monster Sang - "I Love Rock n Roll" by Joan Jett
Robin thinks he's definintely a professional singer. Nicole thinks he's a rapper or boxer. Lil John and P Diddy are both named. J.B. says he has the feet of a black man and names Mike Tyson. Robin suggests Tommy Davidson.
Who is the Lion? (Clues and Guesses)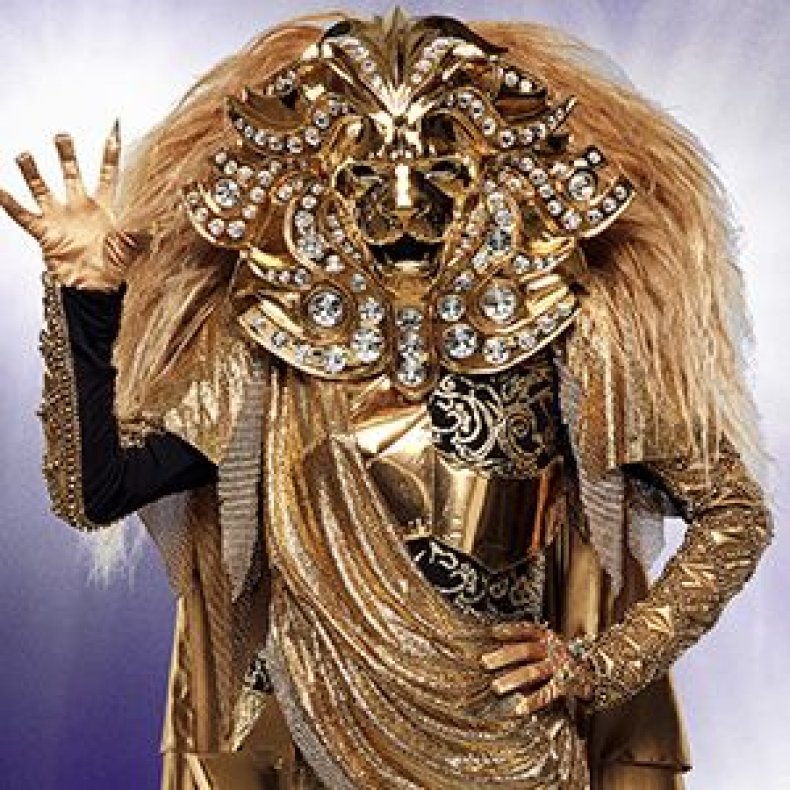 Episode 7 Clues
Down in the Cabaret bars of Chicago, I hear whispers and gossip as people seek me out.
But I like it that they still can't say my name.
Here in Hollywood, you can lose yourself in a famous family. It's not like the bluegrass state I've known.
Sisters. I know I can't get too comfortable in the competition. It's scary
(There is a picture of dominos falling in the video)
But with true grit and a diamond heart, I'll seperate from the pack and build my own empire.
I have a subscription to a monthly murder mystery game.
What the Lion Sang - "Diamond Heart" by Lady Gaga
The judges still seem stumped but names like Catherine Zeta Jones , Renee Zellweger, Spice Girls' Mel B and Destiny's Child are suggested. The judges also think it could be Hailee Steinfield because of the "true grit" reference.
Who is the Alien (UNMASKED as LaToya Jackson)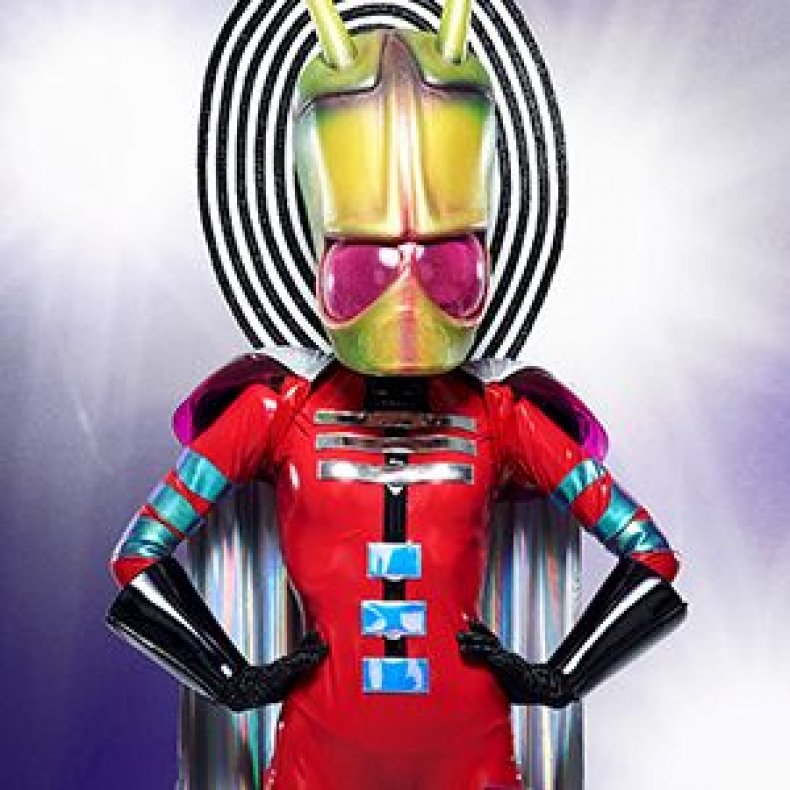 Week 7 Clues
During the last performance I finally got the panel to recognize my voice and not just my body.
Not winning now would be criminal … and I know a thing or two about the law.
Welcome to Alien and Alien associates.
Have you been committed of a crime against fashion? Have you ever fallen off of a runway? (The video shows a dolled up pug dog)
Whether you're from the Bu or Moulin Rouge, find us at 52, 2 North, 57'66 E (picture says Est. 1956)
We are the World's best law firm. All calls are 19 dollars and 56 cents per minute.
I've been on the NY Times Best Seller list twice.
What the Alien Sang - "Ex's and Oh's by Elle King
The judges have no idea who it might be but Nicole Richie and Paris Hilton's name keep coming up as well as Paula Abdul and Latoya Jackson.
Who is the Bee? (Clues and Guesses)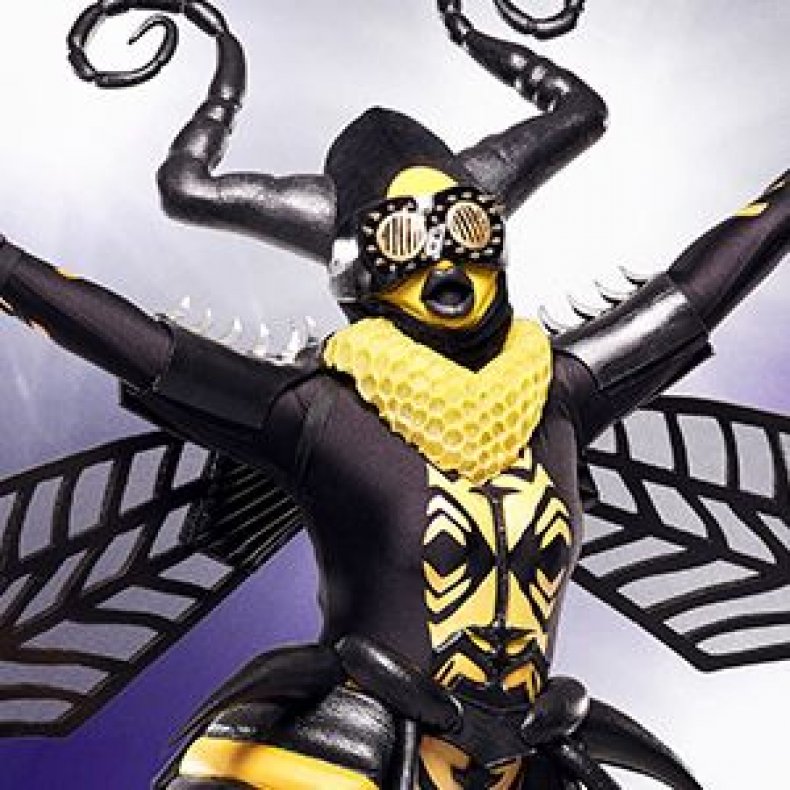 Episode 7 Clues
So far on this show I've been singing hits from today's music.
But now that the competition is getting tougher, I'm going back to what I know best
A few of us Queen Bees got our groove on back then.
So which one am I? Am I bringing a new attitude? Am I superwoman?
Am I proof that we don't need another hero? Am I giving you the best that I've got or do I buzz around another beehive.
I'll let you figure that out while I sing a song from a close friend.
I have 10 Grammys
What the Bee Sang - "What's Love Got To Do With It" by Tina Turner.
Robin says whoever she is is a living legend and calls out Gladys Knight, while Nicole says Patti Labelle. Ken suggests Anita Baker.
Who is the Rabbit (Clues and Guesses)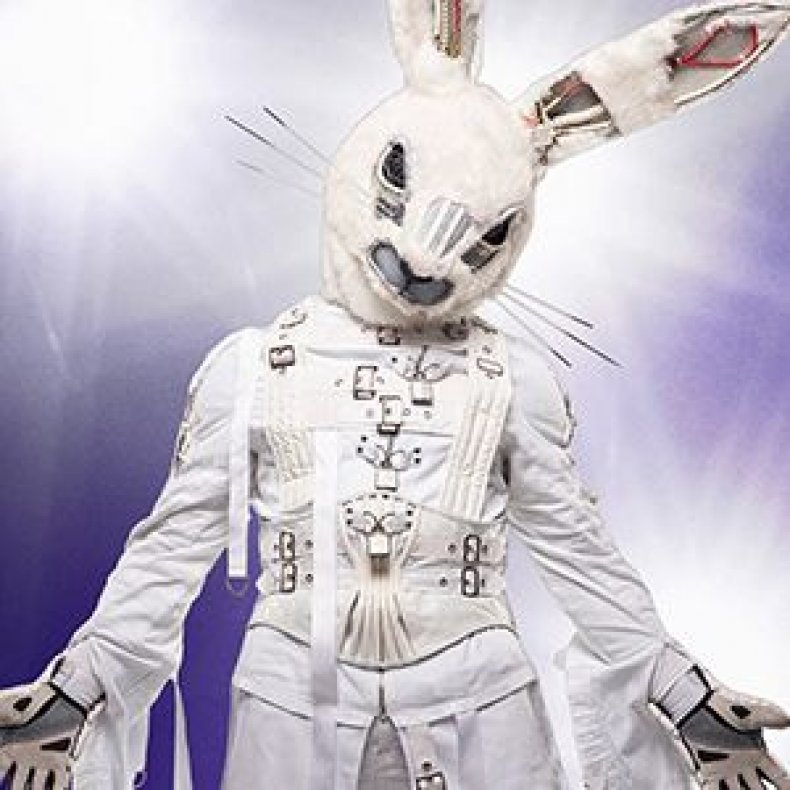 Episode 7 Clues
Nothing's been more satisfying week after week then showing off what I've got and standing out all on my own.
Much of my career was spent in a herd with others pulling my reins so it's nice to finally be the puppetmaster.
I've prepared for this since hanging tough in the Sunshine State.
Being unmasked tonight would break my achy heart.
The competition is heating up with some amazing singers, so now the puppetmaster turns ringmaster as I put my own twisted spin on a lovely classic.
I have 17 tattoos on my body.
What the Rabbit Sang - Isn't She Lovely by Stevie Wonder
Nicole thinks is tone sounds like JC Chasez from NSync. Robin thinks maybe Joey Fatone. Jenny says Billy Ray Cyrus becuase of the Achy Breaky Heart clue.
Who Is The Peacock (Clues and Spoilers)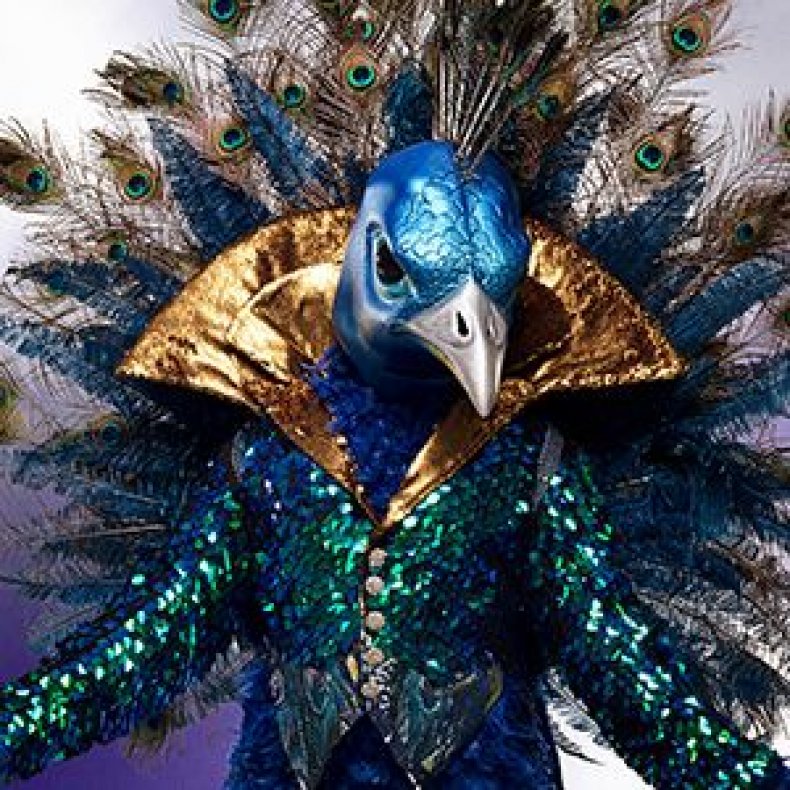 I've been getting fan mail ever since I was a wee little peachick.
After all I started my career as a showbiz prodigy ( we see a picture of an inverted triangle with the words "Department of Youth" on it.) and it's led me down man different magical paths.
I've performed on stages, screens, I've hosted award shows.
I've accumulated fans all over the world including knights, kings and queens.
But the crazy thing is those fans don't even know I'm here. I am one performance away from my final and I am more determined than ever to outperform the other singers.
I want this so badly, I can't feel my face
My face has been tatooed on a person's body
What the Peacock Sang - "I Can't Feel My Face by The Weeknd
The judges named Neil Patrick Harris again but new names like Elton John and Wayne Brady surfaced too.
When Does The Masked Singer Air? How To Watch
The Masked Singer airs every Wednesday at 9 pm EDT on Fox. You can watch it live or online the next day via HULU.
Who do you think is behind the masks? Share your thoughts in the comments below!