The Masked Singer, in order to to make room for a Christmas extravaganza on Wednesday, will air a normal episode on Tuesday night, which will however have one difference. Unlike past weeks, all remaining masked singers will take the stage. This means fans will get clues, as well as a good look at each of the six semifinalists before next week's finale.
Newsweek has an exclusive sneak peek into the episode, which shows judge Ken Jeong unpacking some clues about Leopard, who is still in the competition. In the teaser, provided by Fox, Jeong focuses on the idea of a "famous marriage," which seems to be from Leopard's clue package. He also mentions tennis.
Given of these clues, he guesses Enrique Iglesias, who is married to Anna Kournikova, a professional tennis star. The other judges and host Nick Cannon laugh at Jeong's pronunciation of the name, which sounded like "Anrique."
Leopard reacts comedically to the suggestion, even pretending to take off the mask.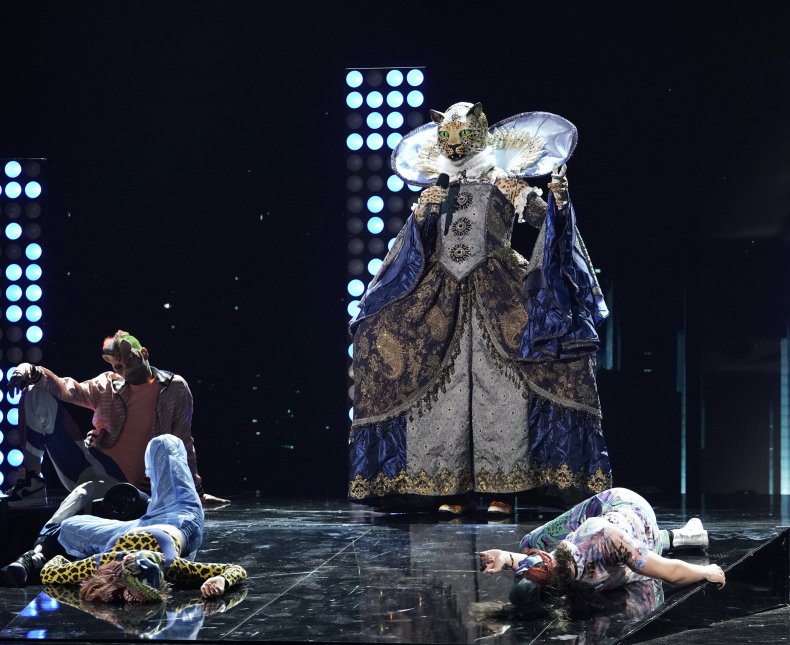 There's a good chance viewers will find out who Leopard is this week, as 50 percent of the remaining contestants will be sent home. Fans of The Masked Singer are keen on soliciting theories for each identity online. During the show each Wednesday night, and even when it isn't on air, conversations swirl on Twitter with possible identities for each singer.
It appears Jeong is on his own with the Iglesias theory, though, as the singer's name hasn't been mentioned in online conversations. Instead, some fans seem to be centering on a few other possibilities.
One prominent theory about Leopard's identity is singer Seal. More than a handful of Masked Singer commenters on Twitter have suggested the "Kiss From a Rose" singer could be the celebrity.
There are other theories, though. One that has gained popularity is that famed drag queen Ru Paul could be behind the mask. This theory was prominent at the start of the season, along with one that fans suggested that Leopard could be Jamie Foxx.
While fans are split on the identity of Leopard, two masked celebrities seem to have a general consensus as to their identities. The first is Flamingo, who most fans (and even judges) have claimed is Adrienne Bailon. The talk show host has denied her involvement, but that hasn't diminished the popularity of that theory.
The same goes for Thingamajig. It seems the majority of viewers think NBA player Victor Oladipo is in the disguise, but he has also denied being on the show.