'The Masked Singer' Fans Think They Know Who Is Hiding Behind The Sun, Popcorn, Snow Owls and Giraffe
The fourth season of The Masked Singer premiered on Fox, and boy, did the first set of mysterious celebrity contestants bring it.
Ken Jeong, Jenny McCarthy, Nicole Scherzinger and Robin Thicke returned to their seats at the judges' table while thousands of super-fans joined in virtually to help narrow down the best performances of the night between Group A members The Sun, Popcorn, Giraffe, Snow Owls and The Dragon.
Despite delivering an energetic performance, The Dragon was booted out in the first round following his lively cover of LL Cool J's "Knock You Out," and at least two panelists—and a heaping of fans—weren't surprised to discover it was none other than Busta Rhymes hiding behind the dragon costume. But as for the remaining contestants, the judges' guesses and fan theories have been, well, all over the place.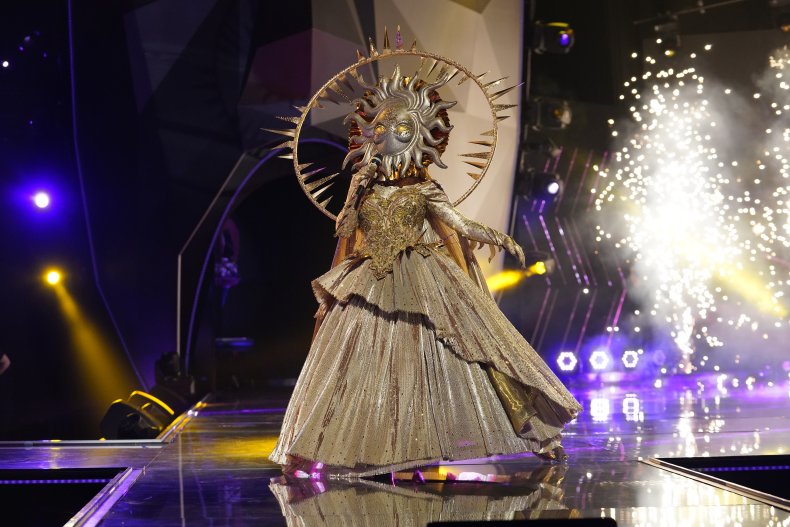 The Sun was first to grace the stage donning a beautiful golden gown, and as her clue-reel began dropping hints on who may have been behind the mask, the judges initially called out names like Gwyneth Paltrow and Idina Menzel.
"I've had some extreme seasons in my life. When I sprung into existence, I felt like the center of the universe. At first, stardom was great, but it was a ton of pressure. The spotlight was scorching and I got burnt out. So came my fall into a deep depression. I was frozen. But within the darkness of a quiet place, I transformed into a ray of light. And tonight I'm springing back to life in this new universe," the sun said in an animated clue video.
But when the contestant belted out a powerhouse cover of Lizzo's "Cuz I Love You," judges weren't only blown away but they were second-guessing who may have been hiding in The Sun's costume.
Scherzinger thought either of the Frozen stars Kristen Bell or Menzel may have been disguised as The Sun while McCarthy suggested Demi Lovato. Jeong thought it was Madonna posing as a new masked singer.
However, fans had very different ideas as to who The Sun was, and many of them thought the performance could have been done by country star LeAnn Rimes.
"Currently catching up on #TheMaskedSinger and my first and only guess for The Sun is LeAnn Rimes based on a CD my grandmother got me when I was little and I'm sticking to it," one person wrote on Twitter.
Or maybe it was pop star Christina Aguilera.
"Sun is most definitely highly probably Christina Aguilera," another wrote.
Or perhaps, somehow, it was both of them?
"I say Leann Rimes or Christina Aguilera but she is really toning down her vocals so we don't catch on that it's her yet," one fan suggested.
Then there was the debate over Popcorn, who sang "What About Us" by Pink. Dozens of fans agreed with McCarthy's guess that it was legend Tina Turner posing as the delicious snack, but there were others who thought that suggestion was completely asinine.
"If y'all think Tina Turner is gonna leave her peace and tranquility in Switzerland and come out retirement to dress up as popcorn for a primetime show y'all buggin," one Twitter user wrote.
As for the giraffe, names like Lin Manuel Miranda, Vanilla Ice and even Marky Mark—Mark Wahlberg's old musical moniker—got tossed out while other fans were absolutely positive the snow owls were dancing celebrity duo Derek and Julianne Hough.
"Y'all think about it...they have to keep the Snow Owls in the egg because if they started dancing we would automatically know it's Derek and Julianne," one person tweeted.
Of course, no one will know who the person (or persons) behind the elaborate costumes are until eliminations each week. But in the meantime, keep the guesses coming.
The Masked Singer airs on Fox on Wednesday nights eat 8 p.m. ET.