'The Masked Singer' Predictions, How To Watch and New Fan Theories For Tree, Leopard and More
Six disguised celebrities will perform on the next episode of The Masked Singer. By the end of the evening, one will be unmasked. While there's no telling which celebrity will be sent home, some fans are confident in their predictions for who could be under each mask.
The Masked Singer is a reality competition in which secret celebrities perform songs of their choice. Their costumes are extravagant and each week they provide new clues to their identity. A panel of judges is then responsible for guessing who is under the mask. Each episode also hosts a head-to-head sing-off, which results in one contestant's unmasking.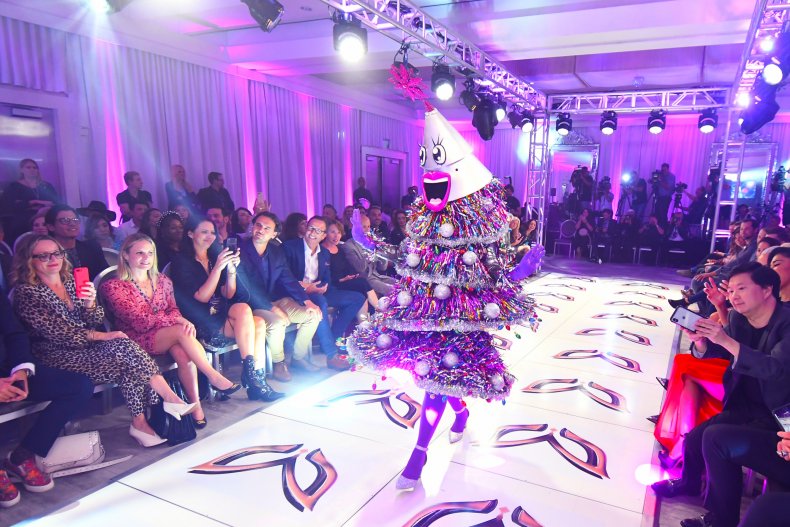 In recent weeks, some new fan theories have surfaced about a variety of the show's unknown contestants. One, which has flooded Twitter, claims Leopard may be RuPaul. The singer/songwriter and globally-renowned drag queen has been guessed by hundreds of fans on social media.
Others, however, think Leopard could be musician Seal. The guesses come from a handful of clues shared throughout the season. The judges threw out guesses for Pose actor Billy Porter, who has been known to command a red carpet with extravagant clothing, and British singer Robbie Williams.
Another trend among Masked Singer fans is discussing Paula Abdul, and if the former American Idol host is associated with the program. While many viewers seem to agree that Abdul is on The Masked Singer, they seemingly can't agree on which disguise she's under. Abdul has been a guess for more than a handful of the costumes.
The most popular theory points to Abdul as Tree, though her involvement in the show hasn't been confirmed.
Another popular theory claims Adrienne Bailon, former Cheetah Girl, is Flamingo. She publically denied being on the show, but her response has only intrigued viewers more.
The Masked Singer airs every Wednesday night on Fox. Viewers who don't watch live via a cable subscription can catch up on the pre-recorded action on Hulu. There is no voting component available for at-home viewers, so watching episodes after they premiere live will not prohibit involvement.