'The Masked Singer' Predictions: Who Could Be Flamingo and Other Masked Celebrities
The Masked Singer will return Wednesday night for another celebrity unveiling, and some fans are confident about their predictions. A handful of celebrities are being considered as the possible identities of the remaining disguised stars, but none, perhaps, are as intriguing as Flamingo.
Since the start of the season, viewers have had one impressive theory about Flamingo's identity. They point to former Cheetah Girl Adrienne Bailon as the star behind the mask. Social media users think Bailon may be the all-pink bird for a number of reasons.
Of course, viewers looked at Masked Singer clues for hints. One claimed Flamingo was stuck in his or her career and decided to change professions. This would make sense if it's Bailon, who was a giant part of the Disney community and the celebrity world but later stepped back.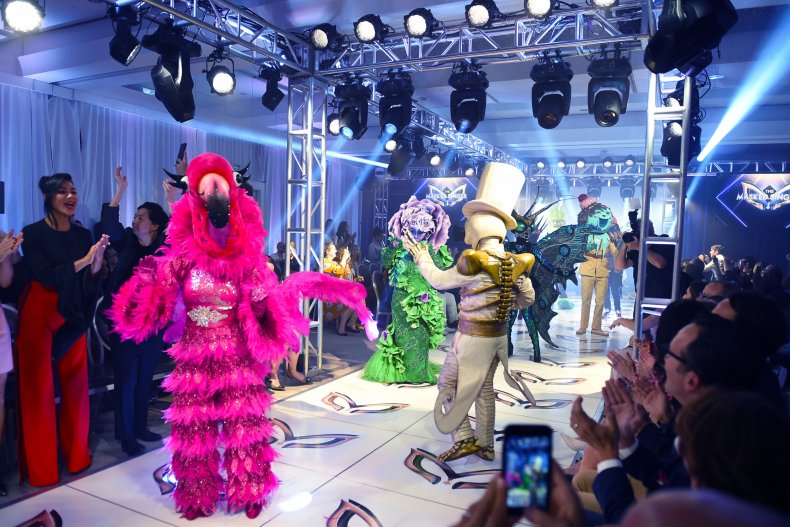 A video of Flamingo singing "Lady Marmalade" led fans to feel confident about their predictions. There are undeniable similarities between Flamingo's vocals and Bailon's, but the former Cheetah Girl says it's not her.
Bailon, who is a host of The Real, denied being Flamingo on the daytime talk show at the end of September. "I literally don't understand how people think I can do this show at 4 o'clock in the morning and that show at night. Let's start there," she explained. "No, I actually think it's really flattering, 'cause people are saying really nice things, so that's dope. But at the same time, the answer is no."
The former Cheetah Girl also put in her own guess: Ally Brooke. She then backtracked, saying it likely isn't Brooke because she's currently a contestant on Dancing With the Stars.
Meanwhile, another former Cheetah Girl is rumored to be a Masked Singer contestant. Some social media commenters think Black Widow is Raven-Symoné, known for the Disney Channel show That's So Raven. This prediction has Masked Singer fans thrilled at the idea of a Cheetah Girls reunion on Season 2.
Some of Black Widow's clues included a handful of framed peach photos and film reels. The peaches could be a nod to Raven-Symoné's hometown of Atlanta.
So far, four celebrities have been unveiled. Egg was Olympic figure skater Johnny Weir, and Panda was Laila Ali. Ice Cream was gamer Ninja, while Eagle was TV doctor Drew Pinsky, or Dr. Drew.
Another will join the list of revealed celebrities on Wednesday, but there's no telling which disguise will come off.