'The Masked Singer' Season 2 Episode 10 Live Recap & Results: Who Was Unmasked Tuesday Night?
Last week, Destiny's Child singer Michelle Williams was unmasked as The Butterfly.
It was a guess that judge Jenny McCarthy had stuck behind all season, and one that half of her fellow judges eventually agreed to back. McCarthy described Williams as one of her favorite contestants, and said she was sorry to see her go.
Williams herself admitted that she'd done the contest as a confidence booster. She told the audience that she hadn't worked since the previous year. Hoping that this would bring her back to the spotlight with a bang, she added that the judge's comments had given her the nerve necessary to return to the rigors of fame.
Williams fought back tears as she heard the judge's praise one more time, then sang "Sorry Not Sorry" one more time.
Elsewhere, the parody showmance between the Thingamajig and Nicole Scherzinger continues as they flirted and the Thingamajig promised to take Scherzinger out on a date when the competition was over.
The Fox continued to charm with hints that he's doing everything for his family—and that it's giving him a chance to step out of the shadows of his past.
The Tree dropped some strong hints that she might be Lisa Kudrow.
After an audience vote, the Thingamajig and Butterfly were ultimately selected for a sing-off. Butterfly lost, leading to the revelation of Williams' role.
After Williams' elimination, the field remains wide-open. While the judges have made two solid guesses in a row (they were able to figure out Patti LaBelle's identity), they haven't been able to put a name to top contenders like the Rottweiler and The Leopard.
Tonight, on "A Pain in the Mask," Season 1 winner T-Pain returns to help the judges unmask a new contestant. Tomorrow's episodes, "Two Masks Take it Off" and "Holiday Semifinals," will feature a double unmasking and a holiday theme, leading into the grand finale on December 18.
With the sing-off portion of the competition concluded, it's time for all six of our remaining contestants to sing onstage for the first time. Who will survive? What will Ken Jeong say? What will Jenny McCarthy wear? Tune in to find out!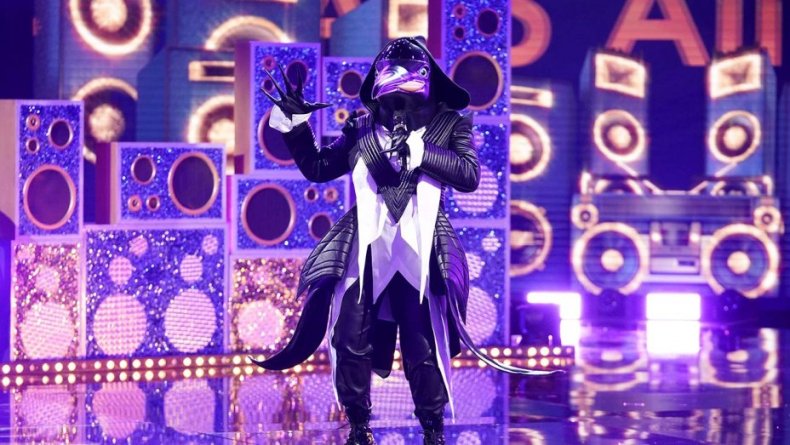 8:10 p.m.: We opened with a brief montage of all of the stars who've been eliminated so far. The best sound bite came from Patti LaBelle. "I'm proud of myself, but I had to lose to a dog. Hey," she said.
As stated above, T-Pain is back to make some guesses. Most memorable joke from the pre-show clips: "I'm just going to stick with Mariah Carey, because I want to see Nick panic."
When Nick Cannon asked him about the difference between being on stage and being in the judge's seat, "There's a lot of air conditioning up here," T-Pain says. "And I didn't have a lot of air flow in that thing."
Up first was the Fox, who continued to speak about winning "this whole thing" without "you."
The Fox sang "Blame It" by Jamie Foxx and T-Pain. "That's your song right there," said Ken Jeong to T-Pain.
"Oh my God, I loved everything about it," T-Pain said after the performance.
"I have spent one of the best weekends of my life with one of you," The Fox said.
"This isn't a good combination of people standing up right now," said T-Pain, as Jeong rose to his feet in shock.
Guesses:
"Jamie is a good friend of mine," said Nicole Scherzinger.
"Wayne Brady," guessed Robin Thicke.
"Did you spend a weekend with him?" asked Cannon of Thicke.
"I don't like to talk about it," said Thicke.
"Lenny Kravitz," guessed T-Pain.
After a long, hard rant, Jeong agreed with Nicole's Jamie Foxx guess.
8:19 p.m.: The Leopard hinted that he's very into tennis and that he liked tofu. After watching his background minions battle, he said it was his turn to growl.
The Leopard sang "We Are Young" by fun. featuring Janelle Monáe.
The performance got a standing ovation. "It's for characters like you, performances like you and singers like you," that make the show worthwhile, McCarthy said.
"I was presenting an award on an award show that included one of you, and I was wearing a custom leather outfit!" The Leopard revealed.
Guesses:
Jenny McCarthy guessed Eric Benét.
Robin Thicke went with Seal.
"I know exactly who this is," said Jeong, which instantly was echoed by the audience.
"Don't support this," McCarthy begged the audience.
Jeong then guessed Enrique Iglesias.
8:33 p.m.: The Thingamajig was up next. He said he was "stopped in his furry tracks" to be in the bottom two. He said that he was going to rethink his strategy, campaigning for himself.
The Thingamajig sang "Ordinary People" by John Legend, which made a person in the audience cry.
"You're probably breathing hard as hell, because I stuck my fat ass in one of those things," T-Pain said.
"It has to be John Legend in that thing, on stilts," said T-Pain.
"In my mind, it was just the two of us in the room," joked Scherzinger about the song being dedicated to her.
"I collaborated with the same artist as one of you," the Thingamajig revealed.
"Markelle Fultz," guessed Scherzinger.
"Montell Jordan," guessed Thicke.
"The best guess we have so far is that you're Nicole's future fiance," said McCarthy.
The Flamingo was next, and she said that she wanted to keep flying.
The Flamingo sang "Go Your Own Way," by Fleetwood Mac during an airport-themed performance.
"It was sassy, it was sexy, it was seamless, it was super," said Jeong.
"I shared some couch time with one of you in 2013," said the Flamingo.
"Is that my therapist?" asked Thicke.
"I've also interviewed 5 thousand people in the last three years," McCarthy said.
Guesses:
Jeong guessed Hilary Duff.
McCarthy continued to guess Adrienne Bailon.
Thicke continued to guess Fantasia Barrino.
8:42 p.m.: The Tree was up next. She admitted she misses her friends, and that she's feeling the pressure. "I feel like a kid on Christmas Eve; nervous, excited, and unable to sleep."
The Tree sang "The Edge of Glory" by Lady Gaga.
"That's our next season, The Masked Twerker," joked Cannon as the Tree danced.
"I have shared a stage—and a standing O—with one of you," said the Tree.
Guesses:
Ken Jeong guessed Bebe Neuwirth.
Robin Thicke guessed Rachael Ray.
T-Pain did a full-out Ken Jeong-style word association guess and came out with Mariah Carey.
"I can vouch—Mariah Carey does like soup," said Nick Cannon, speaking about a previous clue delivered by the Tree.
8:53 p.m.: Up next was the Rottweiler, who admitted he got stuck in his head a lot and meditates to escape that feeling. "I like imagining myself in a pool, swimming from the deep end to the shallow."
"For the first time, tonight I am an open book," he said.
The Rottweiler sang "Someone You Loved" by Lewis Capaldi.
"Whew," T-Pain said.
"I think it was the most vulnerable and honest performance you've ever given," said Scherzinger.
"I have been on the same list as one of you, and no, it was not People's Sexiest Men," said The Rottweiler.
Guesses:
Thicke guessed Darren Criss.
"Jared Leto," guessed Nicole Scherzinger.
"Nah," said McCarthy.
"Bow Wow," guessed Ken Jeong.
"You were on 106 and Park?!" asked Cannon, referring to the highly popular music video show that ran on BET until 2014.
The audience vote took place and the results... were revealed after the commercial break.
8:58 p.m.: The Tree was eliminated.
Final Guesses:
Thicke and Scherzinger guessed Amy Sedaris.
Jenny McCarthy goes with Ana Gasteyer.
Jeong went with Bebe Neuwirth again.
"I'm just going to stick with Mariah Carey, because I want to see Nick panic," said T-Pain.
9:00 p.m.: Jenny McCarthy was correct—it was Ana Gasteyer!
9:02 p.m.: Ken Jeong is aghast because he and Gasteyer are friends, yet he totally didn't recognize her. Gasteyer mentioned she and Jeong were in A Christmas Story Live together.
"Turns out the closer you are to Ken, the less he knows about you!" said Thicke.