'The Masked Singer' Season 2 Episode 7 Live Recap & Results: Who Was Unmasked Wednesday Night?
After last week's double-elimination of singer/actress Raven-Symone and actress/TV personality Sherri Shepherd, revealed as the Black Widow and the Penguin, respectively, we're down to 9 contestants left.
Last week, multiple clues were laid down by the singers in question, which didn't help the judge's guesses. But McCarthy—who co-hosted the View with Shepherd and, according to McCarthy, has seen her naked—knew it was her from the moment she pinched the bottom of host Nick Cannon, and Robin Thicke, who wrote a song for Symone, recognized her voice.
Tonight's episode is entitled "Triumph Over Masks". Will we have an appearance by Triumph the Insult Comic Dog? Will there be a tribute to Katy Perry's "Roar"? And what will Jenny McCarthy wear? Tune in to find out!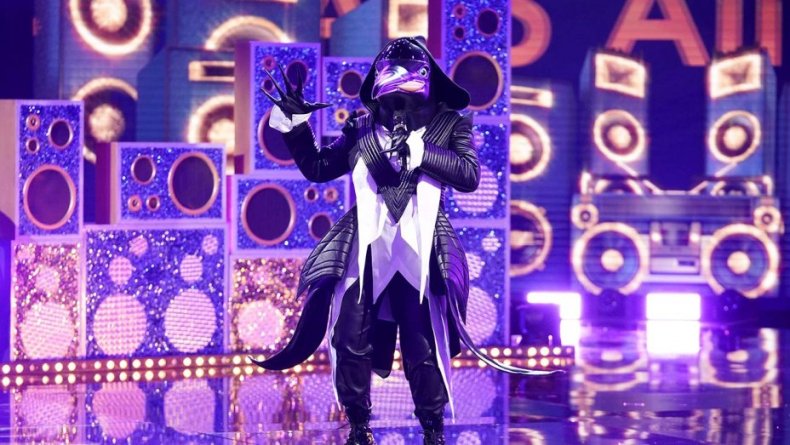 8:13 p.m.: "Rottweiler, I never thought I'd see you again after walking out on your mother," said Triumph the Insult Comic Dog during the episode's preview - yep, he's tonight's guest judge.
Nick Cannon—wearing a very loud purple suit—tells us we're four weeks from the finale, and tells us that only four contestants will move on to next week's episode—which means that we're going to be eliminating five singers tonight. I'm not sure if that's accurate.
Cannon introduced Triumph, who then began riffing on the hosts.
"He's the biggest man in showbusiness ever since Ryan Seacrest started saying no to things," said Triumph in regard to Cannon.
Up first is the Fox, who is excited to keep letting new sides of himself shine. In his clue package, he said that he had a 30-year career behind him, and mentioned that he was part of a pack of "talented pack" of gentlemen.
The Fox performed "Every Little Step" by Bobby Brown.
"This is not a show about creating stars, it's a show about celebrating stars—and I feel like you're the biggest star of all," said Ken Jeong.
Triumph said he enjoyed the performance even though foxes and dogs were natural enemies.
"Much like Robin Thicke and any woman born before the year 2000," said Triumph.
"From his physical presence, I think it's AJ McLean from the Backstreet Boys," said Robin Thicke.
"Nobody's mentioned Lou Dobbs! He was in a boy band in 1983!" said Triumph.
Nicole Scherzinger suggested Sterling K. Brown, but said the Fox reminded her of Jamie Foxx.
"I don't think Jamie could stand still for that long," said Thicke.
The Fox's clue was a boombox.
"As a young pup, this gift from my father helped me find my voice—and a few others," said the Fox.
Ken Jeong suggested Sean Stockman of Boyz II Men after that clue.
8:20 p.m.: The Judges are wearing the same clothing as last week. Interesting.
The Ladybug said her confidence was growing and that she felt more empowered than ever to be herself. Family drama and L-U-V-E (a Simpson song title) continued to pull the judges in the direction of the singer being Ashlee Simpson.
The Ladybug performed "Youngblood" by 5 Seconds of Summer.
"That performance was spot-on!" said Triumph and said it had great energy.
"You really meant what you were singing about, and I connected with that," said Scherzinger.
Jeong continued to guess Lindsay Lohan; Nicole Scherzinger guessed Jamie Lynn Spears.
The Revealing Item was a golf cart.
"In my youth, I wasn't afraid to get a little mud on my tires," said the Ladybug in a southern accent.
8:30 p.m.: The Flower was next, and described herself as an introvert.
"It's Eddie Murphy," yelled Triumph during the clue package, which focused on the Flower's plan to throw them off her trail.
The Flower treated the judges to a bluesy take on "Amazed" by Lonestar.
The judges loved the performance, and Ken Jeong once again decided to prop up his theory that the Flower is Björk.
"Ken, this is what Björk looks like on her driver's license. This is everyday Björk," said Triumph.
Jenny McCarthy still thinks it's Anita Baker.
The Revealing Item was a deck of cards. "It's not about the hand you're dealt, it's in how you play it, honey!"
Which brought a guess from Triumph that it was Jennifer Holliday.
8:40 p.m.: "For the first time in history, a dog is about to pass judgement on a tree," said Cannon introducing the Tree, who called the experience gratifying so far in her clue package. There was a Strangers with Candy reference and a Broadway one, and the Tree said this was their first time stepping out solo.
The Tree sang "No Excuses" by Meghan Trainor.
There are continued guesses from Scherzinger that the Tree was Amy Sedaris, or Molly Shannon from Jenny McCarthy. Ken Jeong pulled out the fact that Lauren Graham of Gilmore Girls was on Broadway and was in Bad Santa.
The Tree's Revealing Item...will be revealed after the break.
8:52 p.m.: The Tree's clue was a bowl of soup.
"That's a clue?" asked Triumph.
"If it wasn't for soup I'm not sure I'd be where I am at today!" said the Tree, which brought back the Rachael Ray guess Jeong had last week.
"Isn't it adorable, watching Jenny and Robin trying to figure out clues? Like Shaggy and Scooby Doo. But slightly less articulate," Triumph said.
The Rottweiler was next—and he confessed that he hadn't taken the conventional route to stardom, but was happy he took it.
The Rottweiler sang "Castle on the Hill" by Ed Sheeran.
McCarthy called the performance the best on the season so far.
Triumph's walkout joke from the preview played. "In my defense, you were a very ugly baby."
Guesses were disparate, from Darren Criss to James Franco.
The Revealing Item was a portrait of Triumph that he drew by hand.
"I love you so much Triumph that I drew this for you, hoping that you'd sign it for a fellow pup, for your son," said the Rottweiler.
"I'll sign it and I'll make sure Dr. Ken signs it so it won't have too much value," said Triumph.
8:57 p.m.: Eliminated: Ladybug
8:58 p.m.: Jenny sticks with her Paris Jackson guess; Ken Jeong picks Lindsay Lohan; Thicke selected Lohan; Triumph picked Lohan.
9:00 p.m: The Ladybug was revealed as: Kelly Osbourne, who admitted she sweated a bit as she clung to her fake southern accent.