'The Masked Singer' Season 2 Episode 8 Live Recap & Results: Who Was Unmasked Wednesday Night?
After Kelly Osbourne shocked viewers by unmasking as The Ladybug last Wednesday—having successfully thrown the judges off of her scent for weeks by using a fake southern accent—we're down to eight contestants left in the competition.
As indicated above, none of the judges successfully guessed that the Ladybug was Osbourne, in spite of the clues she left behind speaking about family drama—the Osbourne clan is well known for this—and feeling as if she were finally being taken seriously under the mask, as it prevented people from judging her by old standards.
The audience, too, seemed surprised that Osbourne was the Ladybug—and it was a fact that apparently even surprised her father, Ozzy, from whom Osbourne had hid the knowledge of her existence as the Ladybug because she knew he'd "blab" it to everyone, according to an appearance on The Talk last Thursday. Her mother, Sharon, however, knew from the start.
She spoke about the isolating nature of sitting alone in her costume in her trailer for hours, to both maintain her level of anonymity and keep pictures from leaking out to the public, but admitted she loved the experience of being seen as herself without the layers of public perception between herself and the audience.
Also last week, The Flower continued to mystify the judges with her elastic voice, and the Fox impressed with some new choreography. The judges were no closer to figuring out who the two singers—or any of their masked brethren—were, even with the help of a wisecracking and not-quite-neutered Triumph the Insult Comic Dog, who joked that the Rottweiler was his illegitimate son and made wisecracks about panelist Robin Thicke's alleged preference for dating younger women.
Also appearing last week—Joey Fatone, who showed up to both visit the set and make Jenny McCarthy regret the fact that she suggested he was "too fat" to have been the Rabbit in season 1.
Tonight's episode is entitled "Mask and You Shall Receive." Does that mean more physical clues? Or does it indicate that the panelists will be allowed to ask the contestants more probing questions?
What it apparently does mean is a return of popular guest-host, The Soup host and Community actor Joel McHale, whose wry witticisms and extreme inability to take any reality show competition seriously has made him a popular game show panelist in recent years.
Will one of Ken Jeong's guesses ever be on-target? And what will Jenny McCarthy wear? You'll have to tune in to find out!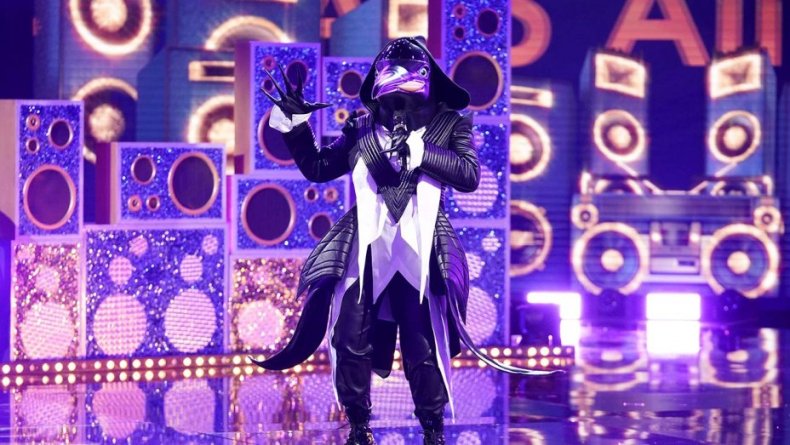 8:10 p.m.: Kelly Osbourne admitted that she's going to miss being the Ladybug. "It becomes you," she said.
Nick Cannon announced that the remaining contestants are going to be paired off into four face-off dead heats, with the winner getting closer to the finale and the loser being forced to perform in a "do or die" smackdown.
Joel McHale was introduced,and he razzed ex-co-star Ken Jeong's fashion sense. "It's awful," he said.
The Flamingo was up first, and she admitted she was soaking up the attention. "Aye dios mio," she said at one point. "Woah, Spanish," noted Ken Jeong.
The Flamingo sang "Lady Marmalade," the Moulin Rouge version instead of the LaBelle version. All five judges were on their feet before the end of the performance, and Nick Cannon was grooving in the audience.
"Somebody came to win!" said Scherzinger.
Thicke said it was the strongest performance of the season. Though he once thought that the Rottweiler had the strongest voice, he said that the Flamingo now has the strongest in his opinion.
Their praise made the Flamingo emotional, which made McCarthy and Scherzinger emotional in turn.
Guesses: Ken Jeong guessed Bella Thorne. "Bella Thorne is like... my height almost," said Nick Cannon. "Look, Ken's sitting on a pillow," said McHale, leading to the two of them entering into some spitfire banter.
"We're all shocked you brought up your movie career," said Joel McHale of Jeong, who suggested the bird was Jillian Michaels.
Robin Thicke is sticking with his Fantasia Barrino guess.
8:19 p.m.: The Leopard was up next, and he described the competition as liberating, saying that he can do things that he once considered inconceivable without a mask.
The Leopard performed "September," as made famous by Earth, Wind and Fire, which was good enough to make Joel McHale get up and moonwalk.
"I love everything you do," said Jeong. "It's just so entertaining."
The Leopard said that he was utterly shocked by how much attention they were getting.
"He's so funny that it's confusing," said Jenny McCarthy, who guessed Billy Porter or RuPaul.
Ken Jeong guessed Donald Glover. "He was a minor as a child!"
Nicole Scherzinger guessed singer Seal.
Robin Thicke agreed with Scherzinger's guess.
"It's a leopard, not a seal, I don't get it," said Ken Jeong.
"Like usual, the regular judges are wrong," said Joel McHale, who guessed Alec Baldwin. "He has thirteen kids, no wonder he needs the money."
The audience and panel then voted who would be sent to the sing-off.
Winner: The Flamingo
8:31 p.m.: The Flower described performing in the show as nerve wracking, calling it a "wild ride" getting to do what she loves like never before. Men dove into the Flower's pool, picking out perfume and dice from the bottom, playing patty cake, and also quoting "Like a Rolling Stone" by Bob Dylan.
The Flower performed "Alone" by Heart, which, as Scherzinger noted, was very dramatic and involved fake snow raining from on high.
"Just like a true jazz artist, you made the song your own," said Thicke.
"This is the most challenging job I've ever had," the Flower said. "The Masked Singer is phenomenal!"
"When you hit those high notes, I understand what Nicole means by seeing baby Jesus," said McCarthy.
Guesses: Jenny McCarthy and Robin Thicke guessed Patti LaBelle.
"Clearly you have talent, unlike someone on my right," said McHale, who guessed Barbra Streisand.
Ken Jeong said it was "the queen of disco" Björk.
Joel McHale compared Ken Jeong to a scooter, while Nicole Scherzinger was a luxury car as they primped during the break.
8:42 p.m.: The Rottweiler admits that he's comfortable under the mask, afraid to take it off and be judged by who he is underneath.
The Rottweiler performed "Grenade," as made famous by Bruno Mars.
"McGruff the Crime Dog is the best singer on the show!" said McHale.
"You have such a range, and you really came through," said Scherzinger.
"This whole experience has helped me believe in myself more than I ever had," said the Rottweiler.
Guesses: "We know it's not Ken Jeong because he works out," said McHale.
Jenny McCarthy guessed Gavin Rossdale, lead singer of Bush.
"That's an amazing wrong guess," said Jeong, who guessed Billie Joe Armstrong of Green Day. "Shut up, Nick Cannon!"
"Please give a warm welcome to Mario Lopez," said Joel McHale.
"Why?" Jeong asked.
"Why not, Ken? Your explanation made no sense!" said McHale.
Robin Thicke guessed Darren Criss.
Scherzinger guessed Joe Jonas.
The winner of the Face-Off... will be revealed after the break.
8:52 p.m: The winner of the Face-Off was the Rottweiler.
"Darren Criss lives another day," said Joel McHale.
The Flower and The Leopard prepared for their Mask-Off, which was introduced with Michael Buffer-eque panache by Cannon.
The Leopard was up first, and performed "Don't Cha" by the Pussycat Dolls.
"Who sings this song?" McHale asked Scherzinger facetiously, knowing that she was in fact the lead singer on the original track.
Then the Flower sang "Eye of the Tiger," as made popular by Survivor.
"This is why the Masked Singer is a hit show," said Jenny McCarthy.
"Your song choice was genius," said Scherzinger of the Leopard. "I thought I heard Patti LaBelle's voice in there."
"Leopard, you're like flipping the script on me," said Jeong.
McCarthy then said this would be the hardest vote they've ever done as the judges made their final choices.
8:56 p.m.: Winner of the Face-Off: The Leopard
Jenny McCarthy said that they were "so honored" to have the Flower there.
Final Guesses: Nicole Scherzinger said Patti LaBelle, a guess agreed to by Thicke and McCarthy.
"This whole situation is as cold as ice," said Ken Jeong, who once again shouted his love for Björk.
Joel McHale guessed Dionne Warwick.
8:59 p.m.: The Flower Was Unmasked As: Patti LaBelle
9:01 p.m.: Nick Cannon said that he knew the whole time—LaBelle is the godmother of his twin children, Monroe and Moroccan, with Mariah Carey.
"I knew that Nick knew, and I knew you all knew," LaBelle admitted.