Two weeks ago, The Masked Singer said goodbye to Patti LaBelle, whose flexible voice and versatility as The Flower impressed the judges—but she was consistently guessed as the person behind the purple blossom.
While her talents kept her from being pinned down for weeks, a sing-off with The Leopard resulted in her removal from the contest.
La Belle was a fan favorite on the show, though many viewers had guessed correctly that she was behind the vocal stylings of The Flower, and she knew it.
"I knew that Nick knew, and I knew you all knew," LaBelle admitted, speaking of her close relationship with series host and friend Nick Cannon at the close of episode 8. LaBelle is the godmother of Cannon's two children with Mariah Carey, Monroe and Moroccan.
The Rottweiler and the Leopard both had up weeks, drawing positive judge comments. Meanwhile, the Flamingo continued to baffle the judges with their own inconsistent cues combined with sterling talent.
Tonight's episode, entitled "Clash of the Masks," will feature two more head-to-head battles and one more unmasking. Who will be revealed? What will Ken Jeong say? And what will Jenny McCarthy wear? Will we all make it to the Christmas break with our masks intact? Tune in to find out.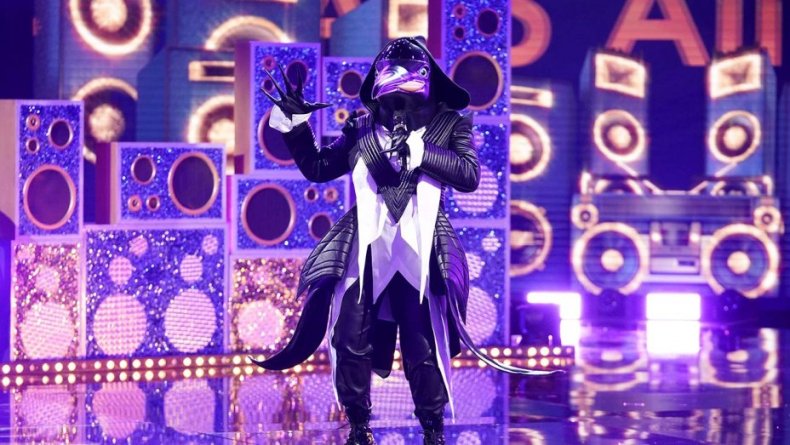 8:09 p.m.: Joel McHale is continuing as a co-host tonight, and we will indeed get two more face-offs. The Butterfly and the Fox and Thingamajig and Tree will face off.
Nick Cannon entered with a squad wearing purple masks, and explained once again the face-off premise.
The Butterfly admitted that making it this far into the competition is intimidating—but it was all right, because she was used to sharing the stage with giants. She quoted "Wannabe" by the Spice Girls while saying she was proud of who she had become.
The Butterfly performed "Sorry Not Sorry" by Demi Lovato, which had Ken Jeong and Joel McHale hollering along to the song.
"She was in a boxing ring for that performance, and she came to fight!" said Nicole Scherzinger.
"By far the best performance by anyone I've ever seen dressed up as a bug," said Joel McHale.
"I'm in tears after every performance, because you guys have helped to take away the insecurities I have about my voice," said The Butterfly.
Guesses:
Jenny McCarthy guessed Michelle Williams.
Robin Thicke said that he didn't hear Williams' tone when she sang, but guessed singer Monica or Leona Lewis.
Ken Jeong gave a nice, long explanation and guessed the Butterfly was Kerri Washington.
"Is Ken paid by the word?" asked Joel McHale.
8:21 p.m.: Before cutting to the next contestant, we saw footage of the show's warm-up host asking the audience who they'd like to do various activities with.
"Who do you want a restraining order against?" Joel McHale finally asked.
The Fox said he was going to have to be clever to make it to the end of the show, because the judges were hot on his tail.
He added that he'd decided to become the Fox because "They're cunning and strong, yet often times underestimated."
"But with this mask on, I feel the way you see me—like a true-blue superhero," he concluded.
The Fox sang "Tennessee Whiskey" by Chris Stapleton as a soul ballad.
"That was the best performance I've ever seen on this show, so go ahead and take your mask off, you've won," said Joel McHale.
"I'm so glad I'm getting a chance to work with my friends—even though my friends don't know they're working with me," said The Fox, driving the judges to delighted distraction.
Guesses:
"I can't wrap my ear around the voice," said Robin Thicke, guessing AJ McLean again.
"That's an amazing wrong guess," said Ken Jeong, who guessed Jamie Foxx.
"That was a nine volume explanation," said Joel McHale.
Jenny McCarthy guessed Taye Diggs.
The audience then voted on the face-off—and the winner was The Fox.
8:33 p.m.: Thingamajig said that in his line of work, he's used to hustling every day. "That can-do attitude is what's gotten me this far."
"Sorry, Nicoleamajig, I've got to be my own number one right now," he said, adding that he hoped that being number two would suffice.
"Nicole wants to marry Thingamajig," said Ken Jeong to Joel McHale.
"I love him," confirmed Nicole.
The Thingamajig performed "Haven't Met You Yet," by Michael Buble, and the performance ended with Nicole Scherzinger in a phone graphic saying they had "matched on Thingamajiger."
"Is this The Masked Singer or Love Connection?" McCarthy asked.
"You hit some really high notes and you really opened up your range," said Scherzinger.
"Nicole, what's your perfect date? 'Cause I want to start planning ahead," said Thingamajig.
"This isn't The Masked Tinder," scolded Jeong.
Guesses:
Thicke guessed Montell Jordan again.
"Clap for yourself," joked Cannon.
"Nobody else would!" said Thicke.
"Set an alarm!" said McHale as Jeong began to speak. Jeong guessed Brian McKnight.
"He's married to someone else, just like all my other exes," said Scherzinger, as the screen cut to a shot of Scherzinger with her ex... Nick Cannon.
Jenny McCarthy guessed Dennis Rodman out of turn.
"Man, this show where people wear masks—it's hard to tell who they are!" said Joel McHale.
"Can I be the flower girl?" McHale asked, of the "eventual" Scherzinger/Thingamajig wedding.
8:42 p.m.: The Tree said she couldn't believe she was still standing. The confidence that the panel's given her confidence, and she could perform like no one was watching, "not even a smelly cat."
"I plan on shaking my tree stump all the way to the finals," the Tree concluded.
The Tree performed "Total Eclipse of the Heart," as made famous by Bonnie Tyler.
"We don't need to give you confidence, you've already got the talent," Jenny McCarthy.
The Tree said that the responsibility of the show "[is] all-consuming—and I've let my other responsibilities fall to the wayside while I'm doing this," the Tree said.
Nicole Scherzinger guessed Lisa Kudrow.
Jenny McCarthy guessed Ana Gasteyer.
"I could be wrong, like Ken," said McCarthy.
"Nia Vardalos," suggested Ken Jeong.
"I think it's Megan Mullally," said Joel McHale.
The audience voted and the winner of the face-off... would be revealed after the commercial.
8:51 p.m.: The winner of the audience vote was The Tree—which means The Thingamajig and the Butterfly will be going head to head.
The Butterfly sang "Believer" by Imagine Dragons.
Thingamajig sang "Caught Up" by Usher, while shaking his booty in Butterfly's face.
8:58 p.m.: The winner of the face-off was The Thingamajig.
Final Guesses:
Jenny McCarthy guessed that Michelle Williams might be behind Butterfly's mask, saying she was "sorry she was behind the mask, but excited because she was one of her favorites.
Nicole Scherzinger agreed that it was Williams.
Ken Jeong guessed Mel B.
Joel McHale went with Victoria Beckham.
Robin Thicke guessed Michelle Williams too.
8:59 p.m.: Jenny McCarthy was correct—the Butterfly was Michelle Williams!
9:00 p.m.: Williams said it was a confidence builder—she hasn't worked "all year since last year."
"This is a way to come back strong," Williams added.
Nicole Scherzinger said that she was inspiring as Williams held back tears.