'The Masked Singer' Season 2 Episodes 5 and 6 Live Recap & Results: Who Was Unmasked Wednesday Night?
The Masked Singer returns from its baseball-induced hiatus to unmask two celebrities and give us a double elimination. The double episode is going to span two hours and will feature Anthony Anderson (black-ish) as a guest.
In the first episode, "Mask Us Anything," the judges will be allowed to ask the masked singers probing questions.
Hosted by Nick Cannon and featuring a panel of guest celebs including Jenny McCarthy, Ken Jeong, Nicole Scherzinger and Robin Thicke, the show features entertainers and singers being given a "second chance" to rebrand themselves without the burden of having their faces out there.
In its pre-baseball-hiatus episodes, figure skater and entertainment host Johnny Weir was revealed as the Egg, Professional Video Game Streamer Ninja was revealed as The Ice Cream, former boxer and entertainment host Laila Ali was revealed as the Panda, addiction specialist, radio host and television personality Dr. Drew Pinsky was revealed as the Eagle, and former David Letterman bandleader Paul Shaffer was revealed as the Skeleton.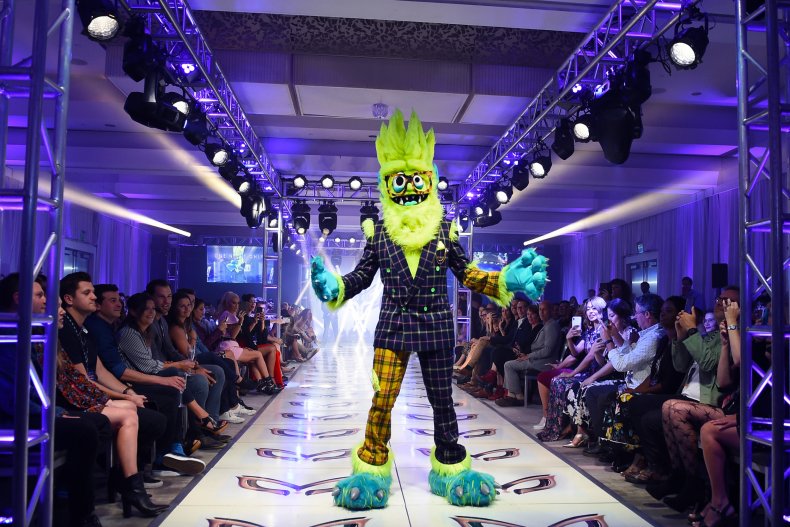 8:12 p.m.: "Last night, the Skeleton got sent back to the boneyard!" Nick Cannon tells us in voice over as we review what happened over the last two weeks.
After Nick Cannon—in a reflective jackal mask and with an entourage—arrived onstage, he revealed that cumulatively, the masked singers have 69 Emmy Nominations, 42 Grammy Nominations, 22 Gold Records, 10 lifetime achievement awards, and 27 Teen Choice Nominations. "We've got 'em all covered here."
Cannon runs through the names of the competitors left in the game—The Rottweiler, Black Widow, Butterfly, Flamingo, Flower, Fox, Ladybug, Leopard, Penguin, Tree and Thingamajig.
First up is the Rottweiler. "I've been judged since I first entered the game," he says. The variety of clues he dropped had the judges cocking their ears.
One in particular caught their ears. "I want it that way," said Nicole Scherzinger. "Backstreet Boys."
The Rottweiler performed "Love Runs Out", originally by OneRepublic.
"When you sing, it doesn't even sound real to me—it sounds like a record," said McCarthy.
Guesses: Panel guesses include Brian Littrell from the Backstreet Boys and Joe Jonas from the Jonas Brothers.
Ken Jeong suggested Pat Monahan from Train.
"My heroes growing up were Bruce Lee and Boyz II Men," offered the Rottweiler. "A karate soul singing man," said Jeong.
"It's not Brian. When he sings, he bends his knees all the time," said Scherzinger. The judges remained stymied, to the delight of the Rottweiler, who was happy to have everyone fooled and hoped to extend his run on the show for as long as possible—and added an evil laugh.
8:20 p.m.: Joey Fatone was on the scene, and Jenny McCarthy scoffed at her earlier bad guess during season 1 that it "couldn't" have been Joey as the Rabbit in season 1. "I can't believe that I said he was too fat. On TV," McCarthy lamented.
Next up was the Ladybug, who won an award for "Best Host" at one point. She talked about her world seeming lovely on the outside. "But on the inside, my world was completely upside down," she said. Scherzinger pointed out that she made a reference to Ashlee Simpson's "Pieces of Me."
After singing Lizzo's "Juice", which the judges really enjoyed,
"I usually say I know that voice," said Scherzinger, "but I don't know that voice!"
Guesses: "Does that mean that maybe the parent was a host. Maybe Pat Sajak?" said Robin Thicke.
"Maybe Paris Jackson?" suggested Jenny McCarthy.
"This show is all about rebranding, second chances. Maybe Lindsay Lohan—I know people were booing on it," said Ken Jeong.
"Ladybug says, 'Kiss my ass'," said Nick Cannon.
Jeong then hid behind a towel given to him by Thicke.
The Ladybug's extra clue: "The queens of entertainment taught me how to be a lady."
8:37 p.m.: Next up was the Tree, who enjoyed stymieing the judges with her voice. "I'm not a regular tree, I'm a cool tree," said the Tree, whose Christmas-based clues confused the judges.
The Tree performed "Think" as made famous by Aretha Franklin.
"Trees usually give shade, but I'm not giving you any," said Scherzinger, who called the tree "super talented."
"I think you gave Nick Cannon poison oak," said Ken Jeong.
Guesses: Zooey Deschanel was Ken Jeong's guess, and Jenny McCarthy's was Amy Sedaris. Robin Thicke was sticking with Rachael Ray, but she suggests Padma Lakshmi.
One last hint from the Tree: "I have been a brand ambassador and it does relate to food." Which causes Jeong to throw out Little Debbie as a suggestion.
Next up was the Penguin, who revealed that she was a bright star who had survived a great tragedy. A Curb Your Enthusiasm reference piqued judge's interests.
Penguin sang "All About that Bass" by Meghan Trainor.
Jenny McCarthy said she thought she knew who it was, and praised the song choice as it went with her personality.
Robin Thicke said that no one moved like the Penguin and that they didn't even need the backup dancers behind her.
McCarthy's suggestion was Nicole Byer.
Nicole Scherzinger suggested Sherri Shepherd earlier. But she was starting to think of Star Jones as well, or perhaps Wanda Sykes or Mindy Kaling.
Penguin's clue was that she had been in many relationships, including with the President.
8:44 p.m.: Next up was The Flower, who revealed that it was funny that everyone thought she was a professional singer, but she'd never had a singing lesson in her life.
Her song was "Cheap Thrills" by Sia, and the song was just as impressive as before.
"I love that song, and I love that you did your thing with it," said Scherzinger.
Guesses: Jeong doubled down on his previous guess that it was Björk.
"What are you talking about?" asked Cannon.
"Dude, it's freaking Björk! Show some respect, Nick Cannon!" said Jeong.
Scherzinger suggested Shirley Bassey.
McCarthy suggested Anita Baker.
"My favorite band is Kings of Leon," said The Flower with one last clue.
8:51 p.m.: The Fox spoke about enjoying the love he received onstage. He grew up doing imitations and in spite of the Emmy he received for his work, didn't feel as if he were being applauded for the real him until he sang under the mask.
The Fox performed "Hey Look, Ma I Made it" By Panic! At the Disco.
"He definitely knows what he's doing," said Robin Thicke, and he was impressed by the Fox's dance break.
"To be able to be in that full fox move and do all of those moves?" said Scherzinger, who was amazed.
Guesses: The singing reminded Thicke of AJ McLean from the Backstreet Boys.
Jeong thought of Jamie Foxx.
"Growing up, I imagined that I'd be in a uniform," said The Fox.
Then came the audience vote, which was interrupted by a commercial break.
8:56 p.m.: Eliminated: The Penguin
The Judges generally stuck to their last-minute guesses.
Reveal: The Penguin was Sherri Shepherd, and Jenny McCarthy was correct in her guess.
"Jenny knows me so well, we've been through two marriages and divorces together, we've walked around naked together..." Shepherd said.
9:09 p.m.: "That had me gasping and I don't even have asthma," post-mortemed Shepherd.
The Black Widow performed first and said that their costume felt like home "I don't have to pretend anymore. then again, I can make my home in pretty much any nook or cranny!"
The Black Widow sang "Believe" by Cher.
"You crouch better than all the contestants on either season," said Ken Jeong of the Black Widow.
"You've produced consistently good performances," said Robin Thicke.
Guesses: Raven-Symone from Robin Thicke. Miranda Lambert from Ken Jeong.
The first Revealing Item was brought out, and it turned out to be whipped cream and crackers. "I've spun webs around these tasty treats."
"Welcome to the Masked Singer panel," said McCarthy when Anderson had no clue who the Black Widow was.
"I want to win this so bad," said the Black Widow afterward.
9:21 p.m.: Thingamajig was next, and he admitted that his voice had a tendency to win over the ladies. "After a good show, I love to break bread with the homies." "My pop taught me how to serve the ladies," he added, dedicating his next number to Scherzinger.
Thingamajig did "Ain't Too Proud to Beg" by The Temptations.
"Who is this? I have no idea!" said Robin Thicke during the song, as all the judges got up to dance.
"I'm not going anywhere," Scherzinger said. "I'm right here."
Guesses: Thicke suggested Montell Jordan. Jenny McCarthy suggested NBA player Tony Parker. "He's two inches shorter than Nick," said Jeong. Scherzinger's suggestion was Dennis Rodman. Jeong suggested Ron DeVoe of Bel Biv Devoe.
The Reveal item: The American Sign Language Dictionary.
"That's my husband right there!" Said McCarthy.
9:29 p.m.: During the Butterfly's last performance she was electrocuted onstage, but made it back okay.
Becoming the Butterfly allowed them to recapture the joy the one felt as a child performer. "It made me feel safe, even in the hardest of times, and sadly lead to the lowest of lows."
The Butterfly performed "Don't Know Why" by Norah Jones.
Guesses: Anthony Anderson wrote three worlds down: "delicate." "soulful" and "honest".
Scherzinger said that the voice reminded her of Michelle Williams from Destiny's Child.
"And those thighs I'm so jealous of," Jenny McCarthy said.
Robin Thicke was sticking with Leona Lewis.
9:44 p.m.: "I once had the chance to choose life..or death!" said the Butterfly.
Ken Jeong promptly guessed that Norah Jones was under the mask.
The Leopard described performing under the mask as "liberating... like I had nothing to lose. I haven't felt this free since I was a young cub." Guesses included a New Edition reference.
The Leopard performed "Teenage Dream" by Katy Perry.
"I love you because you're all in and all in character," said Scherzinger.
"Get a tree, you two," said Jeong, but then the Leopard jokingly proposed to Cannon, who said yes.
"What exactly is this show about?" shouted Jeong." What did I agree to do?"
Guesses: Ken Jeong went with Bobby Brown, Nicole Scherzinger is still guessing Billy Porter, as was Robin Thicke.
The Revealing Item was two cameras.
"You know my life has been so tiresome, I've spent most of it in front of the lens, but I much prefer being behind the lens."
This made Scherzinger guess Tyler Perry.
"Why does he sound like Eartha Kitt from Boomerang?" wondered Anderson.
9:53 p.m.: "The real truth is, my story isn't all fantasy," said the Flamingo. "Being on stage became one of my greatest fears."
The Flamingo sang "Never Enough" by Loren Allred, which moved Nicole Scherzinger to tears.
Jeong called her a "Slaymingo."
Guesses: Robin Thicke suggested that the Flamingo is Fantasia. Jenny McCarthy stuck with Adrienne Bailon.
The revealing item was an NAACP Image award, which caused Anderson to bring up the fact that he hosted the awards. The Flamingo said it was a career highlight "When I received this award."
9:56 p.m.: Voted Off: The Black Widow
Final Guesses: Nicole Scherzinger guessed Raven Symone, which was a consensus Robin Thicke agreed with. "I actually wrote her into my show black-ish as my sister," said Anderson, who stuck with his guess as Drew Barrymore.
"If it's Raven-Symone, I used to babysit her!" said Nick Cannon. Jenny McCarthy stuck with Amber Riley. Ken Jeong picked Miranda Lambert.
The Reveal: Raven Symone, after some difficulty.
Symone said she chose to do it because she could be herself.
"When you guys called me a professional singer, I peed my pants," she admitted.