'The Masked Singer' Season 2 Finale Spoilers & Recap: Who Won The Competition? Who Was Behind The Masks?
Last week marked a rarity in The Masked Singer history—Ken Jeong's guess was right on the money.
For a few episodes, Jeong had been trying to figure out who the Thingamajig was—and thanks to his knowledge of basketball, was able to figure out that Indiana Pacer Victor Oladipo is both out with an injury and known for his stellar singing skills backstage.
"There were full-blown debates with little kids and grown human beings about why it wasn't me and why I don't watch the show, so I apologize for anyone I lied to," Oladipo told USA Today.
He also spoke about the showmance between his character and judge Nicole Scherzinger, which apparently hasn't blossomed into any offscreen heat.
"I haven't gone on a date with Nicole," he chuckled. "I don't think she's really interested after I took off the mask, unfortunately. Maybe if I walked around with the mask on, she'd be more interested. It's unfortunate, but you never know what the future holds. Maybe it'll change. I've got to post better pictures."
Jeong's guess was not one matched by those of the other judges, who had pegged the Thingamajig as multiple other singers or actors over the course of the show.
But Robin Thicke had pegged the Leopard as Seal a few weeks ago—a guess that also proved right.
The singer declared that he'd done the program to impress his kids, and that he'd had a lot of fun during his performance as he left the show last Wednesday.
We're down to three more competitors in the competition: the Rottweiler, the Flamingo and the Fox.
The Fox's background has described him as a bit of a background player—one of a group—who is proud to be standing on his own. There are hints he has a family, and that he was emancipated as a child. The judges have suggested that he might be Jamie Foxx.
The Rottweiler is a surprisingly adept artist, gifting the judges with his artwork multiple times during the contest. He too has said that the mask has been liberating for him to wear. The judges have made multiple boy band guesses for him.
The Flamingo—who has drawn guesses of Fantasia Barrino throughout the competition—has described the experience as a liberating one as well. Her hints have been less easy for the judges to puzzle out.
The third season begins in January, but tonight our final masked singers will be revealed! Who will they be? What will Ken Jeong say? What will Jenny McCarthy wear? Tune in to find out!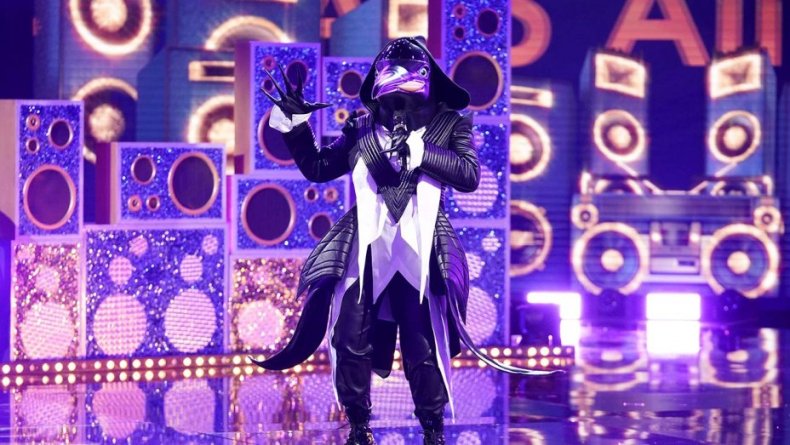 8:11 p.m.: Nick Cannon is done up in gold, declaring the last three singers will "sing their masks off" for the trophy.
Each of the masked singers will reveal a new clue as the show recaps the whole season.
The now-unmasked celebs each have a little face time before the cameras recapping their feelings about the contest and the high level of secrecy involved.
Best comment goes to skater Johnny Weir: "Do I look like the kind of person who would wear a tube sock?" asked Johnny Weir, sporting the socks he wore to hide his identity.
The Rottweiler said that the contest has refreshed him creatively and gotten him out of a rut he's been stuck in.
"Rottweiler has my favorite voice in the entire competition," said Nicole Scherzinger.
Robin Thicke agreed, saying his voice was "almost pitch perfect."
"I just kind of left my body," the Rottweiler said of his performance last week.
His week 8 performance of "Grenade" by Bruno Mars is highlighted.
There was a recapping of the clues he'd given, including blue roses and several sports references.
8:20 p.m.: A recap of the season's eliminations—which focused in on the big clues left behind by each star—takes us from Johnny Weir to Raven-Symone.
8:32 p.m.: "I became the Flamingo because we're both sassy and live that cha-cha life!" says the Flamingo, recapping her journey.
"She had hot sauce in her bag," observed Scherzinger.
"This is about so much more—I have a fear of performing live because I hate my own voice—I think it sounds like a child!" said the Flamingo.
"She has the goods to win it all," observes Ken Jeong, as the Flamingo's week one performance of the Jonas Brothers' "Sucker" was recapped.
She considered her performance of "Never Enough" to be a huge turning point, and her performance of "Lady Marmalade" was also picked out as a highlight.
"Never give up!" says the Flamingo.
After the judge's guesses are recapped, The Flamingo's clues are repeated:
Hollywood Triple Threat, beauty blogging, and a jet setting life—along with spoken Spanish—are all mentioned.
8:43 p.m.: The recap of eliminated contestants resumes.
Kelly Osbourne was the Ladybug—multiple references to her family—such as a ham, representing the one her mother threw at a neighbor during the filming of The Osbournes—was referenced.
The Flower was Patti LaBelle—her clues included bluebell flowers, a reference to Patti and the Bluebells, and to their song "I Sold My Heart to the Junkman." The number 13 reoccurred—LaBelle has 13 Grammy nominations.
The Butterfly was Destiny's Child's Michelle Williams—her clues included "Say My Name" (a direct reference to the Destiny's Child song) and a football—a reference to the time she played the Superbowl.
Ana Gasteyer was The Tree—her references were callbacks to her SNL sketches "Schweddy Balls" and her regular sketch with Will Ferrell, The Culps.
Thingamajig was Victor Oladipo—his clues referenced rehabilitation for his knee injury. We get a conclusion to the Scherzinger romance arc as he sang to her unmasked—and brought Ken to tears as well!
Seal was the Leopard—his clue: there was a picture of four grandmothers, a reference to Seal's four Grammys. He apparently got very into the character.
8:56 p.m.: The Fox said that he knew he had to become a Fox in the planning stages of the season—it fits him like a glove.
Ken Jeong called the Fox the "most complete performer in The Masked Singer history—except for me."
His performance of "Blame It" was recapped. Jenny McCarthy called it her favorite performance.
He added that it was important "to show my little one that when you take on challenges that may scare you, it can be the best experience of your life."
His clues included references to superheroes, and to time spent with his child—and he's friends with some of the panel members.
"I feel like once I'm revealed it will smack them in the head," The Fox said. "And I'm living for that moment."
New clues for each contestant was offered in the form of mock social media posts.
"I've already won a famous duel on stage," revealed the Fox.
"Flam Flam is getting Glam Glam," said The Flamingo.
"This dog's luck wasn't great against a cat, but I won't lose against a fox or bird," the Rottweiler posted.
9:09 p.m.: And so begins the live finale! All of the judges have masks on. Jenny McCarthy says she doesn't want it to end.
"If you click Nick's shoes together three times and say there's no place like home..." joked Robin Thicke about Nick Cannon's sparkly shoes.
"All right little one, chapter 7—fairytale ending," the Fox recapped with his son. "I'm obsessing over every detail," the Fox says. "I am so grateful, and I think I'm going to make Mr. Fox my friend for the rest of my life."
The Fox sang "Try a Little Tenderness" à la Otis Redding.
"This is why this is one of the greatest shows on TV," said McCarthy.
"I didn't know until right now exactly how much winning this would mean," said The Fox. "This is all I've done my whole life, and I've been able to be blessed enough to make a lot of people happy, but I haven't always been happy myself." He thanked the show for restoring his happiness, as the audience wept.
Guesses:
The judges are entirely stumped.
Wayne Brady continues to be Robin Thicke's guess.
Ken Jeong rises to his feet and says he knows "exactly who this is." Ken Jeong intensely says it's Jamie Foxx.
"This happens every time he wears Versace," said Thicke.
9:18 p.m.: The Flamingo said that she was nervous to sing in front of everyone before—the encouragement that she's achieved has encouraged her to "break out of the box I was in."
The Flamingo sang "Proud Mary."
"You've grown so much," observed Nicole Scherzinger.
"I never thought I'd be so emotional about this. I was told I'd never amount to anything. I'm hardworking—and I've had the time of my life," the Flamingo said between tears.
Guesses:
Jenny McCarthy declared she was proud of the Flamingo before guessing one more time Adrienne Bailon.
Scherzinger agrees.
Thicke switches his guess from Fantasia Barrino, agreeing.
"This is from the Robin Thicke unsold merchandising bin in the hallway," Jeong said, brandishing sunglasses. Jeong then guessed Fergie of the Black Eyed Peas.
"You are the Phoenix that has risen," said Scherzinger.
9:28 p.m.: "The first time I walked on this stage," said The Rottweiler, "it felt like a new beginning. My big break happened when I was just a pup, and I never had a chance to define who I was... It's been impossible to change the way people see me, until now."
"I'm capable of so much more than they—or even I—thought I was," he said.
The Rottweiler sang "Alive" by Sia.
"Wow!" shouted Scherzinger in response to the performance.
"I'm just really really grateful right now. I am often my own worst enemy, and like the rest of us, I'm trying to find my voice. I feel like I've already won," he said.
Guesses:
Scherzinger guesses Darren Criss.
So does Thicke.
Ken Jeong guesses Dave Franco.
Jenny McCarthy's guess Jason Mraz.
9:34 p.m.: The audience then voted.
In third place is: The Flamingo!
9:36 p.m.: Final Guesses:
Jenny McCarthy guesses Adrienne Bailon again.
Scherzinger agrees.
Thicke agrees that it's Bailon.
Ken Jeong admits he doesn't know who it is—and says Jessica Simpson.
"Half of the audience agrees with you and half of them say you're crazy," says Nick Cannon.
"Like my family," said Jeong.
The Flamingo was Adrienne Bailon
9:39 p.m.: "You can go out there and get it, girl!" said Jenny McCarthy, who had long guessed Bailon.
"Maybe if they say I sound a'ight, I sound a'ight!" Bailon observed.
9:44 p.m.: The Winner of Season 2 is: The Fox!
9:48 p.m.: "He fought for that," observed Scherzinger, as the Fox sits on his throne. The Judges then make guesses on the Rottweiler's identity.
Guesses:
Both Scherzinger and Thicke guess Darren Criss.
Jenny McCarthy says Jason Mraz.
Ken Jeong says Dave Franco again.
The Rottweiler is: Chris Daughtry.
9:46 p.m.: Daughtry said his kids have no idea he's doing this—and that he did it because it sounded like fun after watching T-Pain win last year.
9:56 p.m.: After a commercial preview featuring the costumes from Season 3 (a robot, banana and a she-monster), the judges make their final guesses.
Final Guesses:
Jeong and McCarthy guess Jamie Foxx.
Scherzinger and Thicke guess Wayne Brady.
The Fox is: Wayne Brady
9:59 p.m.: "I wanted to tell you so bad!" Brady said to Cannon.
"I'm going to take this with me forever," said Wayne Brady.
"There's only one person who can pull it off like that, and Wayne's one of them," said Thicke.
"Because of the mask, talent leads first," said Wayne Brady.
"I'm over the moon right now. This couldn't have gone to a better human," said Scherzinger.
"I cannot wait to buy your albums—this is what you should be doing," said McCarthy.
Cannon then presented Wayne Brady with the trophy, and he sang the audience out to season 2.
The show will be back for season 3 on February 2nd right after the Super Bowl.