'The Masked Singer' Eliminations: Bye, Bye Brian Austin Green and the Giraffe
And then there were three.
After a night of thrilling performances on Season 4 of The Masked Singer, one mysterious contestant was officially eliminated and forced to reveal their identity. It turned out to be none other than Brian Austin Green.
The second performer of the night, Green took to the stage in his colonial giraffe costume and dropped hints about his life including clues of a terrible accident he endured as well as a medical episode that left him incapacitated for quite some time before he delivered a smooth cover of the Kool and the Gang hit song "Get Down on It."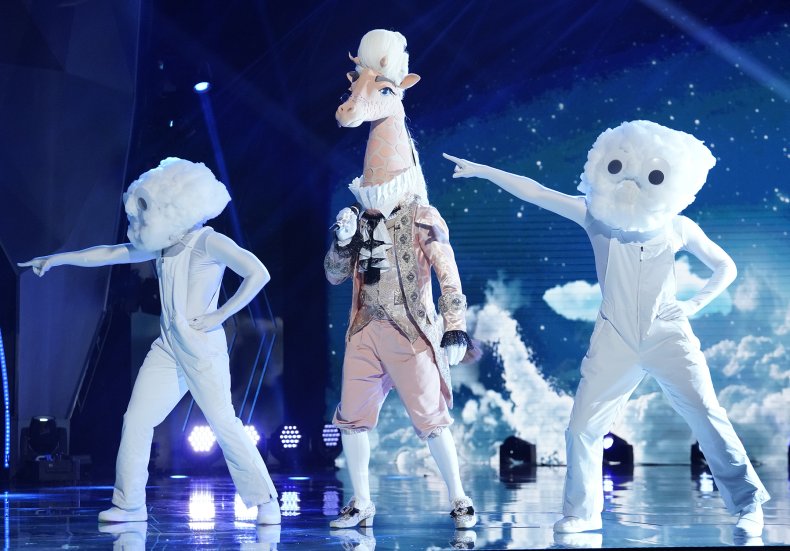 His final clue of the night, a number eight domino, had panelist Nicole Scherzinger thinking the man behind the giraffe costume was race car driver Dale Earnhardt Jr. while her fellow panelists Ken Jeong, Robin Thick and Jenny McCarthy all changed their first-impression guesses after seeing this week's performance.
Jeong originally thought it may have been will.i.am hiding behind the mask when the Giraffe made his debut on The Masked Singer's Season 4 premiere with his cover of The Black Eyed Peas' hit record, "Let's Get It Started." But after Wednesday night's performance, Jeong was under the impression that it may be Shia LaBeouf moonlighting as the Giraffe. McCarthy changed her impression from Blink 182's Travis Barker to Seth Green while Thicke switched his guess from Family Matters star Jahlil White to McCarthy's first pick, Barker. Meanwhile, guest panelist Joel McHale was the closest with his prediction—he thought the Giraffe performer was Green's former 90210 co-star Jason Priestley.
In the end, it was Green lighting up the stage all along.
Despite giving a stellar performance twice on Season 4, Green was, unfortunately, no match for The Sun's showstopping rendition of Kesha's "Praying, the Snow Owl's cover of "Like I'm Gonna Lose You" by Megan Trainor and John Legend or Popcorn's soulful remake of Harry Styles' "Falling."
Green joins fellow eliminated contestants Busta Rhymes, who was booted off The Masked Singer after his season-opening performance as the Dragon, and Mickey Rourke—the Gremlin who shocked everyone when he opted to reveal his identity before he was even eliminated on episode 2.
With the Group A playoffs out of the way, that means The Sun, Popcorn and Snow Owls are headed to the next round of the competition, along with Group B members Crocodile, Baby Alien and Seahorses, all of whom will battle in a playoff round of their own next week. And soon, viewers will be introduced to Group C contestants, consisting of Squiggly Monster, Lips, Mushroom, Jellyfish and Broccoli.
The Masked Singer airs on Fox on Wednesday nights at 8 p.m. ET.