'The Masked Singer' Eliminations: This Was the Celeb Hiding Behind Baby Alien Costume
It's back to outer space for Baby Alien. The Masked Singer contestant was eliminated during the Group B playoffs on Season 4 of the Fox singing competition on Wednesday night.
So, who was the man behind the mask? Well, for starters, panelists Jenny McCarthy, Nicole Scherzinger, Robin Thicke and Ken Jeong, as well as guest panelist Joel McHale, have never been more wrong with their guesses. They guessed celebrities like Eric Bana, Jason Biggs and Nick Kroll may have been moonlighting as Baby Alien. And at one point, Jeong even suggested that it was "Twilight hunk" Taylor Lautner.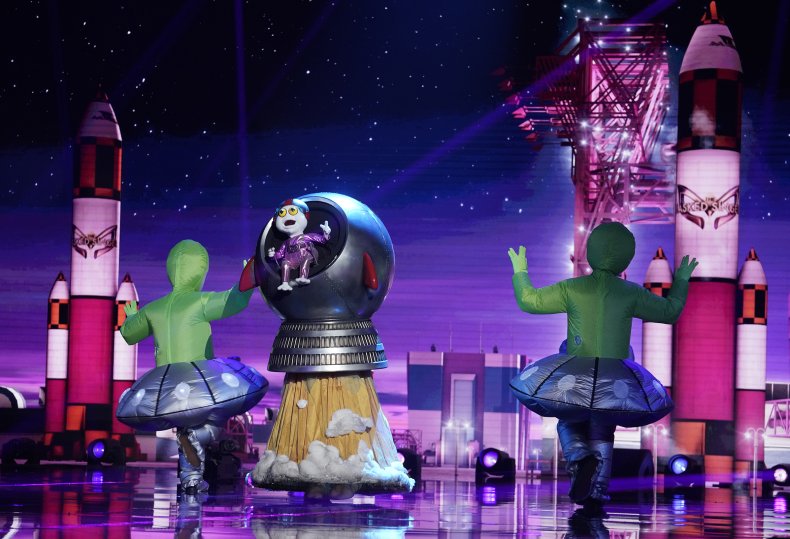 Turns out, it was former NFL quarterback Mark Sanchez hiding behind the spacey getup all along.
The third performer of the night, Sanchez took to the stage and dropped interesting hints about his life. His clue reel included images of hot dogs, sharks and his newfound passion for helping people. Sanchez's childhood clue of the night—a toy firetruck—didn't help the panelists get any closer in their guesses, but they certainly enjoyed his performance.
Sanchez then delivered a thrilling cover of "It's Time" by Imagine Dragons, which was a noticeable vocal change from his debut performance of George Michael's hit "Faith" during the second episode of the season. Thicke was especially moved by the former football player's performance.
"That was the most inspirational rock ballad I've ever heard from a baby alien," Thicke said.
As fun as it was to watch Sanchez on the stage, his performance couldn't compete with Group B contestants Serpent, Crocodile, Whatchamacallit or Seahorse, who will all be moving forward in the competition.
So far, Sanchez is the fourth contestant to get the boot from The Masked Singer this season. He joins fellow Group B member Mickey Rourke, who pulled off his Gremlin mask before he was even eliminated from the show earlier in the season. Group A members Dragon—who turned out to be rap star Busta Rhymes—and Giraffe poser Brian Austin Green have also been eliminated.
The remaining Group B members will head to the finals along with Group A contestants The Sun, Snow Owls and Popcorn.
Of course, there are still a few more performances to go before The Masked Singer finals are underway. On the upcoming episode of the show, scheduled for October 21, viewers will finally get to see contestants from Group C including Broccoli, Squiggly Monster, Mushroom, Lips and Jellyfish.
The Masked Singer airs on Fox on Wednesday nights at 8 p.m. ET.