'The Masked Singer' Season 4 Episode 4 Live Blog: Results Are in, Here's Who Was Hiding Behind Baby Alien
Episode 4 of The Masked Singer Season 4 premieres Wednesday night at 8 p.m. ET. We'll be liveblogging the show below, in case you aren't watching (or you just want to read all our yammering about tonight's wild performances.)
Fans will soon say buh-bye to another contestant on the fourth season of The Masked Singer. Group B performers including Crocodile, Whatchamacallit, Serpent, Baby Alien and Seahorses will face off in a playoff round during Wednesday night's show.
The last time members of Group B hit the stage, panelists Ken Jeong, Jenny McCarthy, Robin Thicke and Nicole Scherzinger were completely shocked to find none other than Mickey Rourke hiding under his Gremlin costume. The actor pulled quite the stunt by unmasking himself before he was even officially eliminated.
While tonight's episode will surely be a spectacle worth the watching, fans shouldn't expect the remaining contestants to pull any major tricks—or should they? With this all the special guests, drone-dropping clues and surprising moments that have occurred so far this season, who can truly know what we're going to see on The Masked Singer?
One thing's for certain though: there will be performances and they will be highly entertaining. And there's always the possibility that Ken will make some bizarre guess about who's hiding under which costume. Nevertheless, we'll be on hand providing live blog coverage of every thrilling moment of episode 4. And if you need to catch up on last week's shenanigans, you can do so here.
Stay tuned!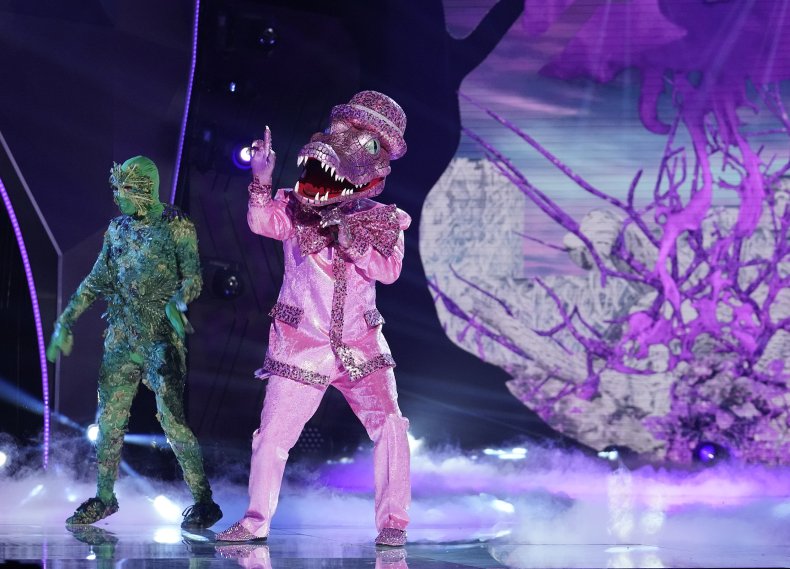 The Masked Singer Season 4, Episode 4: Group B Playoffs Live Blog
8:00:
It's showtime everybody! Our host Nick Cannon is first to hit the stage wearing a rather fabulous sequined black-and-white cape.
This week it's the Group B playoffs with Serpent, Crocodile, Baby Alien, Whatchamacallit and Seahorse set to battle it out. Only four of them are eligible to move on to the Group B finals. The panelists and the virtual judges will get clues about each of the performer's childhoods, which should help narrow down the endless list of possibilities regarding who's behind each mask.
But first, Nick introduces our panelists Nicole Scherzinger, Ken Jeong, Jenny McCarthy and Robin Thicke with a few throwback photos of each of them. How adorable they all were when they were kids. There's also a special guest panelist joining the table this week. It's Joel McHale again, who comes strutting out to his seat wearing an exact copy of Nick's sparkly outfit.
8:05:
First to perform tonight is Serpent. In a new clue reel, he drops hints about struggling early on in his career and having to sell clothes just to make ends meet when he was younger before finally delivering a ssssensational cover of "The Bones" by Maren Morris.
8:08:
Once again, Nicole is moved to tears by a contestant's performance. "Serpent, I love your voice," she admits.
Out comes another clue about Serpent. It's a baby bottle on wheels, and it leads Jenny to wonder if it's someone previously connected to the Got Milk campaign that's hiding behind Serpent's mask. Maybe Taye Diggs? Robin thinks Taye is a very good guess, but Joel thinks Serpent is Jessie Williams while Nicole guesses Brian McKnight.
8:12:
Crocodile is next to hit the stage. His clue reel features plenty of pirate references like a skull-and-bones flag and anchor drawings. Crocodile reveals he grew up as a "poor nobody with a dream." Then he performs a high energy cover of "Toxic" by Britney Spears.
8:14:
Whoever's behind the mask, he's certainly a professional. He gets all of the panelists moving on their feet with that performance. Robin even says he feels "fully seduced right now" after watching Crocodile.
8:16:
And now for the next childhood clue about the pink-scaled performer: A troupe of The Masked Singer's men in black comes out holding a pink, glittery piñata in the shape of a crocodile. When Nick cracks it open, little toy dolphins spill out and it leaves the panelists completely clueless.
Nicole suggests Adam Lambert may be moonlighting as Crocodile, and Robin agrees. Ken thinks it's Lenny Kravitz, while Joel suggests it might be Harry Connick Jr.
8:22:
Whoo-hoo, it's time for that cutie-patootie Baby Alien to perform. His "Babywatch"-inspired clue reel includes images of hot dogs and "monkey-hungry sharks." When Baby Alien finally takes the stage, he delivers a fun cover of "It's Time" by Imagine Dragons.
8:25:
"That was the most inspirational rock ballad I've ever heard from a baby alien," Robin says.
Nick calls for the childhood clue and a guard comes out with a toy firetruck. And while Joel confesses he initially thought it may be Tom Brady posing as Baby Alien, he decides to guess that it's Eric Bana hiding under the costume. Nicole thinks it could be Sacha Baron Cohen or Jeff Dunham. Ken guessed "Twilight hunk" Taylor Lautner.
8:33:
The ever-hairy Whatchamacallit is up next. There are fighter jets and balloons scattered throughout the clue reel and hints about Whatchamacallit's mom falling ill. For his performance, Whatchamacallit pulls off an energetic rendition of Ludacris' hit song "Money Maker."
8:36:
As for his childhood clue, Nick summons the men in black, and one of them brings out a huge book titled, "Hairy tales of the Whatchamacallit" by Doodad Doohickey. Meanwhile, Whatchamacallit says Ken should know exactly who he is but, naturally, Ken is stumped.
Jenny guesses the true identity of Whatchamacallit is football star Cam Newton. Robin thinks Jenny is on to something with the football guesses and suggests Terrell Owens. Finally, Ken guesses it could either be basketball player Kyrie Irving or actor Armie Hammer.
8:44:
Last but certainly not least to perform is Seahorse. The biggest secrets about her identity include images of a rodeo, horse and buggies and daisy dukes. This is definitely a country-western girl on stage. Her song selection is Celine Dion's "My Heart Will Go On," and boy does she knock it out the park.
8:47:
The panelists are totally stunned by that performance. Even Nick was in absolute awe by Seahorse's voice.
The childhood clue for Seahorse is a blue balloon, which Nick is supposed to stab. Once he pops it, colorful feathers pour out. "Light as a feather, heavy on clues, this should help you not confuse," Seahorse teases.
Of course, that only made the panelists more confused about who may be posing as the Seahorse. Robin is sticking with his previous guess that it's Bebe Rexha. Jenny thinks it might be former Fifth Harmony singer Camila Cabello. Joel, on the other hand, thinks it's Jessica Simpson.
8:51:
Well, now that all the performances have wrapped it's time to get the voting. Who will end up with the least amount of votes? We'll find out after this short break.
8:56:
We're back!
Nick cuts straight to the chases and reveals that it's Baby Alien who will be ending his time on The Masked Singer. Soon we'll find out who's behind the mask, but not before we see which panelist was right about their guess.
The first impression guesses come out and Nick reveals the names each of the panelists initially wrote down while trying to determine who was hiding behind the Baby Alien mask. Jenny's first impression was Ralph Macchio but now Jenny's changing her guess to Nick Kroll. Ken's first impression was Matt LeBlanc but he's changing his guess too. Now Ken thinks it's Freddie Prinze Jr. Robin's first impression was Triumph the Insult Comic Dog, but he's not sticking with that either. Robin's final guess is that it's Jason Biggs. Nicole originally thought it was David Schwimmer behind the Baby Alien Costume, but she is also changing her guess to Jeff Dunham. Joel is sticking with his guess that Baby Alien is Eric Bana.
So who's behind the mask? After a few chants of "take it off," we finally see who it is. The panelists completely missed the mark. It's football quarterback Mark Sanchez who's been performing as Baby Alien all this time.