'The Masked Singer' Eliminations: This Was the Celeb Hiding Behind Squiggly Monster Costume
So long Squiggly Monster!
The wacky eyeballed contestant was the latest mystery singer to be eliminated from the fourth season of The Masked Singer following an energetic performance of "(I Can't Get No) Satisfaction" by The Rolling Stones during episode 6 on Wednesday.
Despite admitting Squiggly's clues really screwed her mind and had her wondering if it was Al Franken or Ted Dansen hiding behind the elaborate multi-colored costume, judge Jenny McCarthy decided to stick with her initial impression of the contestant: Bob Saget. Fellow judge Robin Thicke had the exact same first impression guess and felt even more confident that it was Saget posing as Squiggly after his Wednesday night performance.
As for judge Ken Jeong, he originally thought Squiggly was Fabio, but he made the smart move of changing his guess to Saget too. Meanwhile, Nicole Scherzinger's first impression guess was that Squiggly was one of the Atlanta rappers Ying Yang Twins but she changed course and went with Gary Cole.
Guest judge Wayne Brady also had a few ideas of who he thought was performing under the Squiggly Monster guise. He said he first thought the contestant may be rapper Mystikal, but all the political innuendos and comedic references in Squiggly's clue reel made him believe that it must have been Saget hiding behind the costume.
After a few rounds of chanting The Masked Singer signature phrase, "Take it off," show host Nick Cannon finally got the costume head off the contestant and revealed who it was hiding behind the Squiggly Monster disguise: none other than everyone's favorite Full House dad, Bob Saget.
"What you guys do here is why I wanted to do this," Saget said. "We're all going through a tough time. I get to be part of your joy, and it's needed so bad. They said, 'You want to be Squiggly Monster?' They sent me a picture of this, and I said, 'Yea.'"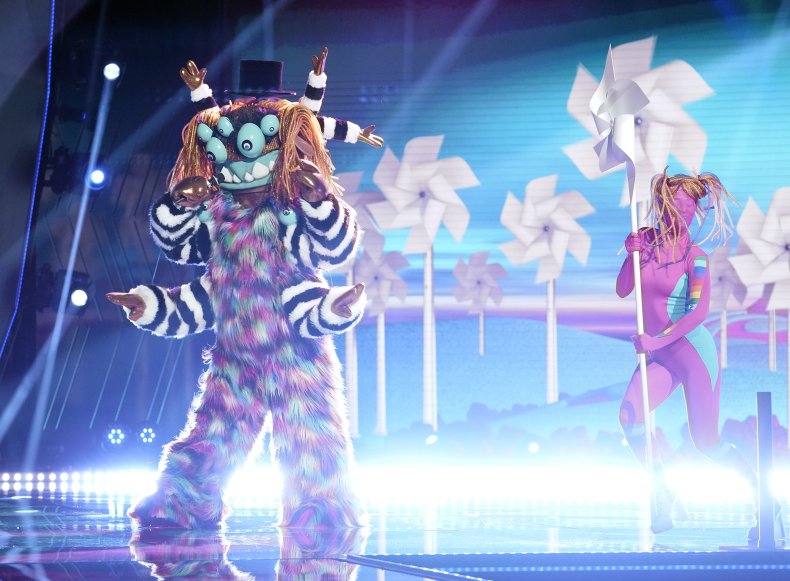 As far as Season 4 eliminations go, Saget joins fellow former Group C member Lips, who turned out to be Wendy Williams. Group B members Mark Sanchez and Mickey Rourke—who posed as Baby Alien and Gremlin, respectively—are also out of the competition, along with Group A's Dragon, aka rapper Busta Rhymes, and Brian Austin Green, who posed as Giraffe.
Group C contestants Jellyfish, Mushroom and Broccoli will move on to the next round of The Masked Singer where they'll soon face off against Group B members Seahorse, Serpent, Crocodile and Whatchamacallit as well as Group A members The Sun, Popcorn and Snow Owls.