This 'Masked Singer' Elimination Brings Ken Jeong to Tears in Season 4 Sneak Peek
It's getting down to the wire on the fourth season of The Masked Singer.
The mysterious contestants of Group B—Whatchamacallit, Seahorse, Serpent and Crocodile—are set to hit the stage for the Group B finals on Wednesday, but this time judges Ken Jeong, Jenny McCarthy, Robin Thicke and Nicole Scherzinger and all of the virtual voters will be tasked with eliminating two of the masked performers. Yup, it's a double elimination.
It's anyone's guess as to who will be in the bottom two. Group B has brought the heat since they first debuted on the NBC singing competition weeks ago. Who could forget Crocodile's killer rendition of Bon Jovi's "It's My Life" or Serpent's powerhouse performance of "I'm Gonna Be (500 Miles)" by the Proclaimers?
Whatchamacallit's energetic cover of Ludacris' "Money Maker" got all of the judges out of their seats and dancing on their feet, and Seahorse totally stole the show when she rocked the stage with her lively performance of "Only Girl (In the World)" by Rihanna.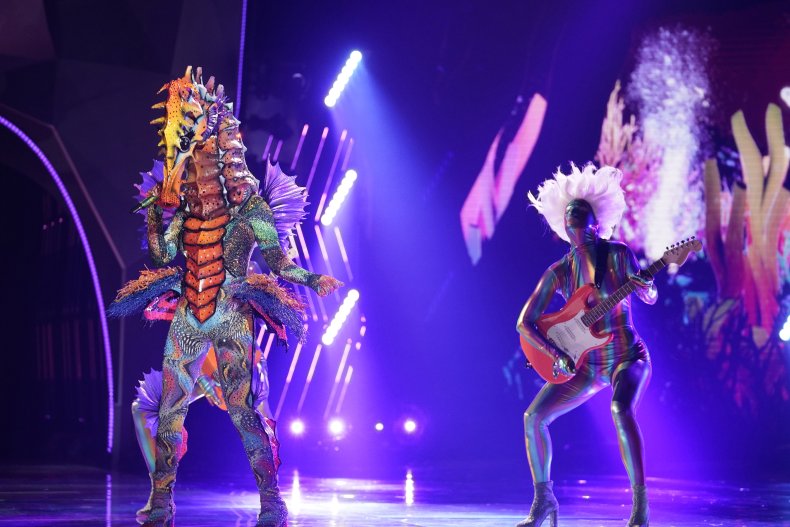 The odds of them all topping those earlier performances when they compete in the group finals seem pretty steep.
No matter which two contestants say goodbye on Wednesday night, the judges certainly won't be ready to see them go. Jeong gets so emotional during eliminations in the episode 8 sneak peek, actual tears start to fall from his eyes.
"You just got us through a very difficult time and we love you so much," he says in the clip.
Before the losing contestants are revealed, though, they'll leave Jeong and the rest of the judges stumped with their identity clues.
"This is the hardest elimination ever," McCarthy says.
So far in the competition, the identities of Group B members Gremlin and Baby Alien have been revealed. Mickey Rourke shocked viewers when he revealed himself to be Gremlin by removing his mask before the eliminations were announced, while Baby Alien turned out to be none other than former NFL star Mark Sanchez.
Other identities revealed include Dragon, aka Busta Rhymes; Brian Austin Green, who posed as Giraffe; Wendy Williams, who was dressed as Lips; Bob Saget's Squiggly Monster and the Snow Owls, who turned out to be country couple Clint Black and Lisa Hartman Black.
The two Group B contestants who remain safe on The Masked Singer will join Group A members Popcorn and Sun in the finals, along with Group C's final two mystery performers. Group C will appear in a semifinal round on ninth episode of Season 4, scheduled to air on November 26.