'The Masked Singer' Eliminations: Who Were the Celebs Hiding Behind Whatchamacallit and Serpent's Costumes?
Group B was chopped down to two members following Wednesday night's double elimination episode of The Masked Singer. Crocodile, Seahorse, Whatchamacallit and Serpent rocked the stage with their performances, however, the latter two didn't get enough votes to stay in the competition and their true identities were finally revealed.
Whatchamacallit was first to get the axe after delivering an energetic cover of "Lean Back" by Terror Squad. Although the mystery rapper was showered with praise from judges Ken Jeong, Robin Thicke, Nicole Scherzinger and Jenny McCarthy, it just couldn't compete with Seahorse or Crocodile's pipes. So he was ordered to remove his mask but not before the judges took their final guesses of his identity.
Originally Jeong thought NBA star Damian Lillard may be the one moonlighting as Whatchamacallit, but following the hairy monster's performance on Wednesday, Jeong had a change of heart. He switched his first impression guess to Lonzo Ball.
Thicke's first impression guess was Tyler the Creator, but after Whatchamacallit dropped hints about "others absorbing the spotlight," Thicke started thinking it may be former NFL player and Today show host Michael Strahan hiding behind the costume.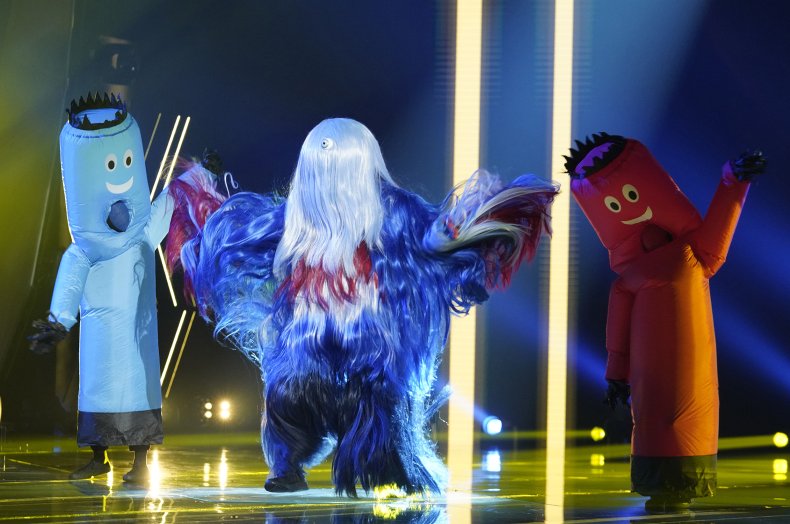 Whatchamacallit's panther clues initially had McCarthy thinking he may be actor Winston Duke, but all the high-fives, whistles and crowns in her clue reel got McCarthy to thinking it was basketball star Devin Booker. Scherzinger originally guessed it was The Addams Family character Cousin Itt, but she too decided it was a basketball player and changed her guess to Carmelo Anthony.
After a few "Take it off" chants from the crowd, Whatchamacallit finally revealed himself. The singer turned out to be none other than Lonzo Ball, leaving the judges and host Nick Cannon completely shocked that Jeong was actually right.
"I love music. I love performing. So this kind of brought it all together, and I knew my mom watches this so it's gone definitely put a smile on her face when she see me," Ball said. "The best part of this is just coming out here doing what I love to do without anybody judging me. I had fun performing for y'all."
Serpent, who performed "Cool" by the Jonas Brothers, was up next for unmasking but got to hear who the judges thought he was first.
Jeong's first impression guess for Serpent was Usher, but he decided not to stick with that assumption and suggested Daveed Diggs. Scherzinger originally guessed it was Okieriete Onaodowan from Hamilton posing as Serpent but all the medical hints in Serpents' clue reel led her to believe it was the singing surgeon Dr. Elvis. The medical clues also convinced McCarthy that Serpent wasn't her original guess of John Legend. She switched her first impression guess to Taye Diggs. Meanwhile, Thicke first thought Serpent was Boyz II Men singer Wanya Morris but he switched his guess to Donald Faison.
Serpent took the mask off and revealed his true identity. Turns out Scherzinger was right. Serpent was Dr. Elvis Francois.
"This is unbelievable," Francois said of his experience on the show. "It's a once in a lifetime kind of situation—very different from what I do on a day to day basis, but something I'll never forget for the rest of my life."
With Ball and Francois out of the competition, that leaves Seahorse and Crocodile as the last remaining members of Group B.
The Masked Singer airs on Fox on Wednesdays at 8 p.m. ET.