'The Masked Singer' Eliminations: Which 3 Celebrity Identities Were Revealed on Season 4 Semi-Finals
The Super Six has dwindled down to the top three contestants on Season 4 of The Masked Singer. During Wednesday night's two-hour show, mystery singers Seahorse, Crocodile, Mushroom, Jellyfish, Popcorn and The Sun performed for panelists and viewers votes, but only three of them were able to advance to the finals.
The artists performed against each other in groups of two, after which show host Nick Cannon revealed the contestant with the highest votes. With Crocodile, Mushroom and The Sun leading with votes, that left their rivals Seahorse, Jellyfish and Popcorn having to unmask themselves and finally reveal their identity.
Popcorn, who delivered a rocking cover of Tina Turner's "Better Be Good To Me," was the first celebrity to remove their mask. Before she did it though, Cannon went over panelists Robin Thicke, Ken Jeong, Jenny McCarthy and Nicole Scherzinger's first impression guesses that they made at the top of the season.
Originally Scherzinger thought it was Diana Ross hiding behind the Popcorn costume but after weeks of performances, she decided to change her guess to Taylor Dayne. McCarthy, who initially thought Tina Turner was Popcorn, sided with Scherzinger and listed Dayne as her final guess too. Meanwhile, Thick and Jeong stuck with their first impression guess that Turner was posing as popcorn while guest panelist Craig Robinson opted to join the ladies and say Dayne.
After a few rounds of The Masked Singer's notable "Take it off" chant, Popcorn revealed herself to be none other than Dayne, just like McCarthy, Scherzinger and Robinson predicted.
"I had a ball. Nobody understands how amazing this show is," Dayne said. "The creativity here guys, your magic between all of you."
She added: "You guys made me cry under this mask so many times. And Nick, I do, I love you."
Next up was Jellyfish, who belted out an emotional cover of Rihanna and Mikky Ekko's hit song "Stay."
Weeks ago when Thicke was first tasked with guessing who was behind the aquatic green mask, he thought it was influencer Addison Rae. However, with all the clues about sports and gold medals that were revealed over the last few rounds of the competition, he decided to change his guess to Olympian Gabby Douglas. McCarthy and Jeong also changed their first impression guesses to Olympic athletes McKayla Maroney and Chloe Kim, respectively, while Scherzinger changed her first impression guess from Sofia Richie to Grimes.
Turns out, it was Jeong was right. It was gold medalist snowboarder Kim hiding behind the elaborate costume after all.
"I'm such a big fan of all of you guys, so this whole experience was just so amazing for me. I've never performed in front of anyone before," Kim said. "You guys gave me so much confidence after each week and it's been such a fun experience to be able to put myself out there, be vulnerable. I really appreciate it."
Seahorse was the last big reveal of the night.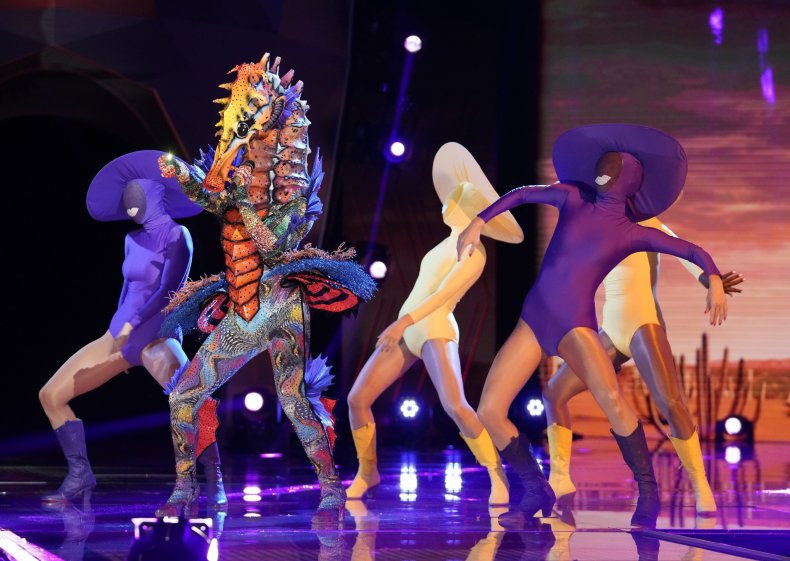 Initially, Jeong thought the lively singer was Fergie. However, he changed his guess to Christina Aguilera. McCarthy stuck with her first impression guess of Halsey. Meanwhile, both Thicke and Scherzinger changed their guesses to singer and songwriter Tori Kelly, and they were right to do so because that's exactly who was moonlighting on The Masked Singer as Seahorse.
"I thought it'd just be fun to come out here and show a whole other side of myself, feeling a little sassy, give some [choreography]," Kelly said, later adding, " Honestly I was just so thrilled to hear all the nice things you guys said... I'm just excited for what this means for the rest of my career too. All good things."
With those three big major reveals out of the way, that leaves just The Sun, Crocodile and Mushroom in the running for The Masked Singer Season 4 winner.
The Masked Singer airs on Fox on Wednesday nights at 8 p.m. ET.