'The Masked Singer' Season 4 Premiere Live Blog & Results
The Masked Singer Season 1 premieres on Fox tonight. Keep up with our complete live-blogged coverage and recap of tonight's show results here.
It's time to put those detective skills to work—The Masked Singer is finally back. Season 4 of the mystery musical competition is set to premiere on Fox at 8 p.m. ET.
Returning with the show are judges Ken Jeong, Jenny McCarthy, Nicole Scherzinger and Robin Thicke. Nick Cannon is back as The Masked Singer host as well. But there are a dozen new faces—well, celebrity contestants hiding behind outlandish costumes—taking the stage during the competition.
The show will flow similar to previous seasons: Contestants will perform songs and drop hints about their celebrity identities. The judges will determine the best performances of the night and try to guess who's hiding behind the masks. This season, super-fans will get to join in the virtual audience and cast their votes for their favorites of the competition, which will also count towards each contestant's final outcome. The performer with the least votes will get the boot and be forced to reveal their identity.
We'll be on hand during the premiere episode providing live-blogged coverage of the show and highlighting some of the most mystical moments of the night. If you need to catch up on all things pertaining to this new season of The Masked Singer, check here.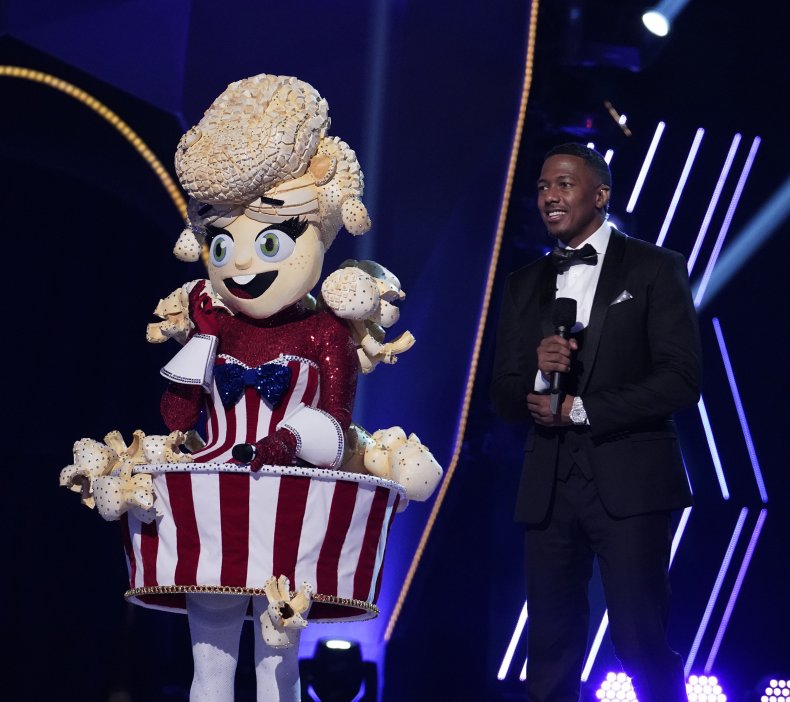 The Masked Singer, Season 4 Premiere Episode Live Blog
8:00:
It's showtime folks! Our host Nick Cannon is first to hit the stage decked out in a shimmering cape. There's a total of 16 masked singers vying for the Golden Mask Trophy this season. Nick introduces our coaches and the Group A contestants including, The Sun, Giraffe, Popcorn, Dragon and the Snow Owls. First to hit the stage is The Sun and she's singing a cover of Lizzo's "Cuz I Love You."
8:08:
Nick tells the coaches that they too will be competing this year too. They have to write down their guesses of who is behind the mask and the panelist with the most correct guesses at the end of the season will win the coveted Golden Ear trophy.
8:10:
As for who's hiding behind The Sun mask, Nicole thinks it could be Idina Menzel or Kristen Bell or Katharine McPhee. Jenny thinks it's Demi Lovato behind the mask, but Ken is under the impression that The Sun may be Madonna.
Oh, The Masked Singer, the sentences you have us write.
8:14:
We're back from a quick commercial break and Nick says this group of celebrity contestants may be the biggest ever. As a whole, the masked performers are worth more than $398 million and have 46 Grammy nominations collectively. There are even an Olympic Gold Medalist and an Oscar nominee hiding behind elaborate costumes.
Next to come out to the stage oozing swag is Giraffe, and he's in the tallest costume to ever appear on The Masked Singer. He's singing a funky cover of "Let's Get Started" by the Black Eyed Peas.
8:18:
The judges were impressed with Giraffe's performance. He's certainly got the show started with that one-(I'm so sorry). Nick asks him if he ever imagined being on stage performing in a giraffe costume and obvious, the contestant has not.
"This has really been fun it allows me to have a little bit of anonymity, which is nice. Plus it was a big deal for me to not have to focus on my vocals," Giraffe says.
8:20:
Ken thinks it's Garth Brooks hiding behind the costume. Jenny says Travis Barker while Robin swears it's Vanilla Ice.
8:26:
Annnddddd we're back—from commercials that is. Popcorn is next to strut out to the stage in ruby red stilettos. From the clues dropped about hanging out with band boys and cutting out Vogue magazine clips, you'd never expect to hear such a soulful voice dishing out a sensational cover of "What About Us" by Pink. But it's a voice that definitely sounds familiar. Whoever's hiding under this popcorn kernel head is someone we've likely heard before.
8:30:
The judges write down their first impression votes and Nick asks Popcorn why she picked this specific costume.
"Just like popcorn I can be quite buttery at times, very salty but also very sweet," Popcorn says before confessing, "I just wanna kiss Nick.
Jenny thinks it's Tina Turner but Ken rules that out, because apparently he and Tina go way black. They even shop Costco before. Ken thinks is Carole Baskin—as if she'd have the time to be on The Masked Singer, Dancing With the Stars and take care of all this big cats back at the sanctuary. Nicole is wondering if it could be Mary J. Blige hiding being the popcorn costume.
8:36:
There's some fire coming to the stage. That's right, The Dragon is up next. He's used to dressing up in wild costumes—or at least that's what he says in his clues animation—and he's used to bringing the heat. He certainly brings it with his cover of "Mama Says Knock You Out" by LL Cool J and sounds every bit like Busta Rhymes.
8:40:
Robin is confident that he knows exactly who's hiding behind this costume as he writes the name of his guess on a ballot. Jenny says at first she thought it was Snoop Dogg from the clues but after watching the performance she's under the impression that its DMX. Ken thinks it's Michael Phelps, but Robin—like us—thinks it's Busta Rhymes. Nicole thinks it's Busta too.
8:45:
It's two-for-one night on The Masked Singer. Well, that's just Nick's way of saying the Snow Owls are next to the stage, and what a beautiful feathery costume the duo is rocking. They're definitely family members based on the clues. Once they start belting out a cover of A Great Big World's "Say Something" their bond is even more clear—whoever they are, they certainly have performed together before. Their duet is seamless.
8:50:
Votes are in for the judges' first impression, and Robin says he knows "exactly whooo this is." He has a feeling that it's Amy Grant and Vince Gill. Jenny was thinking more like Donny and Marie Osmond, and Nicole was thinking the exact same thing. Ken says it must be Eugene Levy and Catherine O'Hara.
8:53:
It's time to get the votes in. We're up for a quick commercial and then Nick will reveal the results.
8:59:
Nick goes through the judges' first impression votes before The Dragon unveils his identity. Who's being the mask? Yup, it's the hip-hop legend, Busta Rhymes!
That's all for tonight peeps. Next week, Group B is up.