Who Was Baby? Latest Unmasking on 'The Masked Singer' Season 6 Episode 4
No one on The Masked Singer managed to guess the true identity of Baby before they were unmasked in last night's episode.
The mystery performer was the fifth celebrity to be eliminated from the show during Season 6, leaving 11 acts left in the competition.
Robin Thicke, Jenny McCarthy, Ken Jeong and Nicole Scherzinger failed to guess who it was before Nick Cannon revealed them, meaning no one got points towards the Golden Ear trophy.
Who was Baby on The Masked Singer?
With the return of Group A, it was Baby who was voted off of Episode 4.
When the mask was removed, it turned out to be comedian Larry the Cable Guy (real name Daniel Lawrence Whitney).
His operatic rendition of The Flintstones theme tune took all of the panelists by surprise but didn't help them guess correctly. They thought Baby's true identity was perhaps James Corden, Chuck Norris, Bruce Willis and Gordon Ramsay, but no one got even close to guessing Larry the Cable Guy.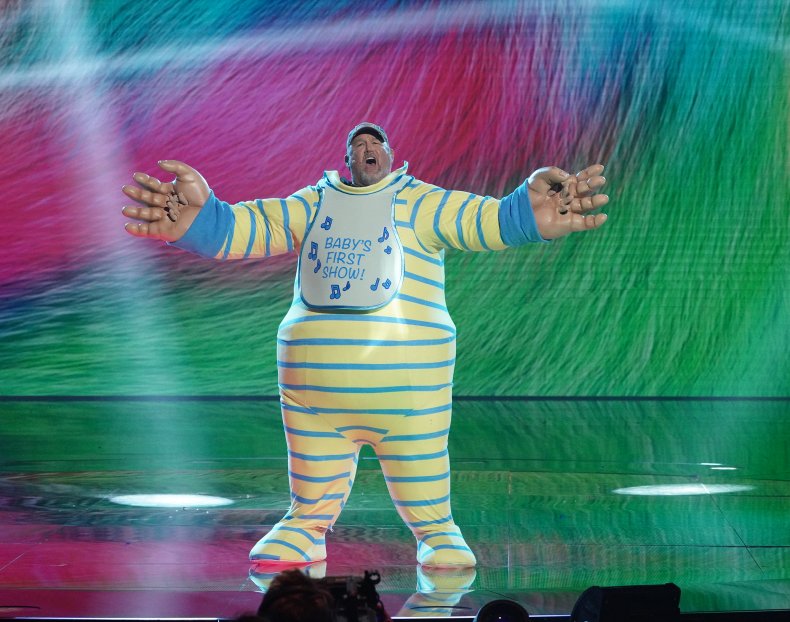 Baby entered the competition during the second episode, singing "You're the First, the Last, My Everything" by Barry White. His version of "Meet the Flintstones" by Hoyt Curtin wasn't enough to keep him in the competition.
Behind the scenes, Larry told The Masked Singer social media account that it took four people to get him into the Baby costume. He said he's comfortable performing comedy in front of 8,000 people but he can't karaoke in front of five.
What else happened in Season 6 Episode 4 of The Masked Singer?
A new wildcard entered the competition last night as Pepper arrived singing "Jealous" by Labrinth.
Bull, Hamster and Skunk all returned and all made it through to the next round. Bull performed Circus by Britney Spears, Hamster sang "Crazy Little Thing" by Queen while Skunk rocked the "Midnight Train to Georgia" by Gladys Knight & The Pips.
Group B will return for next week's episode with Queen of Hearts, Mallard, Cupcake and double act Banana Split all returning.
Who has been unmasked so far in Season 6?
Larry the Cable Guy became the fifth celebrity to be revealed during Season 6 of The Masked Singer.
During the first week, two celebrities were unmasked. Octopus was revealed to be Dwight Howard before Mother Nature proved to be Vivica A. Fox. When Pufferfish was eliminated in the second episode, when the costume was removed, Toni Braxton was hiding underneath. In Group B, Dalmatian was voted off, and Tyga turned out to be the man behind the mask.
When is The Masked Singer on next?
Host Nick Cannon will return next week to introduce each performer, and perhaps a wildcard act, as Group B returns.
Episode 5 airs on Fox next Wednesday October 13 at 8pm ET/PT.