'The Masked Singer' Semifinalists Confirmed—Who are Final Three Costumes?
The Masked Singer Season 8 semifinal is here after weeks of performances, predictions and unmaskings. Just three costumes remain, with their identities unknown.
The Fox singing competition returned to screens in September 2022 with host Nick Cannon resuming his duties alongside celebrity panelists Robin Thicke, Ken Jeong, Jenny McCarthy-Wahlberg and Nicole Scherzinger.
Over the past eight episodes many stars have been unmasked, with Kat Graham as Robo Girl, Jerry Springer as Beetle, Gloria Gaynor as Mermaid and William Shatner as the Knight all being revealed as contestants.
But it is Harp, the Lambs and Snowstorm who have all triumphed in their respective rounds, and on Thursday evening, November 24, the trio will battle it out to keep their place in the competition and secure one of two spots in the grand finale.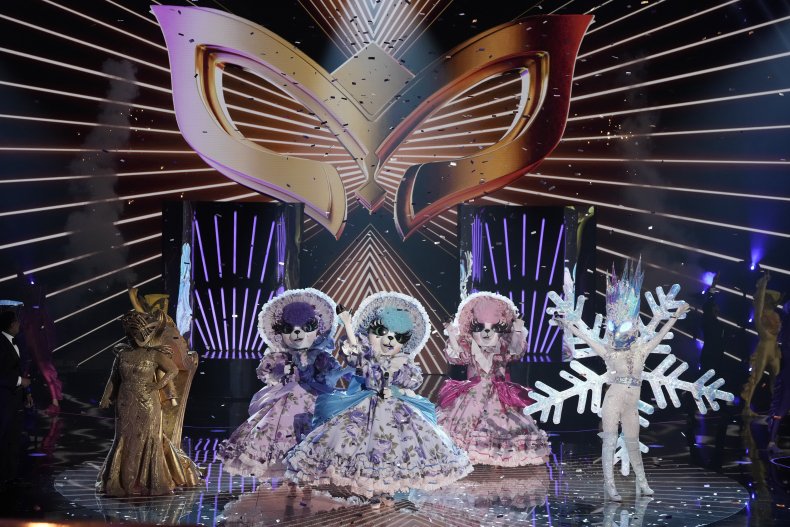 Next week one of the final two will be crowned the winner of The Masked Singer's eighth season and gifted a golden trophy of a mask to mark their achievement.
The new winner will take over from Season 7's champion Teyana Taylor, who won the show as Firefly.
Newsweek has everything you need to know about The Masked Singer Season 8 semifinalists, including clues and which famous faces fans think are behind the masks.
Who Are The Masked Singer Season 8 Semifinalists?
Harp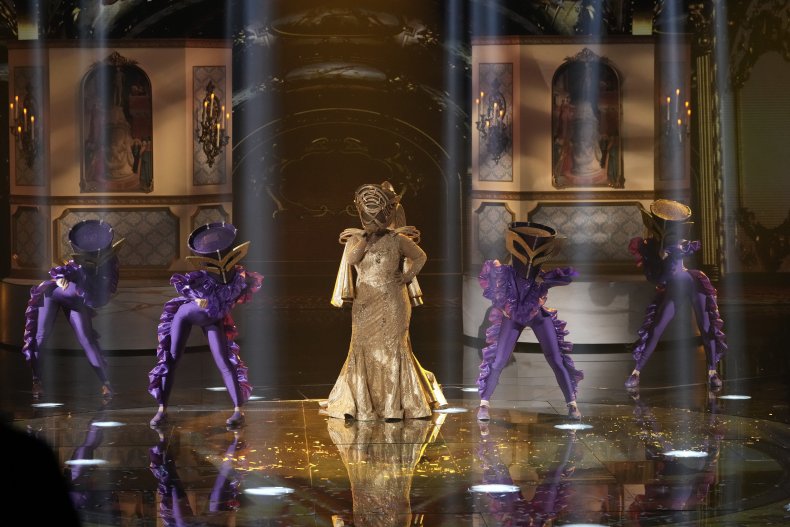 Harp made her first appearance on the premiere of Season 8 back in September and during the episode gave several clues, one of which being that she auditioned for "the biggest show in the world" as a teen, but she didn't "fit the mold."
Harp then said she was later given the opportunity of a lifetime and became "an idol for anyone that felt like an outsider."
Binoculars, a call sheet with Harp in the leading role, two bouquets of roses, somebody wearing a witch's hat, and 3D glasses were all also shown as clues.
The judges guessed Queen Latifah, Jordin Sparks, Fantasia Barrino and Jennifer Hudson, but fans at home believe it is actress Amber Riley.
Riley auditioned for American Idol in 2003 before she landed her role as Mercedes Jones on Glee. Riley, now 36, went on to play Effie White in the West End musical premiere of Dreamgirls.
The Lambs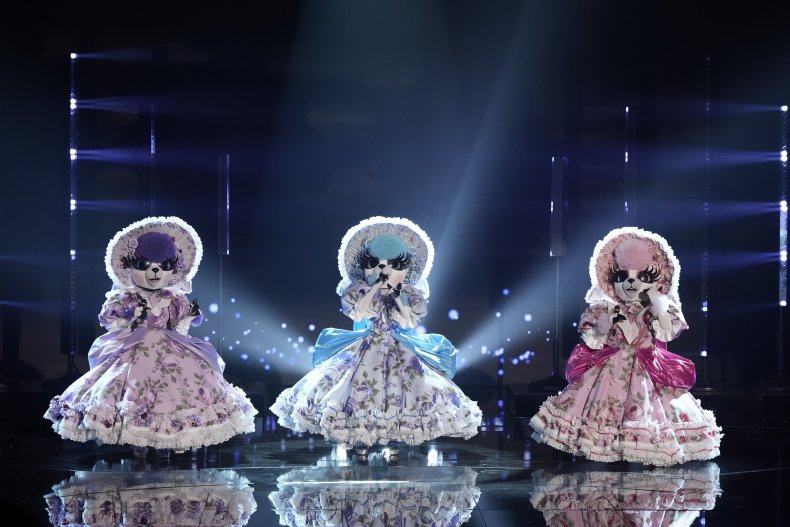 The Lambs made their debut during the Muppets-themed episode of The Masked Singer in October, where there were several clues dropped for the trio.
At the start of their clue package one of the Lambs asked: "Did you really think we were going to miss out on Muppet Night? Not a chance! Miss Piggy has been our style icon since we were little. We practically grew up with her. And each other."
They continued: "Yeah, we've been Beverly Hills besties since day one. We were quite the troupe and loved playing pretend. Little would we know that our game of make-believe would turn into a massive career on stage and on screen."
Some more clues included the fact that the Lambs have "traveled the world, graced billboards, and grazed countless red carpets."
"Not many people can say they lived out their childhood dreams side by side with their besties. But we can. Now we're playing dress-up all over again and we're here to show you that we haven't lost our swing," the Lambs concluded.
As the Lambs walked on stage for their first performance, a clue was given that they "can't let go," and it was this last hint that left fans convinced it was singers Chynna Phillips, Carnie Wilson and Wendy Wilson, better known as "Hold On" hitmakers Wilson Phillips, on stage.
Snowstorm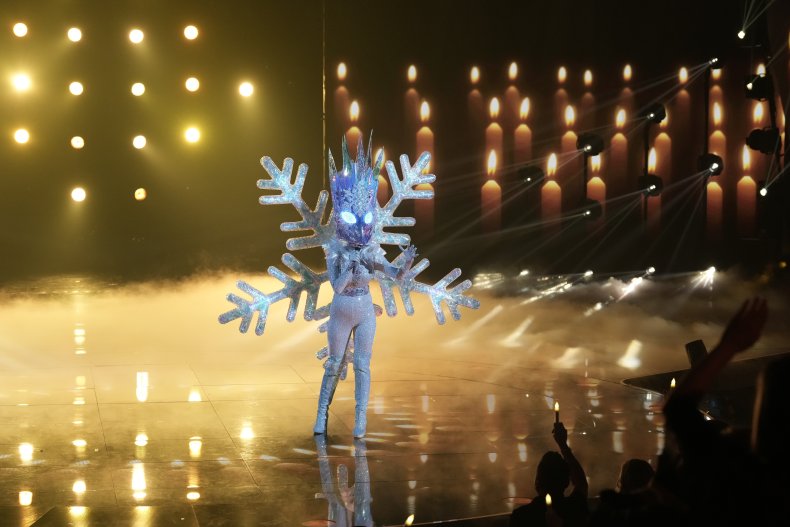 Snowstorm is the third and final semifinalist on The Masked Singer Season 8.
The contestant made her debut last week, on the November 16 episode, and ahead of her first appearance one of her clues was revealed as a scarf. This led fans to believe it could be Frozen stars Idina Menzel or Kristen Bell, who voice Ana and Elsa in the Disney classic.
Other clues that have since been revealed for Snowstorm, however, hint that it may be comedian and F Boy Island host Nikki Glaser.
In one clue package Snowstorm said: "Things haven't always been pitch-perfect," which could be a nod to Glaser's first comedy special Nikki Glaser: Perfect.
There was also a clip of the costume sitting in front of a fire roasting chestnuts, which could be a hint toward the various comedy roast Glaser has taken part in.
Though the identities of Harp, the Lambs and Snowstorm are a mystery for now, one will be revealed during Thursday evening's episode.
The Masked Singer semis air on Thursday at 8 p.m. ET on Fox.