'The Masked Singer' Spoilers: No One Guessed Eagle's Identity Before Send-off Reveal
One contestant on The Masked Singer completely stumped judges and viewers on Wednesday night. Eagle was unmasked, but despite a handful of clues about the disguised celebrity, no guesses came remotely close to his real identity.
Each week on The Masked Singer, a handful of celebrities in full costumes face off in a singing competition. The celebrities can be professional singers, actors, gamers or even doctors, as in the case of Eagle.
Eagle approached the competition with major rock star vibes, which gave viewers and judges the impression he could be either a classic rock star or someone with ties to that music genre in his life. Some of the judges' guesses were Brett Michaels and Kid Rock, among others (such as Jimmy Fallon and Howard Stern). None came even close to predicting the real man behind the mask: Dr. Drew Pinsky.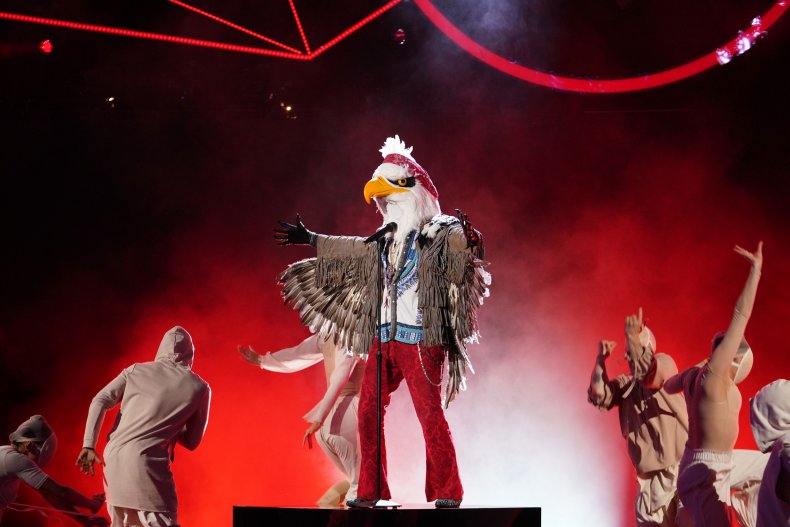 Pinsky is a television doctor mainly known as Dr. Drew. He hosted Celebrity Rehab With Dr. Drew, among other media programs, such as radio show Loveline. He currently appears on both Teen Mom and Teen Mom 2.
The doctor also hosted HLN show Dr. Drew on Call, which was canceled in 2016. No reason was given for the cancellation, but the announcement came just one week after Pinsky spoke negatively about Hillary Clinton's health on a radio show, according to The Washington Post. Pinsky claimed he'd looked at Clinton's public health records and was "gravely concerned not just about her health but her health care."
Along with a clue that Eagle "hangs out with rock stars" came a clue about his career. "I have soared to great heights as the face of my field, but now after a serious health scare, I've realized that life is too short to let my dreams fly by," a teaser said.
Pinsky joins three other celebrities who have been unmasked thus far. Last week, the judges sent home Panda, who was Laila Ali. The premiere episode saw Egg and Ice Cream leave. Egg was Olympic figure skater Johnny Weir, while Ice Cream was the famous gamer Ninja.
In most of the dismissals, the celebrity commented on his or her time on The Masked Singer. Pinsky claimed his run on the show was "very bizarre."
The Masked Singer launched in America in January. It quickly gained attention and has become widely discussed on social media. Many Twitter users engage in theories as they try to guess the identity of the disguised celebrity.